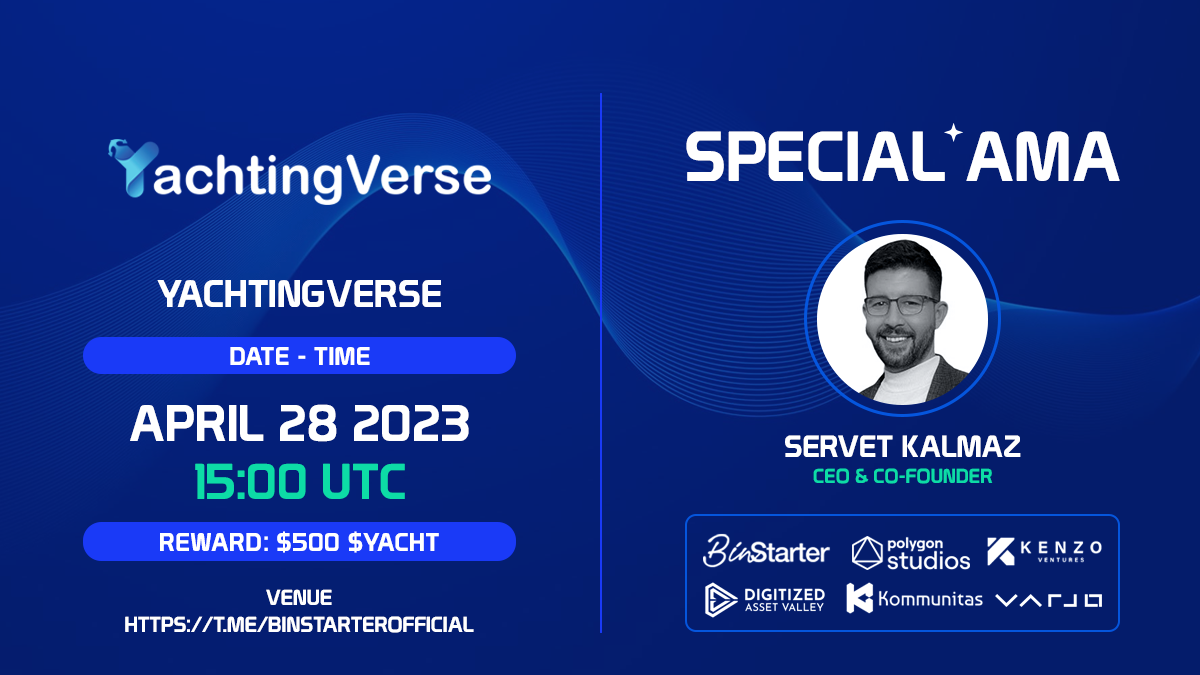 Get to know: YachtingVerse
Sail into the Future!
Yachting Verse - the world's first marine themed metaverse/ VR platform and SuperAPP designed specifically for the yachting industry. It is not only business to business but also business to individual and individual to individual. Our IDO deal with this EIP-protected project will take place on April 30th, 2023
To prepare for their IDO, we hosted an AMA with Servet Kalmaz - CEO & Co founder of YachtingVerse on BinStarter Telegram Official Channel. In case you missed it, here's a quick AMA recap!
Introduction Round
1. Please tell us about yourself and the rest of the team behind Yachtingverse, their background and expertise.
Hello everyone, Thank you for your kind invitation and for having us here.
I am Servet KALMAZ . I am the co-founder of YachtingVerse and also the CEO of the board of directors. Even though I am a graduate of the Maritime Academy, I have been developing games and software since I was a child. I can say that I am one of the first to adopt blockchain technology. The entire team consists of developers and engineers with years of experience. We have experience in many areas, including blockchain and non-blockchain projects. Our software company continues to develop innovative smart homes, trading bots, artificial intelligence, and market maker software, especially games. We develop innovative software at every stage. We have many ideas that we bring to the blockchain ecosystem. We do everything to improve our company and ecosystem. The entire team consists of professionals. In addition to the 15 developers currently working at our current company, we have added 20 more developers to our team for YachtingVerse.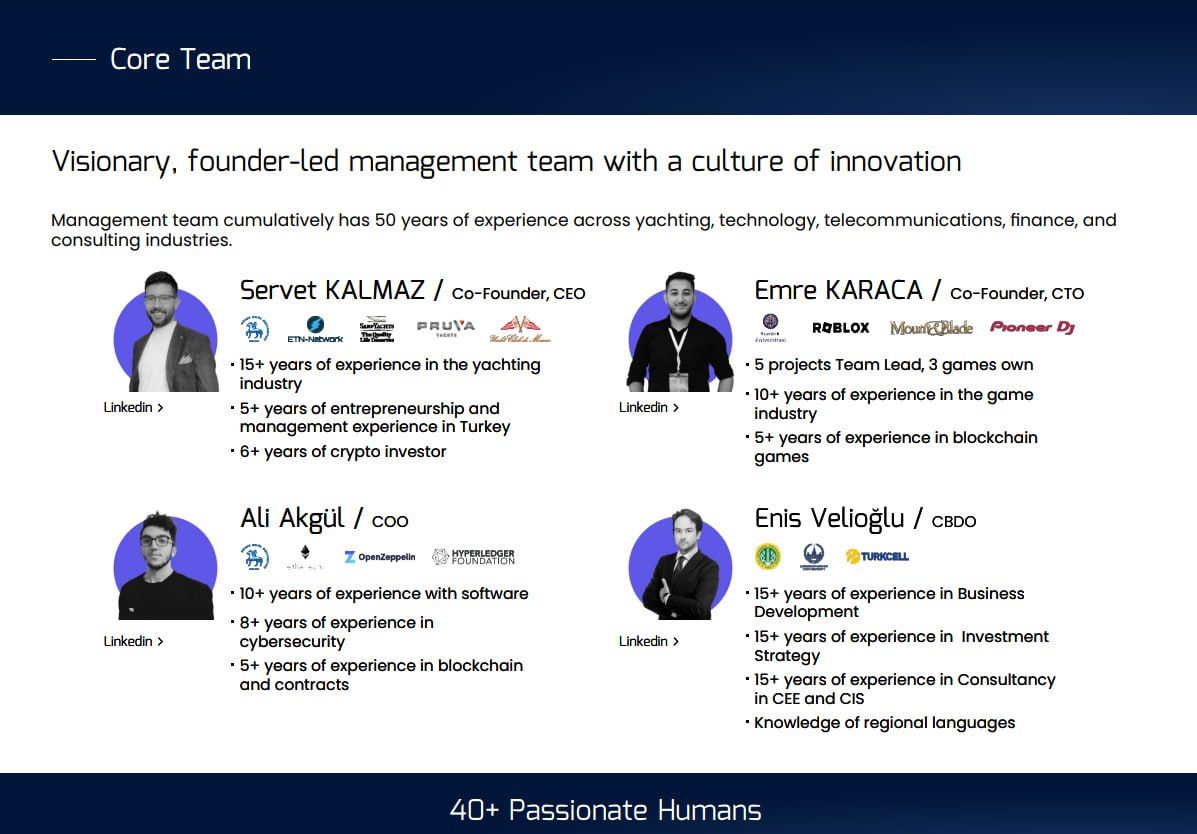 2. Could you give a brief introduction of Yachtingverse?
YachtingVerse is the apple of our company's eye and its window to the world, on which we have spent time and effort for a year, and on which we have meticulously completed R&D studies. We are developing on BNB Chain. We can say that it is the first open world marine themed VR platform and SuperApp.
It is a project where users, consumers, brands and all stakeholders can come together easily. YachtingVerse has 522 stores where users can showcase the products and services of world-famous brands, and make discounted purchases with the $YACHT token. When you go to a mall, you will be able to visit familiar shops, restaurants, cafes and more at Yachtingverse Marine Mall. While having an interactive shopping experience with virtual reality at Marine Mall, you will be able to obtain a digital copy of the products you buy from the stores and use them in your avatars. SuperApp is our first step product, where we build the future user base of the VR platform. Until the glasses develop, we will host some of our users on SuperApp. And a product that we describe as our first meeting place.
YachtingVerse got to the root of many problems, but basically the most obvious issue is the continuity of the tokenomic structure. This is the most difficult issue of the familiar P2E, GameFI or other metaverse projects. The tokenomic structure suffers if other users stop receiving NFTs or the project tokens are distributed too quickly as rewards. We have prepared a great tokenomics for this and reduced the $181k Initial Market Cap to 58k. We have built a structure where we will share our platform revenues instead of giving YACHT to our users when they stake tokens in their stake pools. On the first day of the listing, all our products will be ready, and our users will not wait for the products to be released for months or even years. And we have many competitive advantages and differences like these.

3. What are the key parts of the Yachtingverse and maybe you can also tell us what can we expect from this project?

YachtingVerse is a platform that provides real-life yacht charter services and ensures that transactions are carried out securely and automatically thanks to blockchain technology. Our platform allows users to easily perform yacht charters using cryptocurrencies or traditional payment methods. It also automates and secures transactions using smart contracts. What can be expected from YachtingVerse is that it offers high quality yacht charter services on a user-friendly platform. There are many important sections on our platform. Here are the key parts of YachtingVerse: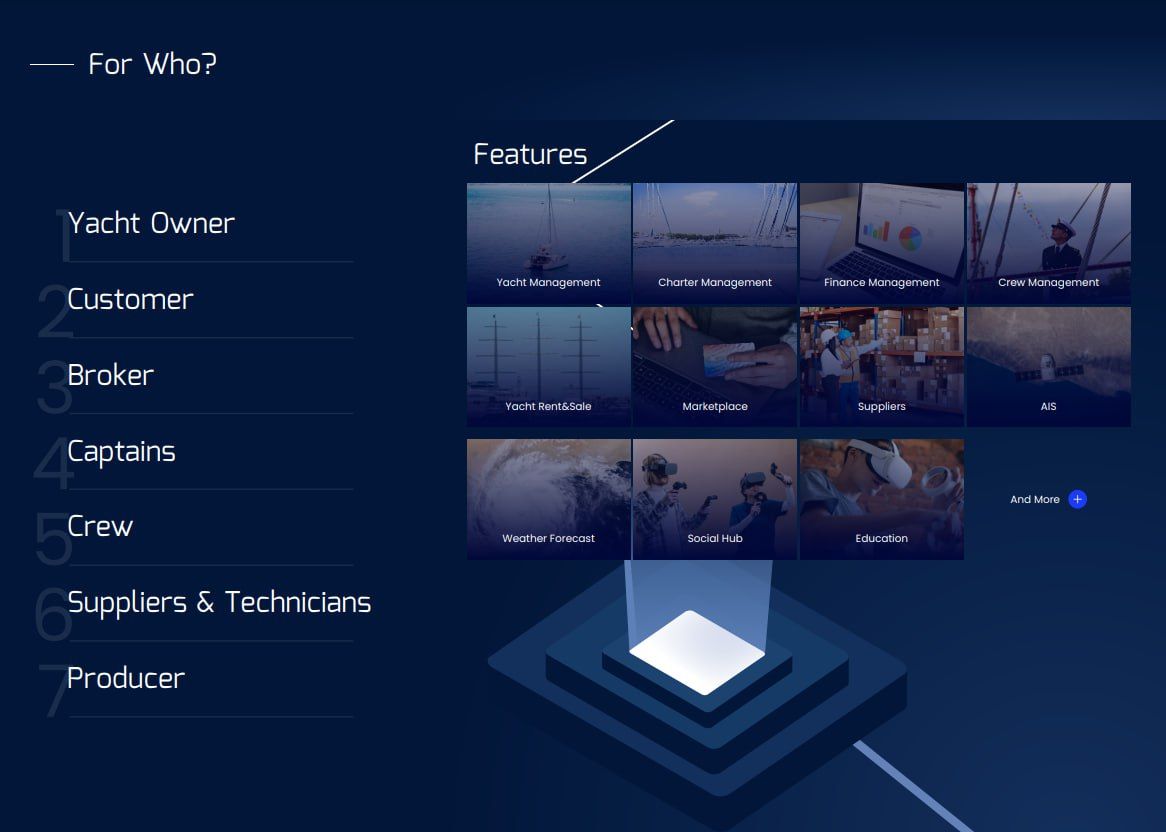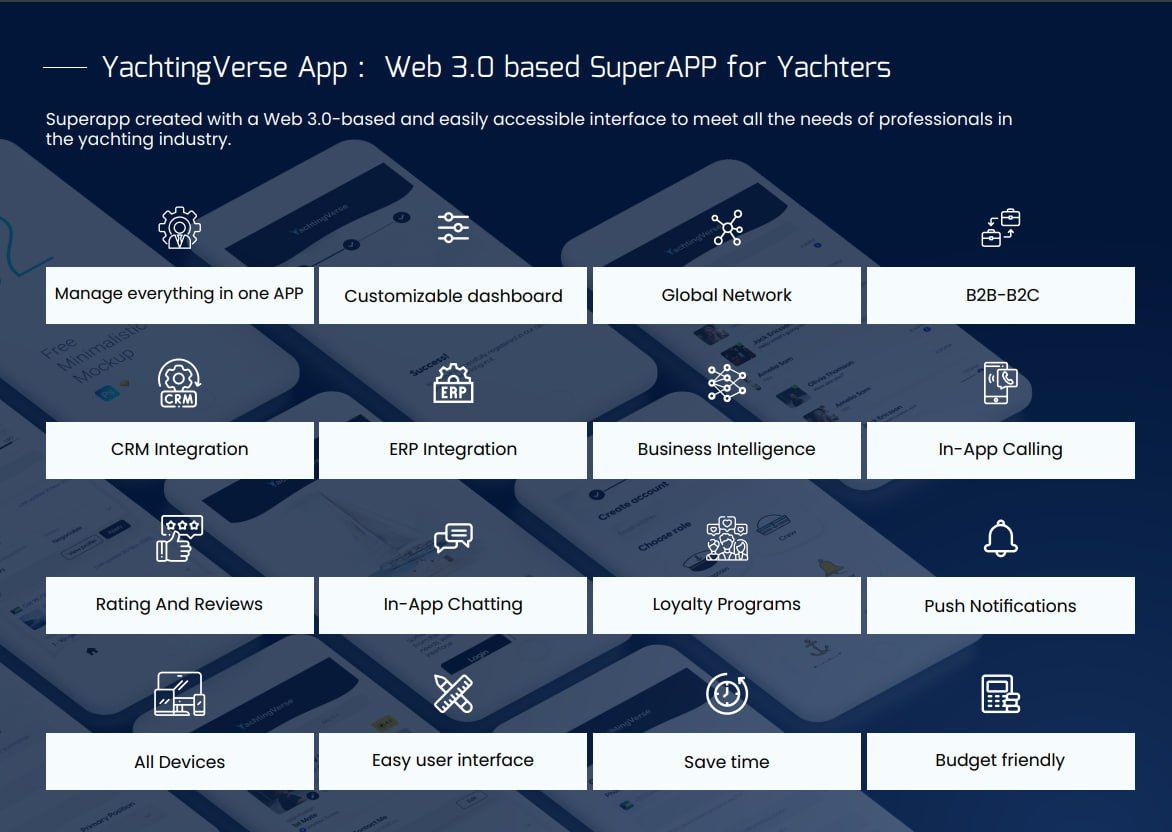 4. You are venturing on an AI, can you talk about how it will be incorporated in Yachtingverse?

YachtingVerse will integrate with artificial intelligence (AI) technology in many different ways. For example, to personalize our users' experiences, AI can be used to make navigation and search smarter. In addition, AI will be used, but not limited to, to provide accurate and fast quotes during the yacht charter process, improve customer support services, and even plan water sports events.
Artificial intelligence technology also enables us to better understand our customers' needs and further improve our services by analyzing data about user behavior. For example, we can identify which interests customers show greater demand for a particular yacht charter and use this information in our future marketing campaigns or in shaping our services.
At YachtingVerse, we want to use AI technology to provide a better experience for our customers and to make our business smarter and more efficient. Currently, we have a TEXTTOIMAGE AI model that we have created for our users and it is operational. https://marketplace.yachtingverse.io/ainft
Here you can see NFTs produced with artificial intelligence: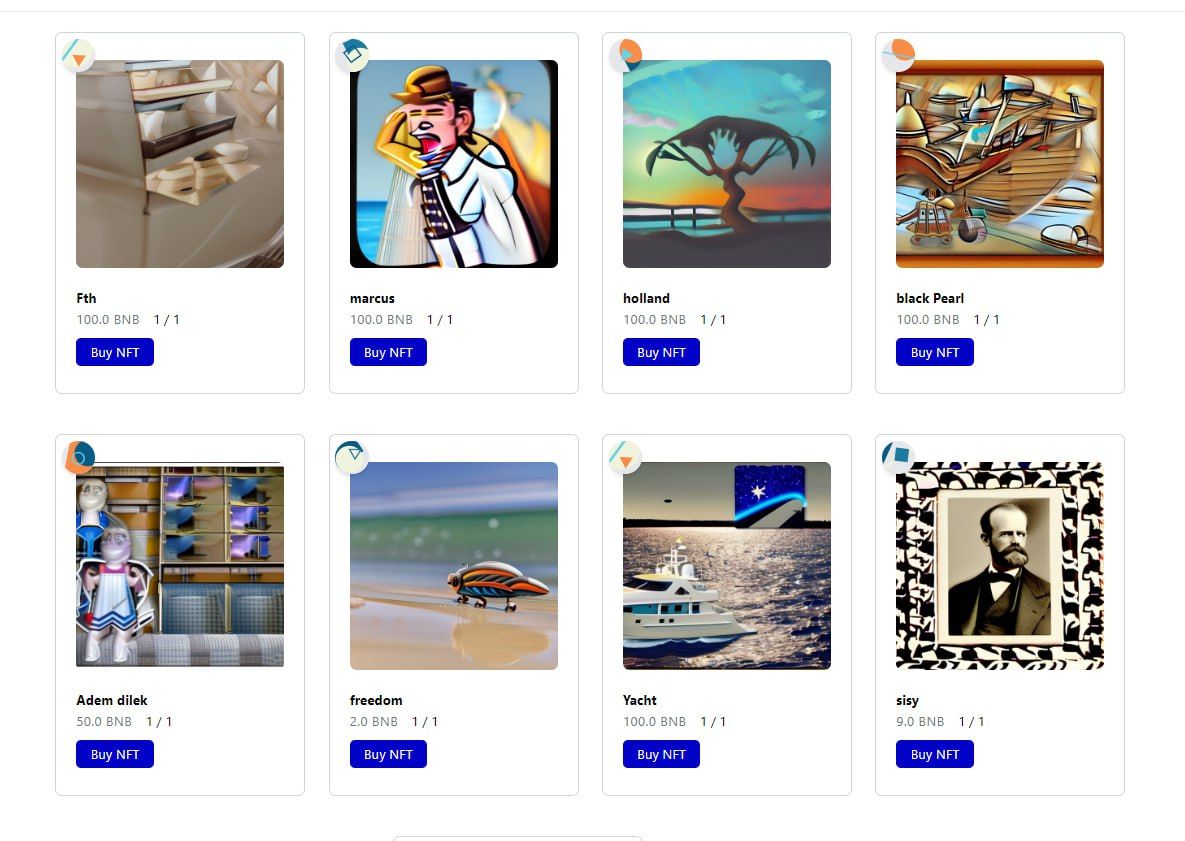 5. Is the scope of the virtual reality is limited to Yacht settings?
Virtual reality technology in YachtingVerse is not limited to yacht settings. YachtingVerse plans to offer customers many different experiences that will make them feel like real yachts by using virtual reality technology to enhance the yacht charter experience. For example, using virtual reality glasses, customers can explore the interiors of different yachts, walk around the decks of yachts, see views of the yacht while cruising at sea, and even practice water sports.
However, YachtingVerse will not be limited to yachts only. Virtual reality technology has the potential to offer customers many different experiences, such as traveling to different destinations, visiting historical sites, visiting museums and discovering works of art, or even traveling in space. Therefore, YachtingVerse will work to provide customers with not only yacht charter experiences, but also unforgettable experiences in different areas using virtual reality technology.

6. Could you give us some details on your Roadmap and how Yachtingverse is doing so far?

Of course, I would be happy to inform you about YachtingVerse's roadmap and the distances it has covered so far.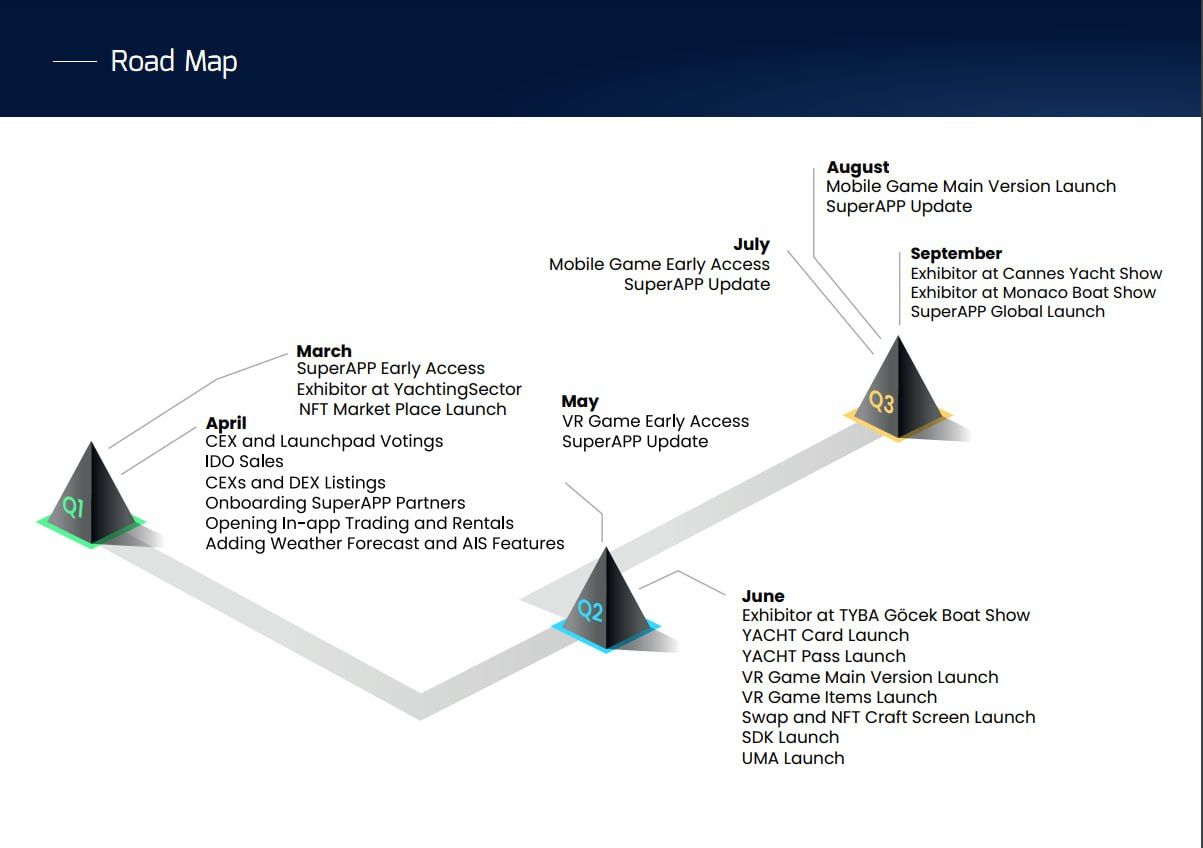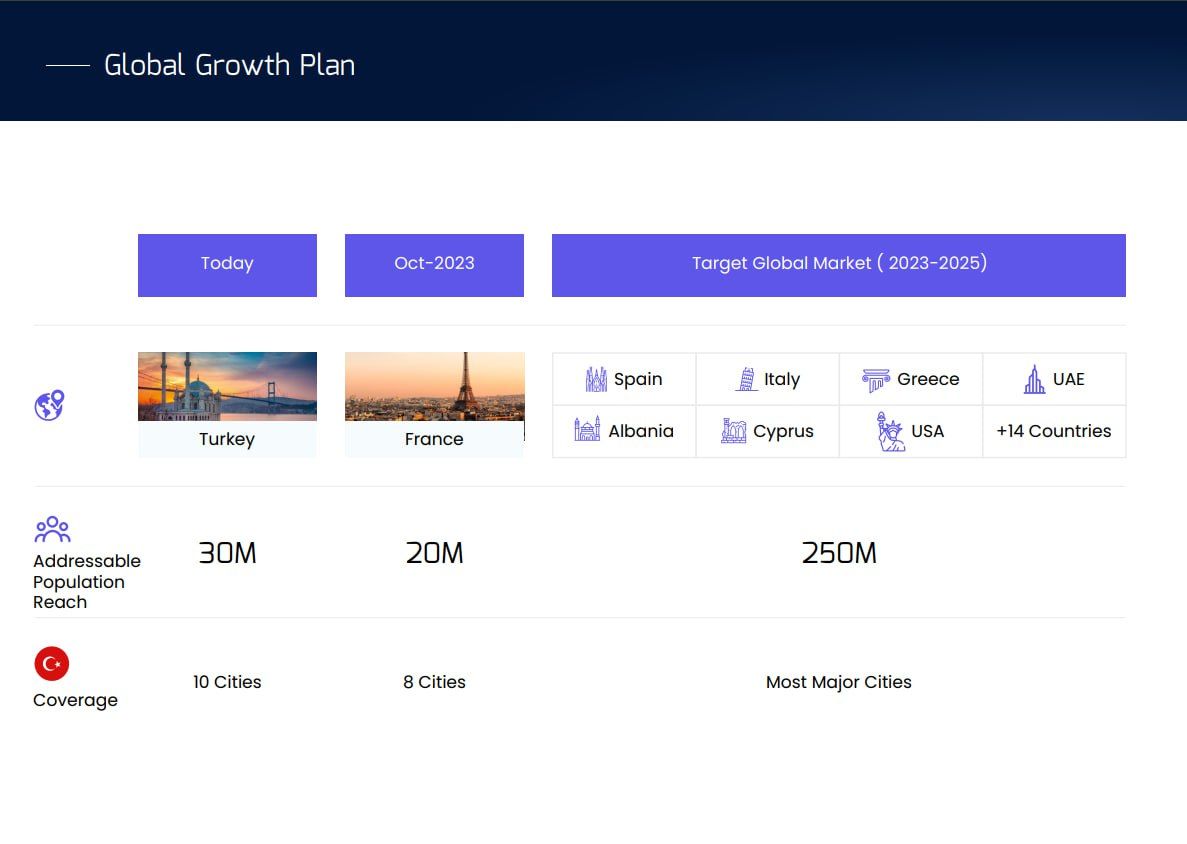 YachtingVerse is a project established to solve problems in the yacht industry. The project aims to make the yacht charter process safer, faster and easier by using blockchain technology and smart contracts.
We participated in many local and international events, especially in Turkey, and promoted the project. YachtingVerse aims to grow and develop further in 2023. As part of this, the project will make the customer's usage process easier by offering an interface that can be used on both the mobile application and the website. We also plan to offer customers an even more enhanced experience using virtual reality technology.

7. Can you tell us about your tokenomics and the benefits that investors receive when purchasing your tokens? What are the utilities that your token provides?

The token used in the YachtingVerse project is the YACHT token. The YACHT token is required for users to transact and pay on the YachtingVerse platform. We will also offer privileges to YACHT token holders such as Discounts, Priority Access, DAO Voting Rights, Staking, Collaborations. The YachtingVerse team is working to expand the usage areas of the YACHT token. As part of these efforts, new features and products are being added to give YACHT token holders more benefits and increase the token value.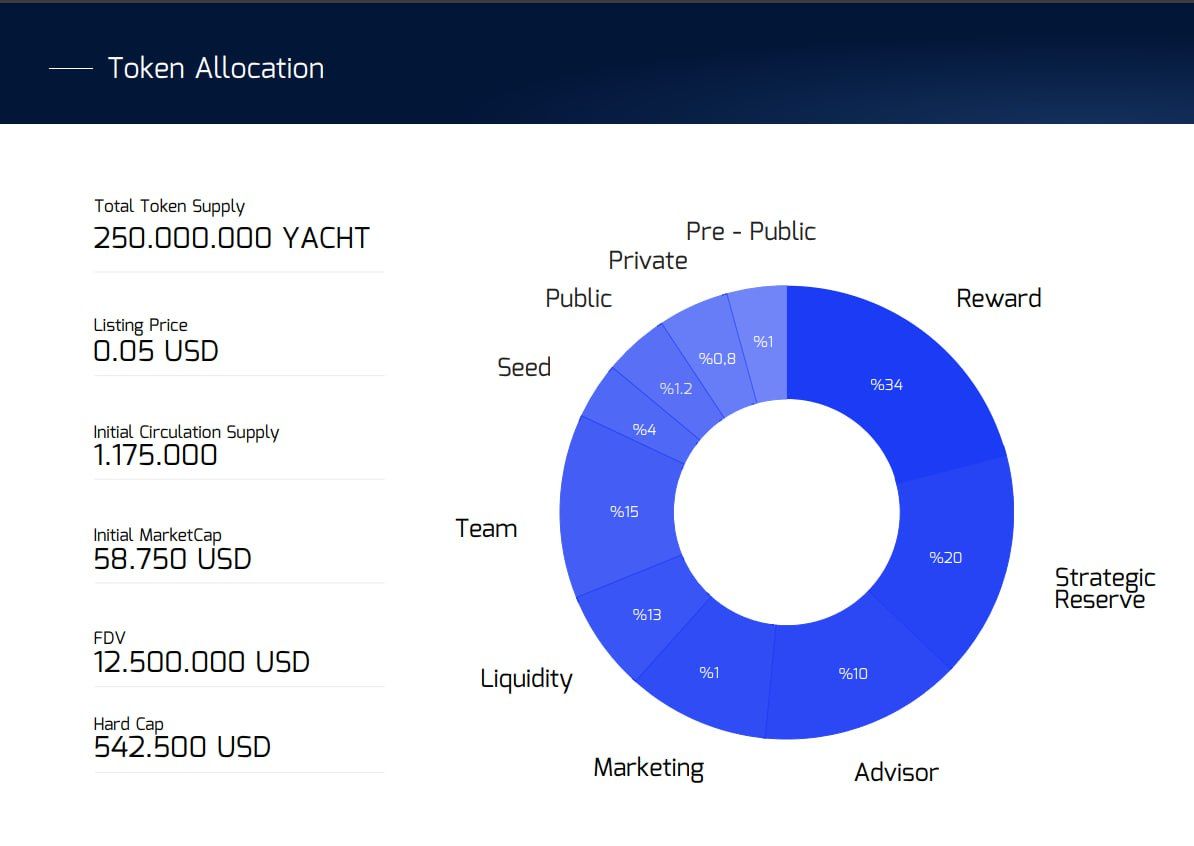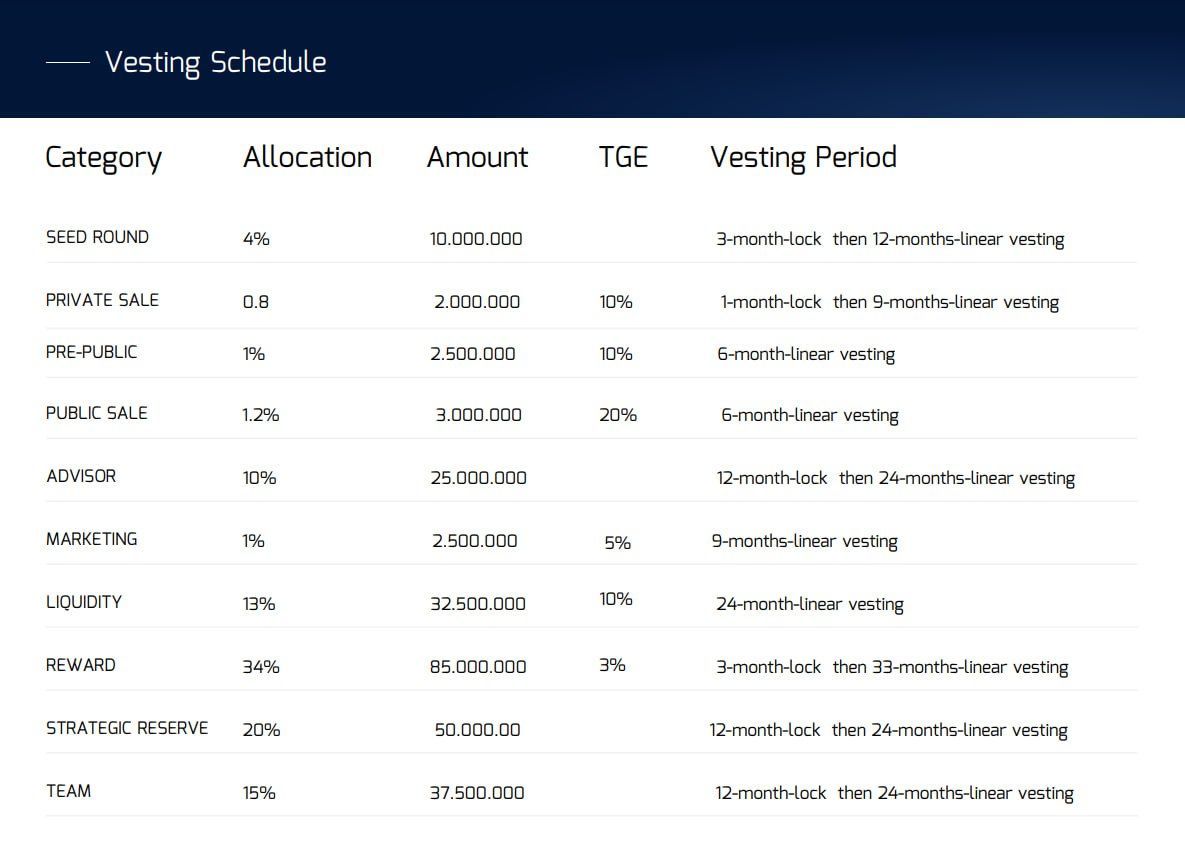 8. Can you please also talk about the earn feature of Yachtingverse?

YachtingVerse is a platform that offers different ways of making money. The business derives its main source of income from the platform trading volume. Yacht owners can list their yachts on the platform and offer them for rental or sale, and a commission determined by the platform is taken from these transactions. In addition, YachtingVerse may also accept advertisements or sponsorships from other businesses. For example, a tourism business may want to offer a holiday campaign for YachtingVerse users and may advertise this campaign on the platform.
Finally, YachtingVerse also offers the possibility to monetize with the platform's cryptocurrency YACHT token. By purchasing the YACHT token, investors can take advantage of the token's increase in value or the special benefits offered to token holders. YACHT tokens can be used for every transaction made on the platform, thus increasing the demand and value of the token as its usage increases. We will share a large portion of these revenues with our users and stakers.

9. Your concept is somehow unique and might be interesting to the business people but I also know that it has a gamefi aspect to it, what steps were made to ensure that this project was appropriate for everyone?

YachtingVerse brings together the traditional yachting industry and blockchain technology, providing a platform for business people and gamers alike. The fact that the project has a gamefi side makes it appealing to a wider audience.
Our project includes a system using gamefi features, where users can earn tokens through the in-game economy and use these tokens for yacht charter, yacht purchase and other services in the real world. In this way, the project becomes an interesting alternative not only for business people, but also for game enthusiasts and crypto investors.
YachtingVerse also acts as a bridge between real life and the game, as tokens earned through in-game activities can be used for real-world yacht rentals and purchases. This makes the target audience of the project open to a wider audience and ensures that everyone can benefit from the project.

10. While it is important to earn money in-game, having fun while doing so is also essential. So, how much of Yachtingverse focus is on the game's fun and excitement?


YachtingVerse was designed as a project that attaches importance to the fun and excitement factor of the game. Players can have a unique experience using real-world luxury yachts in the virtual world. It also adds to the fun and exciting aspects of the game as players earn money and reward their achievements through competitions and quests. Activities such as in-game events, tournaments and competitions also offer players more fun and competition. Therefore, YachtingVerse is not only focused on monetization, but also aims to provide a fun and exciting gaming experience.


11. Why should we invest in Yachtingverse?

Yachtingverse brings together the crypto and yacht industries as an innovative project. By investing in the Yachtingverse project, investors can get:
Huge potential: The yacht industry is a fast-growing industry and Yachtingverse is poised to break new ground in this industry. Investors can be a part of the growth in the yacht industry thanks to this innovative project.

High return potential: YACHT Token can gain value as the project grows. By taking advantage of the token's increase in value, investors can realize high return potential.

Usage opportunities: YACHT Token will be used for transactions on the platform. Token holders can become part of the Yachtingverse ecosystem, in addition to investing in cryptocurrency, by performing yacht charter transactions on the platform.

Ecosystem benefits: Yachtingverse offers a comprehensive ecosystem that includes many features such as yacht charters, virtual reality experiences and cryptocurrency payments. Investors will be able to gain many advantages by being in this ecosystem.

A strong team: The team behind the Yachtingverse project has many years of yacht industry experience and has all the skills and knowledge required for the project. Investors can reap the benefits of investing in a project managed by a strong team.
Live Question Round

1. STAKING is one of the STRATEGIES to ATTRACT USERS and HOLD Them and long term. Does your GREAT PROJECT have plan about to Staking?
Yes, we have an amazing staking plan. Here I am sharing the details. Please read.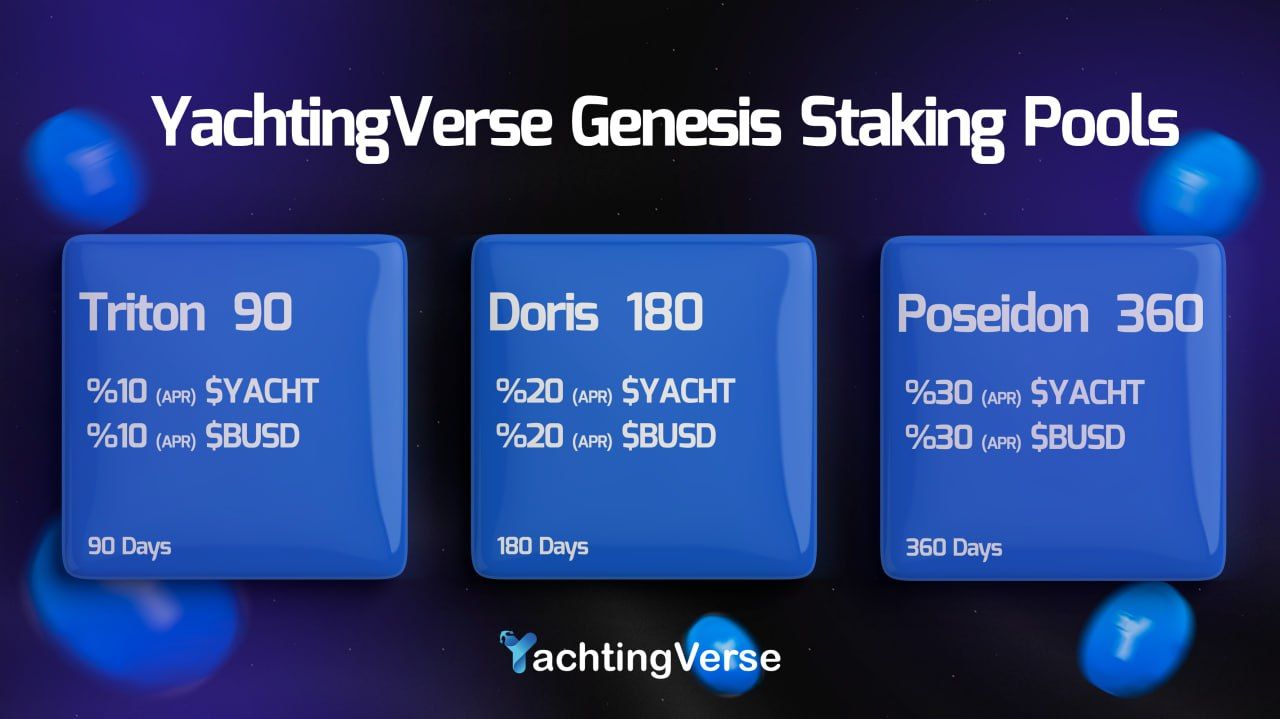 2. Security is something basic and necessary in any kind of project and now more than ever the community wants security so I'd like to know what mechanisms or measures you have in place to protect your users?How secure are your smart contracts against attacks?Have they been audited?
All source codes and blockchain contracts of the project are controlled by the inhouse team and independent audit companies. Beta tests and cyber security tests are carried out regularly. Apart from that, we will soon share all reports with the community along with the contract.
3. Will those who want to charter yachts be able to charter yachts only in Turkey using your application, or will they be able to benefit from your application in other countries of the world?
YachtingVerse is a platform that aims to provide yacht charter services in many different countries around the world. Yacht charters can be made without any country or region restrictions. Thus, anyone using our app can charter a yacht anywhere in the world.
4. Since NFT is popular nowadays, is there a plan for NFT integration?
As the Yachtingverse team, we are interested in NFT technology and have plans for NFT integration in the future. We believe NFTs offer great potential for trading and sharing virtual assets and we believe this technology can also be applied in the yacht industry.
5. I have read that the revenue from the ads will be shared with NFT and $YACHT holders. How will this revenue be distributed? How much will go to the community and what will the rest of the revenue be invested in?
Advertising revenues on the Yachtingverse will be split between YACHT token holders and NFT holders. While a specific formula for the distribution of revenues has not yet been disclosed, the company has a clear and transparent plan for how much revenue will go to the community and what the rest will be invested in. The company plans to use some of the revenue to support the growth of the community, improve the platform, add new features and attract more users. Also, the fact that NFT owners will also receive a share of the revenue may contribute to the growth of the Yachtingverse by making the community more preferable to NFTs.
6. Where can I currently buy Token?
You can join the IDO round from the link below by winning a whitelist or staking $BSR.
https://bsr.binstarter.io/ido/project/63f338db92546090350ff1ab
About BinStarter
BinStarter is a decentralized mining-style approval mechanism insurance protocol that is designed to examine projects according to certain criteria for 30 days and to protect liquidity providers against possible financial damages or any negativities.
Website | Announcement Channel | Telegram Chat | Twitter | Blog
BinStarter Blog & News Newsletter
Join the newsletter to receive the latest updates in your inbox.
---