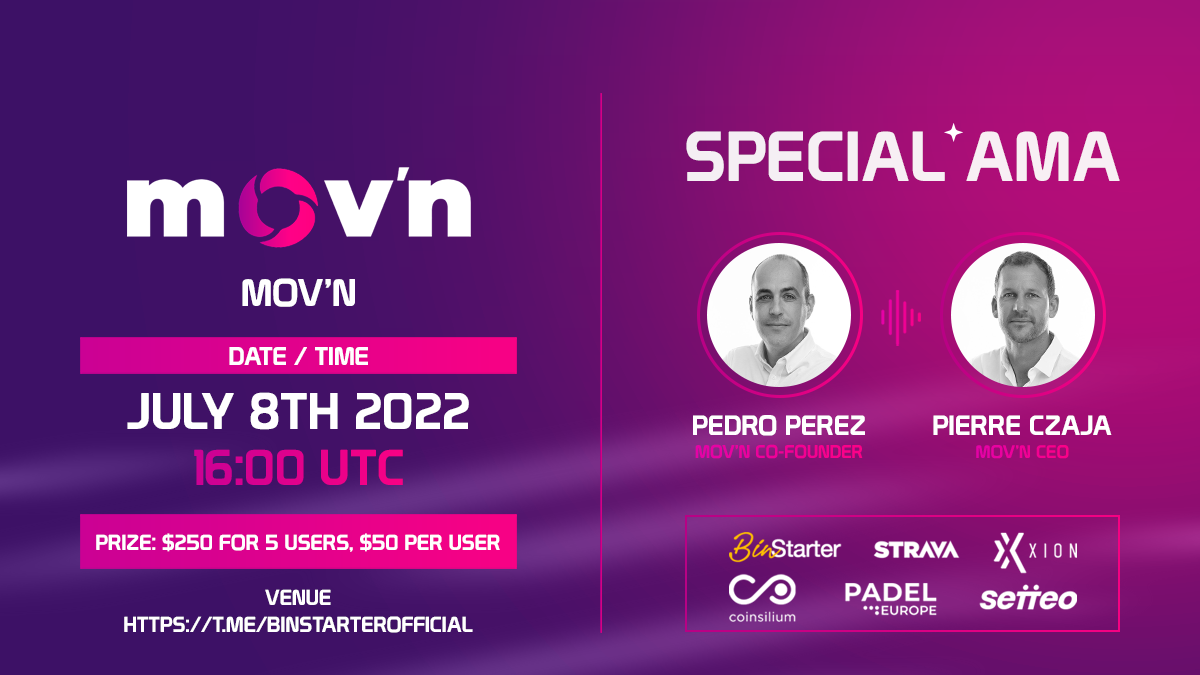 The Superapp of Sports
MOV'N is a #MoveToEarn web3 platform where players can not only make awesome earnings for being physically active but also get access to potentially hundreds of third-party services (miniapps) such as facility bookings, partner finder, marketplaces, eCommerce, Game-Fi, and even DeFi. Just  connect your Google Fit or Apple Health and you will start earning MOV, the sports currency, each time you walk, run, bike or practice your favorite sport & outdoors.
To prepare for their IDO, we hosted an AMA with Pedro Perez, Co-founder and Pierre Czaja on BinStarter Telegram Official Channel. In case you missed it, here's a quick AMA recap.

Introduction Round
Q1. First and foremost, can you please introduce yourself and the people who are behind MOV'N?
Sure, here we are Pedro Perez and Pierre Czaja, both co-Founders and co-CEOs of the project.
We are a team of 15 people, working full time on the project from different parts of the world. Mostly devs and marketing.
This is our profile:
Pierre-Emmanuel CZAJA Co-CEO (France)
Chemical engineer, trained in Business at Harvard Business School. Serial entrepreneur with successful exit track records. Pierre held positions of responsibility in the corporate world (Procter & Gamble, Totalfina). His passion for sports led him to manage not only HEAD, the leading manufacturer of racket sports equipment, but also the licensing and merchandising of Ferrari F1 worldwide. Pierre is closely linked to the world of institutional sports, being the "Strategy and Growth" advisor of the international padel federation (the fastest growing sport in the world) Pierre is a former ATP ranked tennis player.
Pedro PEREZ Co-CEO (Spain)
Pedro is a business technology strategist and entrepreneur with more than 20 years of experience in a wide range of sectors and countries. He has managed telecom projects of more than 10 million dollars at Telefónica-Movistar. A pioneer investor in blockchain, he considers it the concept most disruptive and "game changer" at the corporate level of our time. Pedro is a Telecommunications Engineer and graduated with honors from his MBA at UCLA (US).
Q2. For my next question, I want to talk about MOV'N so in simple sentences, can you please tell us what this project is all about and what inspired you to build it?
We call MOVN the Superapp of Sports. It is a move-to-earn web3 platform where players can make awesome earnings for being physically active. Because we want the whole world to adopt a healthier lifestyle we accept no entry barrier such as NFT purchase etc. All sports are taken into account.
Our model is based on the concept of superapp, giving players access to third-party services (miniapps) such as facility bookings, partner finder, marketplaces, eCommerce, games, NFTs and many more. These miniapps generate income that we use to feed the rewarding system.
The Currency of Sports ($MOV) is the MOVN utility token and the symbol of this new sports economy.
According to the WHO (World Health Organization) , 60 to 85% of people in the world lead sedentary lifestyles. Our higher purpose is to increase the positive impact of sports on society. To achieve this goal, 100 star-athletes support our vision & growth.
Q3. As you already know, Move-to-Earn projects are the trend nowadays so I'm curious who are your strongest competitors in the Crypto space and how do you intend to stand out?
If you just consider the move to earn, stepN, Weward or Sweatcoin are our main competitors. However I would say we are much more than move to earn. We are a superapp of sport offering potentially hundreds of thousands of services to people who want to adopt a healthier lifestyle. In this regard we work more as a web3 operating system for the sports industry.
The rise of StepN has created a trend in the crypto market for move-to-earn projects. As it occured in the past with other concepts from the web3 world such as Metaverse or Game-Fi, many opportunistic projects have been (too?) quickly created using the magic "m2e" branding.
At MOVN we have been working on the concept of move-to-earn since 2018. Our path was completely opposite as we started with a real economy sportstech businesses since 2014. We brought the token (MOV) and the concept of move-to-earn not only to support players but also to boost the entire sports ecosystem (clubs, brands, associations, retail and other service providers). Here are four key areas where we differ from other move-to-earn projects:
1- NO ENTRY BARRIER
2- BIGGER EARNINGS
3- TRULY MULTI-SPORTS
4- SUSTAINABLE ECONOMY
Move-To-Earn is here to last. Not only because it makes complete sense from a societary point of view, but also because there is a powerful, highly scalable and sustainable model for it.
Q4. So if I want to join MOVN, what's the best way for users to get involved in MOVN?
DOWNLOAD THE APP AND CONNECT YOUR NATIVE HEALTH APP (Google Fit or Apple Health)
You can get the links in our webpage >>> movn.ws
And tell also your friends hahahaa
There is no entry barrier and all sports are taken into account!
From the first day you can earn $MOV
There're more than 85k users right now
87,685 now....
Q5. Can you briefly describe the Fit Index and how it tracks all the physical activity of players in your ecosystem?
The idea behind the fit index is that it is an aggregator of physical activity. It collects activity information from different sports, applications, devices... with direct connections or through APIs, and integrates it in the same way.
All that activity is assigned a unique value, the fit index.
In this way we have a homogeneous way of comparing the activity of different people in any sport and device. This number, the fit index, has a reference value of 100, which is the maximum recommended physical activity for an adult.
Q6. What technology do you have in place to facilitate third parties to develop their own miniapps on your platform in your ecosystem?
It's a combination of SDK and APIs.
Developers could create their own applications inside the superapp and use our common services, reducing development times, using the rewarding system and having access to thousands of users since the beginning. It is not yet ready, we are still working on it. It may take a bit to develop the whole system, but this is our plan.
Q7. Let us now talk about your tokenomics, can you please share with us a little about the MOVN tokenomics?
The $MOV Token is a deflationary utility token on the Polygon network, following the ERC-20 standard. The ticker is "MOV" and the max total supply is 1,000,000,000 (1B)
However, we have burning actions every 3 months. The token burning strategy aims to secure a long-term goal of 100M tokens as circulating supply. We will execute buybacks (on the open market) combined with token burn of no less than 10% of net sales. And of course, direct burn of tokens from the Reserve and the Rewarding pools.
Because our vesting is over a very long period of time, 10 years, our initial market cap will be quite low. No more than 2-3M tokens in circulation on TGE, this is a market capitalization of only $300K.
Q8. What are the utilities of the $MOV token?
The utility has no limit in our ecosystem as miniapps can be Ecommerce but also marketplaces for facility bookings, lessons. It could be games, NFT applications, DeFi or why not, other move to earn integrating the MOV. The network effect of superapp is very strong and thus utilities limitless…
The $MOV token can be used everywhere in our ecosystem. All miniapps accept payments in MOV
We take between 1% and 2.5% on all in-app transaction fees. In certain cases like eCommerce we take a commission of 10% to 15%
Q9. Can you put some light on NFT Bananas and NFT Captain and also tell us some of the premium services you can access using NFT Bananas? Also, tell us how you can acquire the NFT-Boosts mentioned above.
NFT-boosts such as NFT-Bananas increase the $MOV earnings which can be used to access premium services, mint new NFTs...
To go further, the NFT-Captain enables users to create teams competing against each other, and earn $MOV from the activity of their team members. There're a limited number of Captains
All NFT-Boosts can be bought or rented from the in-app NFT marketplace. And also could be found in the "Walk & Collect" game.
Q10. Can you explain to us what the Collectible NFT Wallet is? and the "All Time Athletes" and "NTC History" collections?
The NFT Wallet is a widget inside MOVN where users will store and trade all NFTs from any other miniapp
"All time athletes" is our first collection of NFT. It is available in "Walk & Collect" game. These are NFT of all the greatest athletes in the history of sports. You can collect them and export them to other places such as Opensea etc. Soon we will introduce certain experiences with these athletes for some rare editions (birthday wishes, live chat, dinner, playing sport in real life, etc…).
The "NTC History" collection is a collection for the French Tennis Association (1M members). It represents the 34 editions of the largest tennis tournament in the world (the NTC). Players can find these NFTs that are hidden in France in specific locations that the French Tennis Association or its sponsors have interests in.. There again certain NFT have special powers like free lifetime inscription to the tournament, etc.
Q11. Before we move on to the live questions round, is there any information that hasn't yet been made public that you can share with our community for 'exclusive' news before we wrap up and offer the floor to the audience?
Difficult to announce something new since we are almost communicating in real time on all our networks.
Maybe that we are already listed on Coinmarketcap....We have not make it public since we need to make some updates to the listing (add the token info...)
Live Question Round
Q1. What is your go - to - market strategy to spread MOVN to your targeted users?
Our superapp model is very scalable. At the end the brands, associations, professionals and businesses that create miniapps in our ecosystem do their own marketing. On top of this we will do direct acquisition using our team of 100 ambassadors among others.
Q2. Hello.. Do you have any plans to attract non-crypto investors to join your project? Because the success of a project attracts more investors who haven't yet entered the crypto world. What are the plans to raise awareness about your project in the non-crypto space.
Of course. There is no entry barrier as Pedro mentioned. It means 90% of our users will be non crypto users. Web3 adoption is one of the greatest opportunity we offer to the blockchain industry
Q4. According to the project's roadmap- what are your most important next priorities?
Stabilize the app. Launch some key third party miniapps such as marketplaces, eCommerce. Reach one million users.
Check our Instagram, Discord, Twitter and Telegram official channel
Q5. Are you a global project or local project? At present, which market are you focus on, or is it focused on building and growing to gain customers, users and partners.?
We are truly global.
About BinStarter
BinStarter is a decentralized mining-style approval mechanism insurance protocol that is designed to examine projects according to certain criteria for 30 days and to protect liquidity providers against possible financial damages or any negativities.Website | Announcement Channel | Telegram Chat | Twitter | Medium
BinStarter Blog & News Newsletter
Join the newsletter to receive the latest updates in your inbox.
---