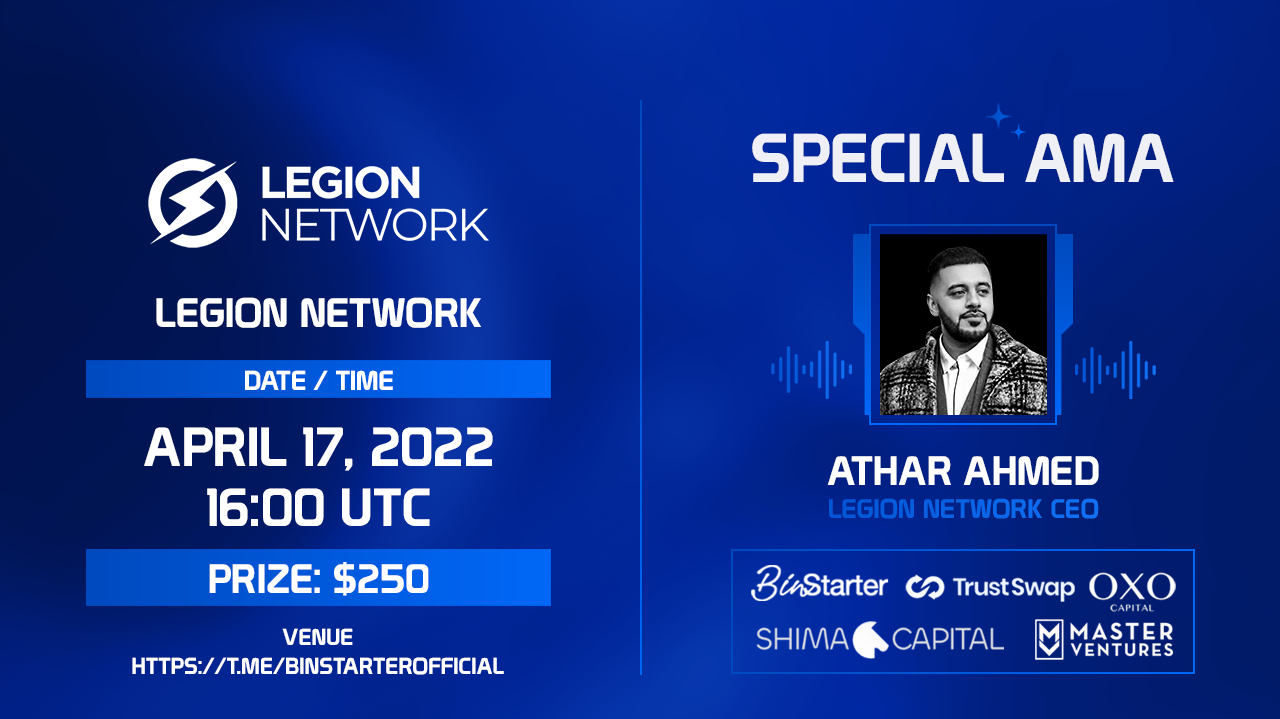 Get to know: Legion Network
The Best Of Blockchain In One Decentralised Super App
Legion Network is a revolutionary new blockchain ecosystem and the world's largest crypto SuperApp that combines NFT's, Metaverse, Play2Earn, Watch2Earn all within a SuperApp.
To prepare for their IDO on April 19, we hosted an AMA with Athar Ahmed Legion Network's CEO on BinStarter Telegram Official Channel. In case you missed it, here's a quick AMA recap.

Legion Network IDO Whitelist is open until April 18, check their IDO page and apply for the sale!
The ecosystem consists of:
1) Defi Wallet
2) Bluemoon: the world's first collaborative NFT Marketplace with an integrated social metaverse
3) Arcadia: a GameFi Play to Earn platform with an arcade of competitive games
4) Legion Rewards: Community engagement platform that allows users to earn NFT's , Crypto & Prizes.
5) BizPad: Web3 tailored business productivity applications.
Backers: Shima Capital, Master Ventures, LVT Capital, Dream Ventures, OXO Capital and many more.
Introduction Round
Q1. From what I know, Legion Network is a collection of different services packed into a one App and my first question is, why did you choose to launch a Super App?
Thats a great question, when we got started with all the members at Legion, our priority was to create Something that doesn't exist in the industry already. We also saw the rise of super apps, and we see many blue-chip companies turn into super apps. It was key for us to be an all in one solution, thats easy to use for the whole blockchain industry to use, and also attract new users to the industry.
When you start to analyse the trends in different markets right now, you will definitely notice  the shift to super apps. As the world is becoming more connected many software companies are starting to create ecosystems. So instead of focusing on one product they already prepare themselves to be able to tap into new consumer services. We really believe this is the way forward because nowadays all tech companies want to provide more than just one service. Smartphones are pretty much adopted worldwide and now people are switching between apps but moving forward people will be able to do many things from single apps.
Q2. For my second question, I know for one that it's a compilation of different services but what makes Legion Network different?
The main killer feature for the Legion Network super app is how we simplify Blockchain and connect every service with one another. We can already see how so many people don't truly understand the power of Blockchain. We want to stop people from thinking it's just trading.
We will be that company that showcases all of the benefits and services that Blockchain can provide the average user and also educate them on how they can benefit from this new technology.
Q3. What will you be doing over the next few years to become a reputable company and influential project for people around the world?
I think this is a very important question but not many people touch on.
Having long-term vision is key to the success for Legion Network.
I believe it's by combining consistency with innovation, By being brave Wanting to change the industry in a way that benefits more people rather than just a few. We could have started many projects but our team was adamant that we be different and I know it's hard in the beginning to really build a reputation in industry that has so much money flowing through it, Everybody is trying to get a piece of the pie, but who is really trying to innovate create new visions and an execute? For us is now being mature enough to collaborate with those who have the best experience, And then use that to solidify our foundation to build upon for the long-term
Q4. Why did you focus on so many Launchpads?

Coming from a deep business background studying entrepreneurship with one of the Dragons in the UK, And also being really interested by the success of the likes of Apple It was clear to me that Marketing is not separate from your business however it is integral to the success any business and once that's truly understood nobody Will really have any excuses not to go global.
We looked at the industry we realised there were so many different communities, With so much different interests in so many different countries. It was a great opportunity for us to find our place in this industry from early on, For us it was about planting the seed wherever we could because we truly believe that everybody should know about Legion Network.
This approach was Designed to create mass exposure and I'm pretty certain even those who disagree with the method will eventually agree with our methodology once we Truly benefit users from all around the world.
Q5. Why do you think Bluemoon which allow artists to collaborate with brands and the community is needed in the market today?
What makes our Bluemoon special is that it has a social meta-verse where you can trade buy sell and rent NFTs super simply like never before.
What we did is we looked at why would people need NFTs and then how can we have what they need all in one place.
People want to compare NFTs, They also want to rent NFT's. And then they also want to place these NFT in a digital world, Which is deeply connected by the Blockchain. We focus on user experience first and then reverse engineer the technology, So even though we have so many features it's always going to be easy to use.
Q6. Moving on, how about your metaverse, how is it going to allow for an unforgettable social experiences?
It's by combining NFT technology with events, With music with sports with many different industries. Our metaverse supports VR headsets from day one.
With your phone PC or laptop and VR headset you can access our meta verse.
We will partner with some of the biggest brands from around the world to provide events and entertainment, We already have announced a partnership with wicked n bad in the UK where we will be hosting the first influencer boxing match in the MetaVerse!
Q7. While we are in the game topic, what is the future plans for Arcadia which is your gaming platform?
Yes with legion Arcadia we actually have 3 to 4 different phases so the beginning phase is with the current hyper casual games are you sitting on the mobile app where users can earn cryptocurrency different tokens by playing these games.
In the future of the developers can launch their own games and partner with us and we would also be launching our own exclusive games 😎
I can't say too much more but we have some very exciting news coming in the next few months!
One thing that I can make sure is that with legion network will all be about skills based gaming. We want the gamers to enjoy playing rather than just chasing money, So to have the balance of great gameplay and play to earn is super interesting for us.
Q8. Just have to ask this, do you have any exclusive NFT collaborations?
I mentioned one earlier the one with the Wicked N Bad, We are the exclusive partners and the NFTs will be launching on our app on the 23rd, YES You will be able to mint and NFTS on the Legion Network app.
We also created a metaverse for meta billionaires , and again We have some collaborations up our sleeves , I can't mention right now however in the coming weeks everybody will see.
Q9. Good stuff so far, I'm pretty sure our audiences are excited for Legion Network. When are you getting listed and how can the community get involved early?
We are getting listed in 3 days!!
We have an exclusive partnership with a centralised exchange, And also you will be able to find us on a DEX!
To be the first one to find out more stay in touch on our discord and Dont miss any of our promotions and giveaways… We are very generous especially when it comes to people who are serious about our project 🤓
20th April 2022 - LGX Listing Date… time will be announced shortly
Q10. Down to my last question, what services will legion launch in the future?
In this industry there are so many different avenues to take, When we originally started we were keen on allowing staking In order to access business applications, And we still have a unique concept Of how this one impact small-business owners and entrepreneurs by providing them with the tools and software in order to become successful.
We also have a Legion Launchpad Launching soon which is going to allow you to access unique projects in the simplest manner ever!
Minting NFT's with our in app NFT drops!
And also our new wallet is going live soon!
What I'm most excited about is how everything that we create is interconnected in our ecosystem to provide a very unique smooth and interactive experience. You will have the best of Blockchain in Legion Network.
Live Questions Round
Q1. I have read that Legion Network will have its launchpad platform in the future  (Legion Launchpad, According your RoadMap). So, is it possible that the project will change its focus from being a platform for NFT Marketplace to being a platform for Launchpad with #GameFI options and #NFTs?
I think that's a great question, I don't really think it will be a shift of focus however it will work together because having pre-sales for NFT is the same as having a launchpad.
The launchpad will be an additional arm to Legion Network, and it will provide access to all the other great projects thats exist
Q2. Have you being audited ? Have not heard you talk about that security of funds is what every investor craves for and plans to escape incase of insecurity if funds,scams and rug pulls ? How strongly built are your security put in place?
That's a great question yes we have been audited and we have another major audit being released very soon.
https://solidity.finance/audits/LegionToken/
Q3. Can you explain how is your Tokenomics Distribution? How many tokens Will be minted ? And How many tokens Will be locked by the team?
Sure I will share the Tokenomics here!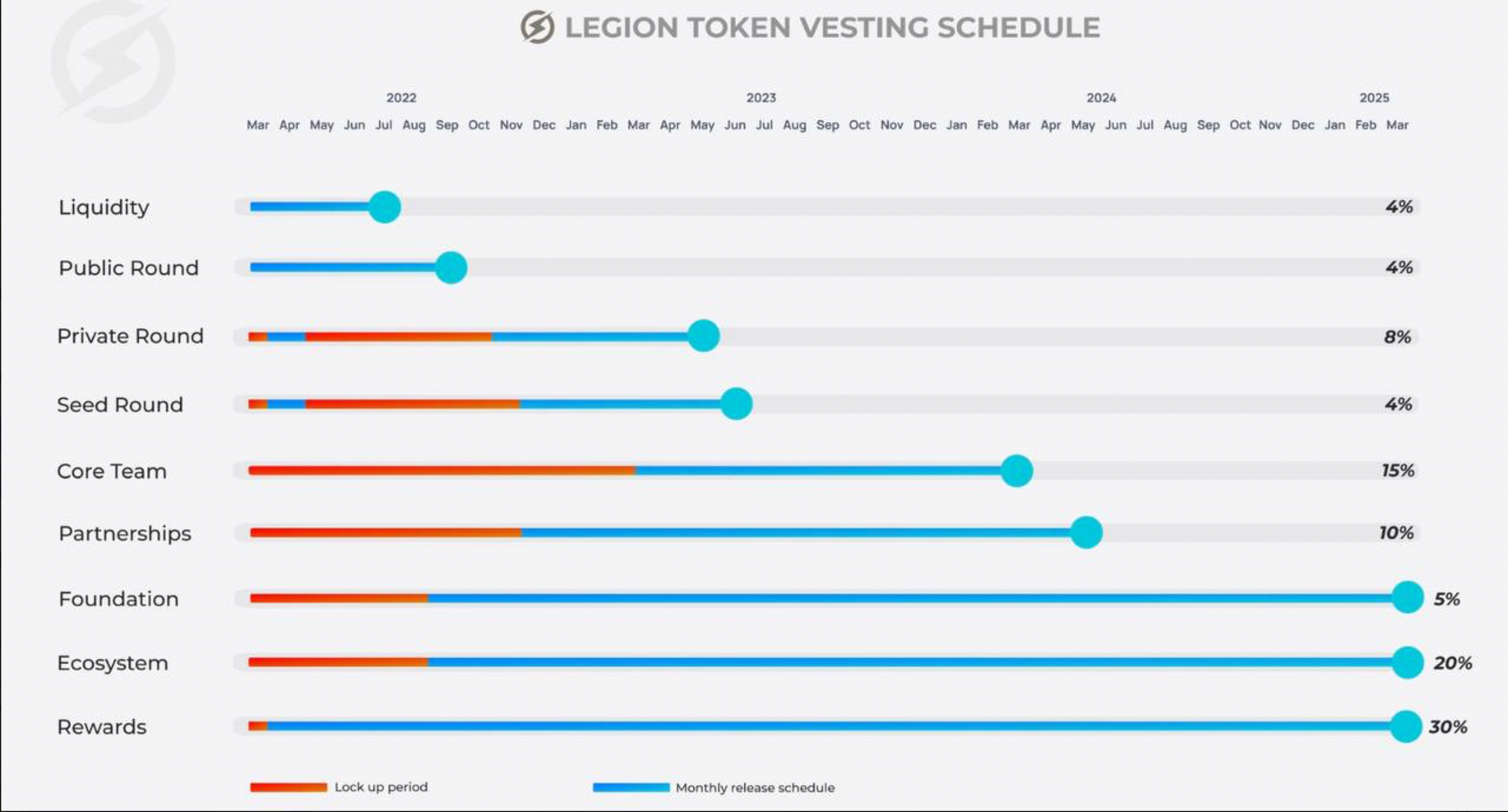 Q4. How does project increase the token's value, liquidity and utility ? So that it can lead to an increase in token prices ? What is your plan to make your project stable and provide the highest return for investors in the long term ?
When truly think about it, the underlying value should be the key consideration when deciding to buy in to anything.
The markets will always move, but not in the direction YOU wish 😅
So as a company we focus on delivering our promises and collaborating and scaling up with our marketing plan. The rest we let everyone else decide. And if we keep doing a fantastic job…. Im sure great things will happen as a result!
Q5. Almost 80% investors have just focused on price of token in short term instead of understanding the real value of the project. Can you tell us on motivations and benefits for investors to hold your token in long term?
We are one of the first project to have one token with Mass Utility, And this is what we will keep up. Legion Token is central to our plans and this utility expansion is our driver for long term growth!
Legion Network Social Links
• Website: https://legionnetwork.io
• Telegram: https://t.me/legionnetworkcommunity
• Twitter: https://twitter.com/LegionNetwork__
• Discord: https://discord.gg/legionnetwork
• Link to all socials: https://solo.to/legionnetwork
About BinStarter
BinStarter is a decentralized mining-style approval mechanism insurance protocol that is designed to examine projects according to certain criteria for 30 days and to protect liquidity providers against possible financial damages or any negativities.
Website | Announcement Channel | Telegram Chat | Twitter | Medium
BinStarter Blog & News Newsletter
Join the newsletter to receive the latest updates in your inbox.
---