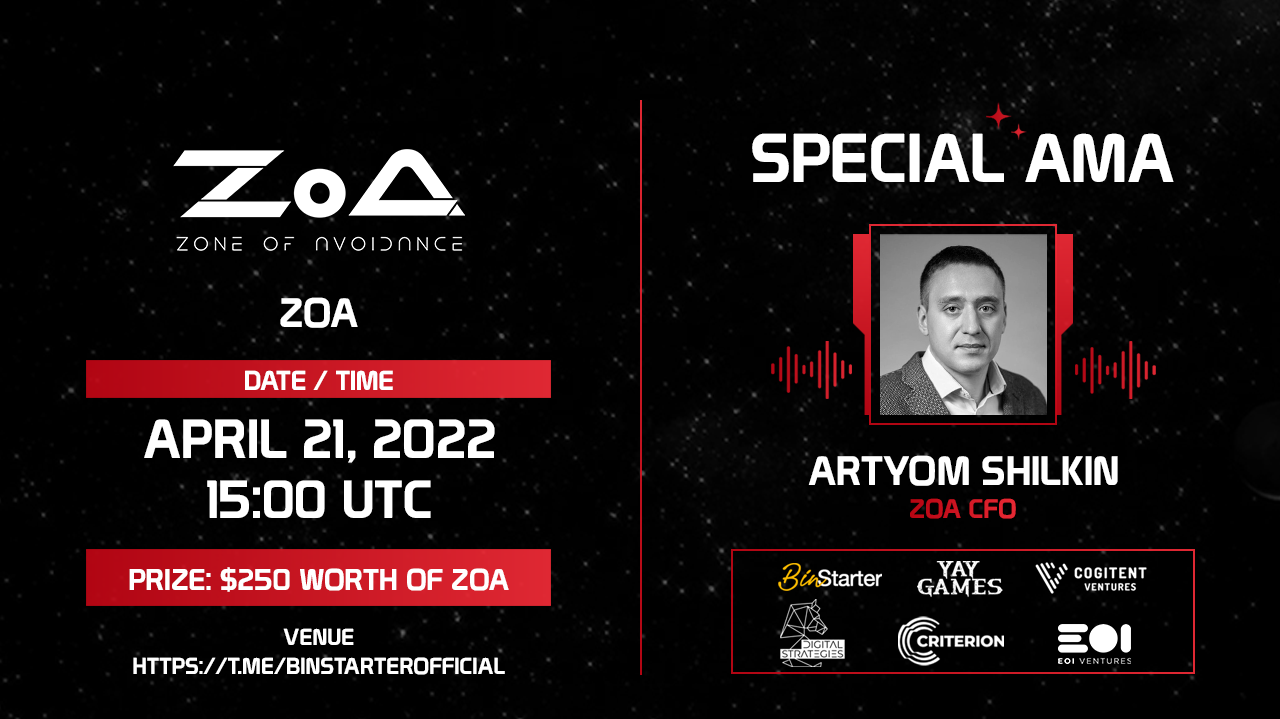 Get to know: Zone of Avoidance
Zone of Avoidance (ZoA) is a PVP/PVE, Play-to-Earn, NFT-based auto battle in which the universe becomes your campaign ground. Buy your NFT spaceship, fill it with heroes and embark on your mission out of the New Milky Way toward the Zone of Avoidance. As you hop between planets you'll discover valuable commodities and fight the inhabitants willing to do anything to protect them.
To prepare for their IDO on April 28, we hosted an AMA with Artyom Shilkin, ZoA's CEO on BinStarter Telegram Official Channel. In case you missed it, here's a quick AMA recap.

ZoA IDO Whitelist is open until April 27, check their IDO page and apply for the sale!
Introduction Round
Q1. First of all, can you please introduce yourself to our audience and let us know about the team behind ZOA, how did you all come together?
Sure. I'm Artyom and I'm the CFO at Zone of Avoidance. I have more than 7 years of experience in financial industry specifically in Deloitte and KPMG. My core responsibilities at ZoA are financial modelling, in-game tokens flows and project tokenomics in general. The majority of our core team are located in European countries, but we have people working on ZoA from all over the world. The blockchain doesn't have any borders, and neither does our team!
For almost all of us, ZoA is fulfilling a childhood dream. Basically, who played video games growing up dreamt about making games, or becoming a professional gamer or game tester, or something like that. We've got experienced game developers on the team of course, but for me anyway this is as exciting as I always imagined it would be!
Q2. Can you please explain more what Zone of Avoidance is, what are you guys trying to build?
Of course.
To put it briefly, Zone of Avoidance or ZoA is a PVP/PVE, Play-to-Earn, NFT-based auto battler set 40,000 years in the future. As a player, the entire universe effectively becomes your campaign ground and allows you to set off in your own NFT spaceship, recruit a squad of heroes to fight beside you and travel between planets and galaxies on the hunt for valuable commodities and experience.
And that's just the PVE side. PVP acts in very much the same way except you'll be battling other players, and we've designed the protocol to reward the creative strategies capable enough to prove themselves on the battleground. We've designed an exciting and innovative PVP ranking system that will be both fun to progress through and rewarding for winners.
In both game modes you'll be able to upgrade your ship, your heroes as well as their items. And as all of this progress is represented within NFTs that you'll own, you'll be able trade them in on the open market for other NFTs or cash them out into other currencies.
Q3. What's your vision about Blockchain gaming? Do you think it is the first door to really attract the masses to cryptocurrency?
Exactly that. Traditional gaming is a massive multi-billion dollar market. If we get people noticing that we're making great games with exciting, unique mechanics that also pay their players… I mean, why wouldn't you switch? We think it's just a matter of time, and we're excited to be right there at the start of this transition.
Q4. Of course! Is there any problem you are aiming to solve in the Blockchain Gaming/NFT industry? And how do you set yourself apart from other Blockchain games?
The main thing we're trying to solve about crypto is public image. There's still billions of people out there who still don't quite 'get' crypto. Everyone can understand play-to-earn or P2E. People get paid to play games, it's simple.
How is ZoA different from other P2E games? Well for starters we have an awesome single-player campaign mode that sends you on a journey from the New Milky Way out towards the Zone of Avoidance battling unique monsters, earning real rewards and upgrading their own hero NFT cards. While we might not be reinventing the concept of P2E gaming, we're trying to build a game that you'd want to play.
And another very important feature of ZoA is that game will be in your smartphone. Everyone has a smartphone, so users will be able to play our game everywhere. It is easy to play on one side, but also has an enthralling gameplay. You do not need to spend lots of time to get rewards. Do you have 5 free minutes? -Play our game and continue doing you activities. It contains popular all over the world classical game mechanics. We also spend lots of time on application security. Good architecture, lots of audits and best devs - that's our key to success.
Q5. One important aspect for all projects is "Revenue". How does ZOA generate profit to fund future developments and just to support the project in the long run?
Our main source of revenue is sale of NFTs on a regular basis. We already have our NFTs for genesis drop, but during lifecycle of ZoA we are going to add new races, heros, spaceships to entertain the players and allow them earn valuable rewards.
Q6. Where do you see ZOA years from now and were there any major setbacks when creating the game?
We see a game that becomes more and more community owned and governed. We see a game that has a massive playerbase of contributive people from all over the world. This is very important for us because we don't want to build a game which comes and goes as a fad - this is why good gameplay is essential to what we're building, and with community governance our players can get truly invested in the future of the game.
When you play ZoA in one, two, three years, it's going to look different from the release game. Updates are going to keep things interesting for veterans and ensure that the game is always the best it can be.
And as far as major setbacks go, we thankfully haven't seen any so far (touch wood!). Anyone who has helped build a project from the ground up knows that it's difficult, particularly in the early days. Finding investors and building a team takes time, but it's to be expected. Startups are also dynamic places, and the plan always changes a lot in the early days. You might have spent a sleepless week finishing something, only to realize you need to change some fundamental aspect and start all over again!
As I said though, these things are normal - and part of the fun of building!
Q7. What about your target audience, does it include only crypto people, or newbies as well?
Our target audience is literally anyone. The game mechanics are designed to be simple to learn but difficult to master, giving hardcore and casual gamers alike reason enought to keep playing. Our NFTs and the tokenomics also make Zone of Avoidance an attractive choice for investors. Even if you know nothing about NFTs or P2E mechanics, ZoA is accesible to everyone.
Q8. For my last question, Communities play a big role within crypto, so, how are you building yours? Also what's your vision about your community? Is the game for them?
Our community is absolutely central to our vision. Our token confers governance rights, so everyone who has a token can have a say in the future of the game. Because of the way our pěe emissions work, you don't need to be a big investor to have these rights either - simply playing rewards you with tokens, which in turn gives voting rights.
As far as building the community, our team has been involved in many projects that were built from nothing to, in some cases, communities with hundreds of thousands of members. We've learnt a lot from these strategies, and we're using them to build a solid community, including with AMAs like this one today!
If you haven't already, make sure you join our social media. It's the best place to meet other gamers and investors and to engage with the ZoA team directly.
Website: https://zoa.game
Telegram: https://t.me/zoagroup
Discord: https://discord.gg/8UHmfSRGFt
Twitter: https://twitter.com/zoagame_
Live Questions Round
Q1. Does your project support staking program? If yes. how is your stake system work, what is the requirement for user if they want to stake in your platform?
Sure. Token holders will be able to stake ZOA token starting from the first days after TGE. APY are dynamic depends on the amount of tokens in the stacking pool.

Q2. What is your main focus right now, are you focused on the community or market/Exchange or the products?
Currently we are actively working on our MVP, that will be ready by the middle of May. We already have demo version that is passing closed testnet stage. On 29 of April ZOA token will be listed on DEX and in 2 more weeks on CEX.
Q3. Most P2E NFT Gaming can only be played for PC users this is a major problem for users who don't have PC so my question is will  games be available in the mobile version? or only for PC Users?
ZOA will be available on Android and IOS platforms as well. And for sure we will have browser version.
Q4. Current NFT is a hot topic, but are NFT not just for art. Does your project think that more real world use cases will emerge for NFTs as time goes on, why should we take NFTs seriously?
As I previously mentioned our NFTs have various use cases. Spaceships, heroes and items will all be linked to NFTs (which we're calling 'cards') which players can trade in the ZoA marketplace. Simply having the NFT in your wallet will make it available to you in game.
Hero cards are the characters that you'll use to fight. You can either buy individual heroes through the marketplace, or try your luck by purchasing a hero pack which gives you a random selection cards.
These NFTs are also upgradable. As you progress through the game, you'll need better heroes and characters, so you can make your NFTs stronger. With the exception of spaceships (which have a level linked to your wallet), the upgrades you give to NFTs will be permanent. This means that players can grind for awesome upgrades and sell the item for profit in the marketplace.
NFTs will be available for purchase in the beginning of May on various NFT marketplaces as well as on ZoA website. We'll announce more details in our social media when they are available.
Website: https://zoa.game
Telegram: https://t.me/zoagroup
Discord: https://discord.gg/8UHmfSRGFt
Twitter: https://twitter.com/zoagame_
Q5. PARTNERS are the most important that strengthen the ecosystems of all projects. Could you tell us about your project partners and the partnership strategy it has adopted?
We have great partners on board. Our leading investor and partner Digital Strategies. They are running their own guild that will support ZoA from the first day of launch. Final Frontier, LGG, T3 guild are also our partners and will play ZoA from the early stage on launch.
Our partner and investor YAY games is one of the biggest gaming accelerators on AVAX blockchain and has supported us from day 1. They are helping us with development as well.
Major part of our partners and investors are presented on our website https://zoa.game/and everyone can learn more about them there.
If you want to know about our nearest future, we are going to onboard additional guilds to increase our players' base on a regular basis.
About BinStarter
BinStarter is a decentralized mining-style approval mechanism insurance protocol that is designed to examine projects according to certain criteria for 30 days and to protect liquidity providers against possible financial damages or any negativities.
Website | Announcement Channel | Telegram Chat | Twitter | Medium
BinStarter Blog & News Newsletter
Join the newsletter to receive the latest updates in your inbox.
---