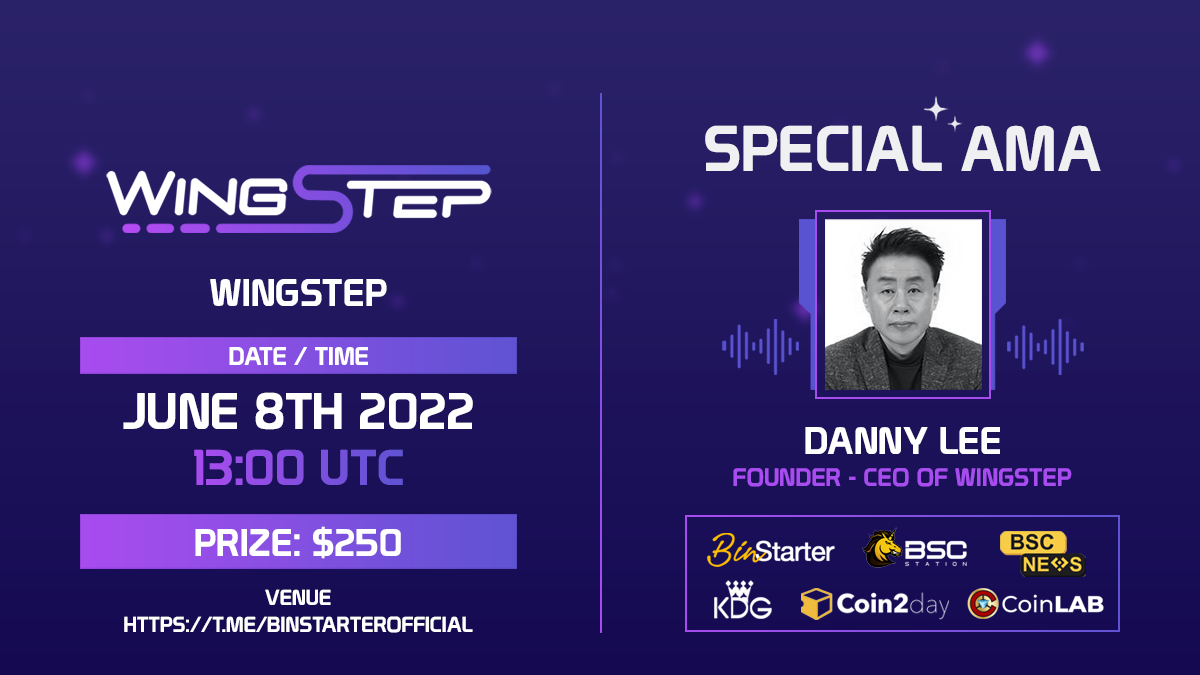 The Next Pioneer of #MoveToEarn
WingStep is a Web3-based fitness and health tracking mobile app with integrated NFT gaming and social media elements, where you can earn rewards by walking, jogging, gym.
To prepare for their IDO on June 10, we hosted an AMA with Danny Lee- Founder and CEO on BinStarter Telegram Official Channel. In case you missed it, here's a quick AMA recap.

WingStep IDO Whitelist is open until June 9, check their IDO page and apply for the sale!
Introduction Round
Would you please introduce WingStep's core team (like CEO, CTO, CMO, etc) and your experience in the Crypto space so far.

Our team have 20 employees which 13 employees in technical & operation department and 7 employee in Marketing department. Let me introduce the core team:
I am Danny Lee , Founder, and CEO of WingStep. I has been active in the crypto industry since early. I founded alot of blockchain and crypto startups that make it easier for traditional Korean businesses to access the crypto space.
My co-founder & COO Park Weonsik has 6 years of game planning and DP, he take charge of important position in the big company such as COO at The Soul Maindex Business, Applly Mobile Korea, PM and Games Onechip Co., Ltd
Park Sang Hyung is our CMO with 29 years of expertise in online marketing. He worked as  CMO for STK online, offline Agency (B2B, B2C), and in numerous telecommunication companies in Korea.
MICHAEL SCOTT, CTO and DB, 25 years of experience in game creation and planning. Excellent experience on Planning and producing blockchain game. Currently , he is former CEO of InfoNEX Game,  NAMANA Systems Co., Ltd and development Director of Tunami Games Co., Ltd
DAVID BRENT , our CPO, 5 years of experiences in blockchain . he worked as CEO for Max Labs and CEO for Blocksun

2. In simple sentences kindly tell us what WingStep project is all about.
WingStep is a Web3-based fitness and health tracking mobile app with integrated NFT gaming and social media elements. We seek a balance between health, wealth, and social interaction and convert millions of the non-crypto runners, gymers to the crypto players and offset carbon. To join the game you need to have a free NFT or have to buy an NFT in the form of sneakers, then by walking, running, and exercising you will earn crypto and other NFTs in the gameplay, the items earned can be used for in-game activities or cashed out for profit.
3. What are those unique features that make it stand out from other projects? How do users interact with the ecosystem?
WingStep makes the different with other move-to-Earn projects in terms of :
+  Non -VC funding rounds, we takes the community focused strategy.
+   WingStep's outstanding features that make users balance between health, wealth and social interaction.
✔ Five game modes : Personal mode, Party mode,  Arena, Weekly Pass, Mission,
✔ SocialFi : WEB3 social platform with NFT integration, focusing on sharing content. Users can mint an article then assign it to a standalone NFT , earn rewards from their fans, etc…
✔ DeFi Zone: users earn passive income via staking WST, WSS, Farming NFTs.
✔ In - app Marketplace
✔ Internal wallet & Blockchain wallet
✔ NFT Sneakers, Gem Socket and badges
+  Revenue Model : 80% of the revenue used for the project's  Finance activities , 10% for Marketing activities, 10% for development team
+  Token &NFT deflationary mechanism:
✔ DeFi Zone is well designed to continuously increase the TVL to keep the balanced economy
✔WST is used as fees for processing transactions, operation in WingStep and we burn all WST token fees from in-game activities (Except buying NFTs)
✔DeFi Zone: It is compulsory to lock $WST/ $WSS in 3 months to receive NFT box reward and stake NFT Sneaker in the same duration to receive token rewards.
✔Minting NFTs : merging 2 NFTs of the same rarity to obtain 1 new NFT of same or higher rarity (see ratio in whitepaper). The NFT minting cost $WST. the two original NFT Sneakers are burned.
✔NFT Sneakers are required to be upgraded, repaired after a certain using period. Those tasks cost $WST.
✔AFK mechanism (Punishement) reduces the durability of that NFT Sneaker of 25% when user doesnt use Sneaker for a certain of time.. It encourages users to practice very often and have to repair their sneakers often that cost WST.
✔NFT Sneaker can be ONLY sold on the Marketplace when it reaches the certain levels, depend on their rarity/ stats (see our whitepaper)
+  Referral program
4. What is the status of the project in terms of development currently? Kindly share your roadmap.
we are in phase 2 of the project:
release of Alpha Testnet on 29th May
Release of Beta Testnet on 8th June
Upcoming IDO on 6 launchpads including BSCStation, BinStarter, Fam Central, TrustFi, BSCLaunch, KingdomStarter and we are discussing with BullPerk for IDO as well. Date of IDO is from 09 to 11 June 2022
Listing on PancakeSwap on June 11th, 2022
After this phrase, we will have a lot of work to do:
July 2022:
Traditional and electronic press release on Mainnet official time.
Release Official Mainnet App ver 1 and Open Sale NFT.
Official maintenance phase 1 within 8 hours after 1 week of mainnet to improve system and sever based on traffic.
Update features Happy Box, Gem Socket, Ticket.

August 2022:
Official launch of blockchain wallet, have independent control and ownership of the private key.
List 10-15 popular Tokens into wallet.
Release Arena feature, upgraded tracking system.
Deploy application systems connected to sport bands.
Announce the Offine Tournament prizes.
Update features Team mode, Convert Token, Upgrade NFT, Fusion, Evolve.
Start the 1st Tournament.

Q4 - 2022
- Implement social networking platform inside the application.
- Upgrade blockchain wallet and list more tokens/coins.
- Introduce limited NFTs with Sport Band free shipping worldwide.
- Conduct a special NFT sale and ship the Sport Band to its owner after purchase.

Q1- 2023
- Release App Ver 2.
- Establish offline health clubs in countries: Korea, Japan, Vietnam, China, Singapore, Netherlands, UK, Switzerland, USA, Australia...
- Negotiate with Xiaomi about tracking sensor attached to Sneaker to collab produce WingStep Smart Shoe products.

Q2- 2023
- Negotiate with Tag Heuer to produce a Smart Watch product that integrates WingStep and NFT apps.
- Launch Ver 3 App and applications on Smart Bands/Smart Watches.

The team is staying very very busy and motivated to deliver amazing products and launches for our token holders and fans.

5. What are the token use cases and why do you think we should hold long-term?
WingStep has two tokens for the best fitness experiences and sustainable growth: $WST and $WSS.
$WST is the governance token used in WINGSTEP's operations and outside Wingstep ecosystem.
Total Supply: 500,000,000
You can earn $WST from: Staking, farming in DeFi Zone; Sell NFTs in the Marketplace; Happy Box; SocialFi.

$WST is used for: Fees for processing transactions; Mint, Repair, upgrade NFTs, Unlock Gem Socket, Buy energy; Staking, Farming in DeFi Zone; Buy NFTs in the Marketplace; Convert $WSS into $WST to perform liquidity; Governance vote to determine the development game features, roadmap…

$WSS is the in-game token, easily concerted into $WST to perform liquidity.
Total Supply: Unlimited
You can earn $WSS from: Game Modes (Personal Mode, Party mode, Arena, Mission, Weekly Pass); Create the content on SocialFi; Happy Box; Staking, Farming in DeFi zone; Affiliate program
$WSS is used for: Reward content creators on SocialFi; Staking, Farming in DeFi zone.

Here is the detailed tokenomic (WST)
If you want more details about our, visit this link: https://whitepaper.wingstep.io/project-economic/tokenomic/wst-main
6. How will your project generate profits/income to sustain your project and what is the revenue model?
This is a very good question!
Regarding to REVENUE STREAM, Fist phase of project launch: Revenue comes from NFT selling, Market Making, Transaction fees. The 2nd phase of project growth: limited NFTs with Sport Band free shipping worldwide, Smart Watch product that integrates WingStep and NFT apps.
About REVENUE DISTRIBUTION, 80% of the revenue used for the project's  Finance activities , 10% for Marketing activities, 10% for development team.
You can get a better idea from the following diagram:
7. I saw that you mentioned the Staking Program on your roadmap. Can you share more about it?
Thank you for asking!
The advantage of DEFI ecosystem created by WingStep itself allows anyone to earn passive income using the Decentralized Zones we create on the platform.  Therefore, besides Move To Earn, users can also HOLD tokens when earned in this area or do not need Move but can invest in Lazy Zone to receive passive income safely.
So why leave your assets idle when you can let them pay off? Unlike other DEFI projects that are unstable and lack off security, at WingStep users can safely invest and earn profits through secure and distributed protocols on the WEB3 platform.
There are 3 basic DEFI zones:
1. Big Man is the WST main token staking area of the project to receive interest in USDT and WST. (%USDT will be calculated based on the reference price of WSS tokens at the time of staking termination) When you stake WST with an amount of a different range in 3 months, you will have an interest rate from 35% to 80%.
2. Fat Man is the NFT staking area to receive WSS tokens. Interest % is calculated on the total value of NFTs put into staking. ((NFT value is based on the selling price of that NFT at the time of participating in staking). With the amount of 1 to 10 NFTs staked in 3 months, you will receive the interest rate from 30% to 100%.
3. Fleshy Man is a farming area that can lock WST/WSS tokens to receive interest = 50% of Big Man area but have a chance to get more Secret Box and NFT sneakers.
You can read more details in here: https://whitepaper.wingstep.io/gamefi-system/defi-zone#1-big-man
8. Tell us more about your NFTs and how they are utilized in the game?
When you own NFT Sneakers and by walking, running and exercising, you will earn crypto and other NFTs in the game play, the items earned can be used for in-game activities or cashed out for profit.
In WingStep, NFT Sneakers are 5 levels of rarity: Trial; Special; Unique; Noble; Universe. And each has its different stats that determine its performance and productivity. The higher the rarity and the stats are, the more you earn.
You could see details of our NFT Sneaker through website and whitepaper: https://whitepaper.wingstep.io/gamefi-system/nft-sneaker
9. What are your future plan and event to make this NFT more valuable?
Of course we have. The current value of NFTs is to give you an extra incentive to own and use during your workout. However, in later stages of development, WingStep shoes will be used to participate in other sports activities such as Cycling, Gym, Golf, Tennis. And you know, to participate in so many activities, the price of NFT has to go up.
And according to our roadmap, in the future we will have a plan to cooperate with other famous brands, which will also help increase the value of NFT. For example: Introduce limited NFTs with Sport Band free shipping worldwide; Negotiate with Xiaomi about tracking sensors attached to Sneaker to collab produce WingStep Smart Shoe products, etc.
We understand your concerns about owning an NFT Sneaker, and we have a plan in place for them.
10. Move-to-earn is trending in the crypto market, so does WingStep have any anti-cheat mechanism?

This is also an element that we pay great attention to. To track your workout, we have developed an in-app tracker where the user has to start and end the activity manually. We will use GPS, motion sensor and gyroscope to accurately track your activity data. In the upgraded version users when using sport bands or smart watches can receive better rewards.
In the beta of the app, we will be launching the following activities: Running; Jogging; Step Counting. And those actions must be done outdoors for the purpose of better GPS connection.
After a workout, we'll show you data on: Distance Steps, speed, workout time, calories burned and rewards...
Live Questions Round
Are you going to list token on other exchange?
WST token will be listed on Pancakeswap on June 11th, 2022.
We are working with other centralized exchanges as well. The detail will be revealed soon on our official channels.
2.    What are your thoughts on inflation? Many gamefi struggled with this issue and eventually failed. How will Wingstep handle this?
It is true that fighting token inflation is a very important factor in deciding whether this GameFi will go with users in the long run. In fact, WingStep already has a plan for this through token buring; token staking and token usage.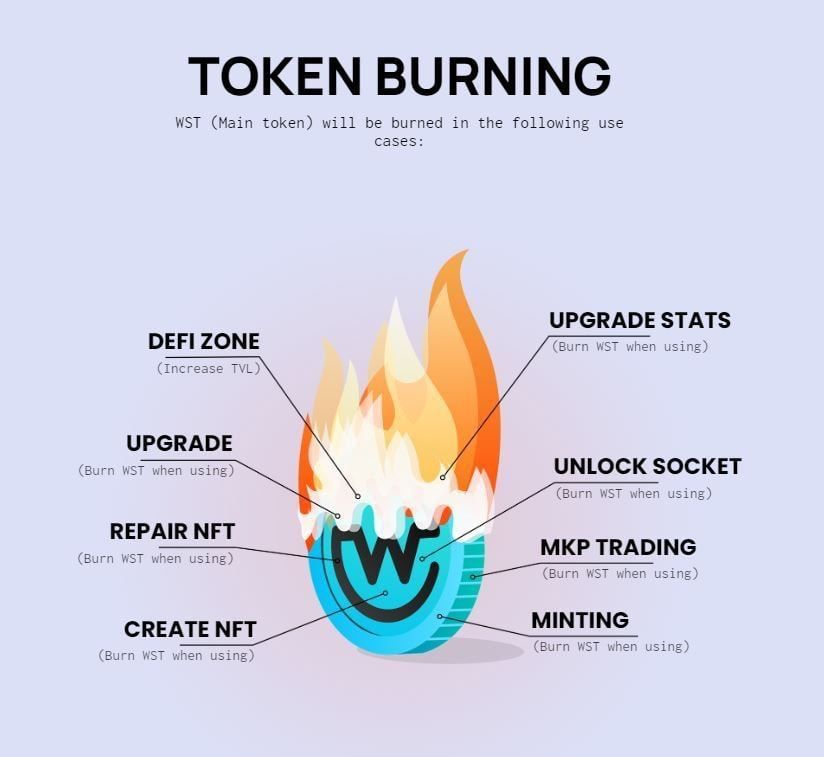 Kindly find other information via our litepaper here: https://wingstep.io/litepaper/
3. What major milestones has WingStep achieved so far?
Since the beginning of our operation, we have released alpha testnet. This version is currently being experienced by the WingStep community as well as the Move-to-earn enthusiast community. Up to now, our Telegram community has reached more than 80k members, twitter followers also have more than 23k people. This encouraged us a lot.
In addition, beside the partnership with BinStarter we have also established strategic partnerships with BSCSstation, BSClaunch, KingdomStarter, NFTb, DareNFT, BinStarter, FAM Central; and media partnership with CoinLAB; Redhood,... We appreciate these relationships, and hope that these cooperation will contribute to the development of both sides.
4. Many projects are unstable for a period of time. First AT, they Started with hard work & good care, after few months later they didn't pay attention to this project, then ended up there, How is #WingStep planning to stay in the market?
I think this is a question that will not have a correct answer 😅 Wingstep team had put our heart in the project from the beginning, that's why we create Wingstep so different. There are no words or promises that could satisfy anyone who dont want to believe in Wingstep, we can only prove our devotion to the project by action.
5. One of the problems faced by NFT games is that many investors who buy NFT do not have enough time to play and the players who really want to play do not have the necessary capital. How does #WingStep solve this problem so that you both participate and profit?
Wingstep have a earning model called "Lazy to earn", is a defi zone where you can buy NFTs and stake to earn more. So if you a sneakers collector or an investor, you can buy as many NFTs as you want and stake them to "Fat man" zone in Wingstep de-fi ecosystem.
WingStep Socials:
https://wingstep.io/information/
About BinStarter
BinStarter is a decentralized mining-style approval mechanism insurance protocol that is designed to examine projects according to certain criteria for 30 days and to protect liquidity providers against possible financial damages or any negativities.
Website | Announcement Channel | Telegram Chat | Twitter | Medium
BinStarter Blog & News Newsletter
Join the newsletter to receive the latest updates in your inbox.
---