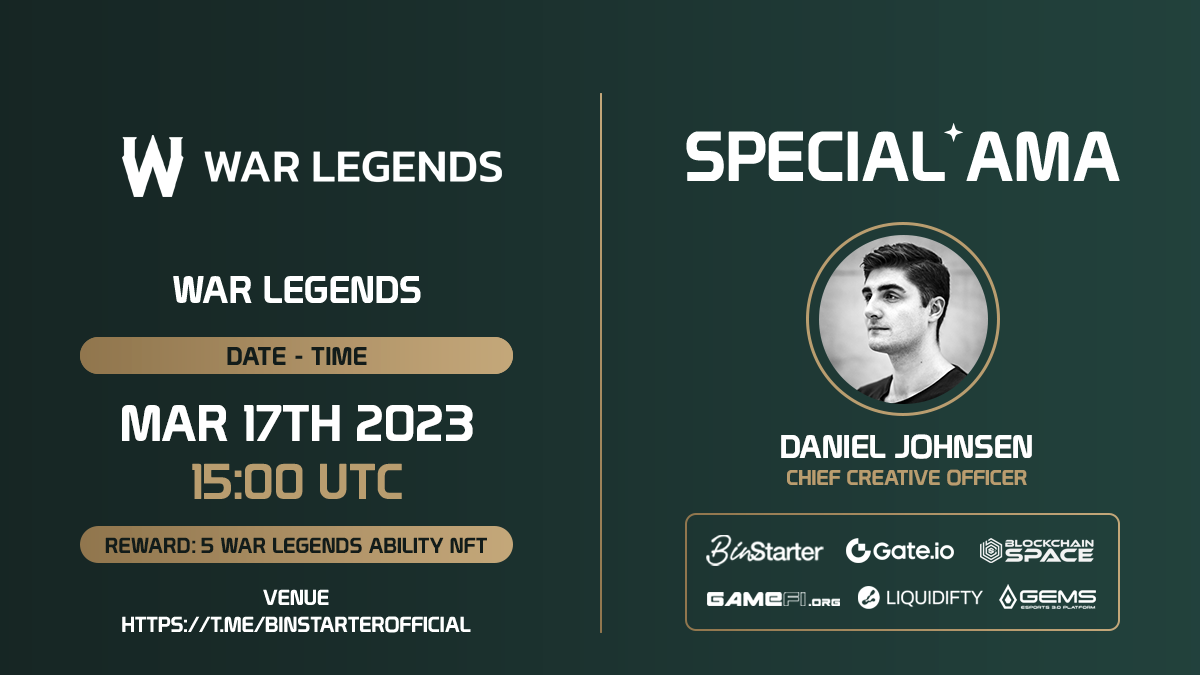 Let the battles begin!
War Legends is a military-themed Multiplayer Online Battle Arena (MOBA) game and metaverse built on blockchain technology that implements Play-to-Earn (P2E) mechanics, has its own native cryptocurrency in the form of the $WW2 token, and utilizes non-fungible tokens (NFTs)
To prepare for their IDO, we hosted an AMA with Daniel Johnsen, Chief Creative Officer of War Legends on BinStarter Telegram Official Channel. In case you missed it, here's a quick AMA recap.
Introduction Round
Q1. First and foremost, can you please introduce yourself to the BinStarter community? Additionally, we would love to know about your team, can you also briefly tell us about your them?
My Name is Daniel, I am the CCO of War Legends, Chief Creative Officer.
I have 15 years of game dev experience, 22 released game tittles with over 4billions installs across those tittles and I have been in Web3 since CryptoKitties. (I still have some if you are interested)
The team is lead by Miguel Angel with over 30 years of experience in the industry 28 released tittles across any platforms you can think off.
We have experienced people all around!
Q2. I want to know the story behind creating War Legends, can you share a little about that and can you talk a little bit about this game?
War Legends is a 4v4 Tank based Moba set in a WW2 setting, but an alternative dimension where WW2 has been going on for 80 years.
It is similar to League of Legends and Dota in some aspects, but is different all around. The games are 20-25min, you can combine all Tanks, Heroes and Abilities as you like, which means you have over 1million setup combinations to choose from when you go to battle with your friends.
The idea for War Legends came from trying to make a mix of World of Tanks and League of Legends.
Q3. What is the focused area that you put more effort in when you plan and develop this game? What is the priority for you?
We want to create a fun experience that keeps the players addicted with fresh content in a frictionless web3 setup.
The main focus is fun, then competition, then economy. Because if we nail the first two. The third becomes much stronger.
Q4. What is the requirement to play War Legends such as the minimum entry amount? Is it only playable in pc or is there a mobile version?
War Legends in Free2Play, you don't need NFTs, you don't even need a wallet to join. Just get the launcher at https://warlegends.co/ and try it out. You can add a wallet later and withdraw your winnings.
The mobile version in coming in May.
Q4. Can you please talk about the gameplay or the game mechanics just to give us an overview? Such as the goal of the game?
The gameplay is very strategic and fast paced. You need to plan for the battle and think ahead.
The goal in the Moba mode is to take out the enemy base before they take out yours.
To do so you need to work together with your team mates and overtake the enemy, take down their defenses and make sure they don't do it to you first.
We have other modes as well, free for all, last standing, team deathmatch, battle royal and search and destroy. But they main focus of the game is the Moba.
Q5. Can you please talk about the features of $WAR token in the project especially the earn feature?
War Legends is Skilled Based Earning, so the better you do the more you earn in-game. You have to win ranked games, tournaments and take part in community events to earn $WAR.
$WAR can also be staked and spent on different in-game upgrades, the marketplace and premium shop.
Q6. How does this game differ from other blockchain games? What can you say is your edge over others?
It is a AAA quality game made by experienced game developers which focus on fun and econ sustainability.
War Legends is the game you want to play with your friends and it could just as well be a web2 game, you won't know the difference unless you look closely.
Q7. What are the milestones War Legends has achieved so far that you are proud of? BinStarter community would love to know the achievements so far.
War Legends have hosted more than 50 tournaments so far.
We have a tournament with 16 guilds, 32teams and 128 players happening from the 23th to 25th of March.
And this is just the start!
Q8. Since we are on the topic, can you talk about your roadmap? What are the greatest milestones that we should expect from now?
In May we want to release the Mobile version, then later in the year we will release a Ship Version, then a Jet Fighter version and then sometime next year we will combine them all into a WW2 Metaverse that is live 24/7 on a map of the real world, where guilds can fight for territories, make alliances to make sure someone has the night watch and stops an night raids there might be. around 80% of our players are from Asia, so most likely that will be the most fought over continent!
Live Questions Round
Q1. Where can I get all the latest news about? Do you have a Twitter/Telegram/Discord community?? If yes, can you share the link here as there are lots of fake telegram/twitter groups?
Our great community managers can help you in all our channels you will be able to find the latest news there as well.
Q2. Can you list 1-3 killer features of your Project that makes it ahead of its competitors? What is the competitive advantage your platform has that you feel most confident about?
Good Gameplay
Experienced Team
No barrier to entry
Q3. Is your project A COMMUNITY only for English speaking an countries or for users not of other languages?
We have multiple communities, the largest are the English, Spanish and Philippines Communities.
War Legends Socials:
Website: https://warlegends.co
Twitter: https://twitter.com/warlegendsco
Telegram Chat: https://t.me/warlegendsglobal
Discord: https://discord.com/invite/kafAAbsAqF
About BinStarter
BinStarter is a decentralized mining-style approval mechanism insurance protocol that is designed to examine projects according to certain criteria for 30 days and to protect liquidity providers against possible financial damages or any negativities.
Website | Announcement Channel | Telegram Chat | Twitter | Blog
BinStarter Blog & News Newsletter
Join the newsletter to receive the latest updates in your inbox.
---