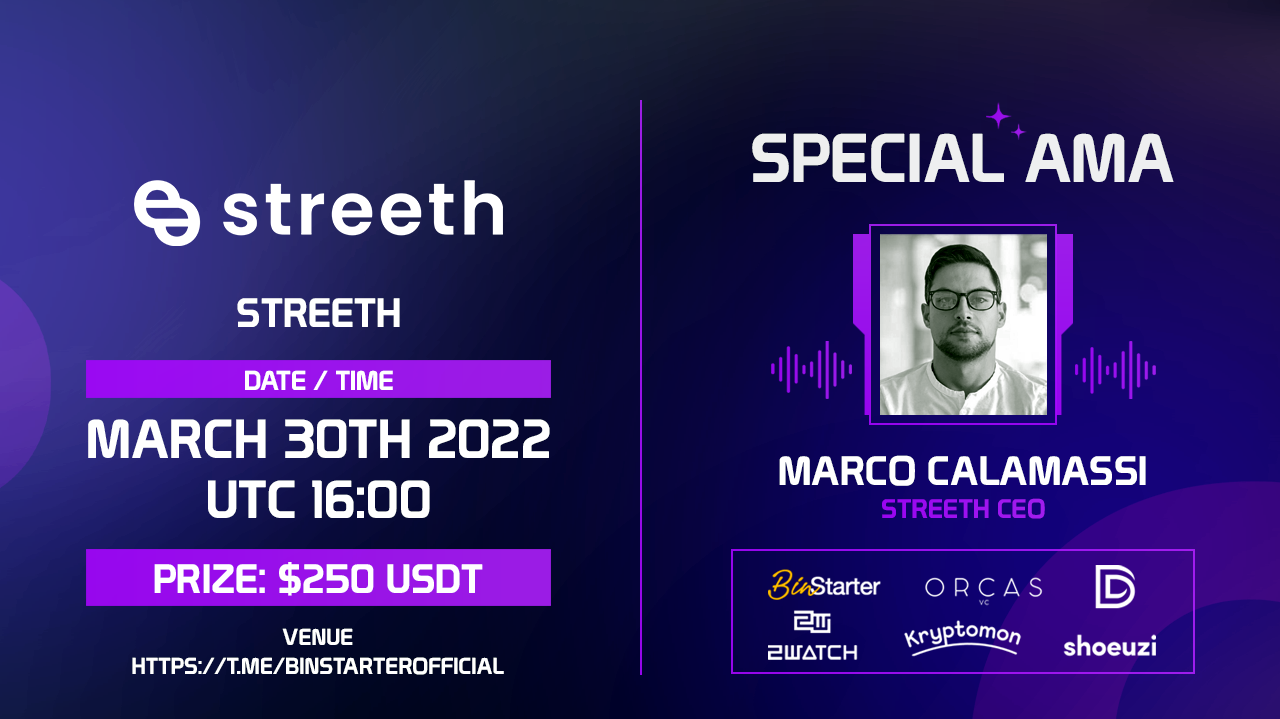 Curate, Mint & Auction Street Art NFTs with Streeth
Streeth curates, mints and auctions world most acclaimed street artists' masterpieces making them monetizable, collectable, tradable, enjoyable and eternal on the Ethereum blockchain using NFT technology.
To prepare for their IDO on April 6, we hosted an AMA with Marco Calamassi, CEO on BinStarter Telegram Official Channel. In case you missed it, here's a quick AMA recap.

Streeth IDO Whitelist is open until April 5, check their IDO page and apply for the sale!
Introduction Round
Q1. Can you please introduce yourself to the BinStarter community and maybe share the story behind creating Streeth?
Sure. I'm Marco Calamassi, STREETH's CEO.  STREETH was conceived by my co-founder Danilo De Rosa and myself. We both are "crypto" advocate and art lovers.
I started in this industry 7 years ago. I owned a boutique VC firm and a blockchain development agency. Danilo has many years of experience in the startup environment. We saw a gap in the NFT market where 99% of projects were natively digital and generative.
While we still think that human-made, one-edition and physical art is the most powerful form of expression and street art in particular was vastly undervalued as an investment asset. From this the idea was born.
Q2. Can you briefly describe what is Streeth to us, its mission and vision?
Yes. At STREETH we make iconic street art masterworks finally tradable and collectable. And we allow the artists to finally monetize their street art creations.
In a nutshell, our vision is to be the curator of iconic graffiti in selected locations worldwide painted on landmark buildings by some of the most talented street artists and transform this un-monetizable and un-tradable art Medium into an easy to trade and collect digitalized asset using the NFT tech.
Q3. Can you explain to us from your point of view what makes Streeth different from other competitors and unique on the nft/art market?
I don't think we have competitors in all honesty. But yes we are unique because Street Art has been undervalue and underserved while in reality is practically loved and admired by the whole population. There is this enormous potential that needed to be served and nobody is doing this.
Honestly there wasn't a practical way to do it before NFT tech has come up to become mainstream. We are like the Sotheby's of Street Art and we curate the best of the best street art can offer and act as the guarantor.
Q4. What are the milestones Streeth has achieved so far that you are proud of? Also, what are your future plans for Streeth that you can share with us here?
We completed our business planning and funding around Dec/Jan and we are proud to have on board some amazing backers and investors that aligned with us and understood our vision right away.
Main milestone was putting together the most experienced and versatile team and involving some of the best Advisors in the space.
We are also proud of how we built our communities pretty fast and they are our foundation to move forward. We have many present and future plans with a precise roadmap we share with our community on every step of the way.
I'm excited about our street art fractionalized minting platform and first drop about our staking platform and our VR video game and museum and about our overall ecosystem including 3D avatars, merch and irl events and collectibles.
Q5. Can you please tell us what does the ' "STREETH' name stand for? How do you see your brand and company to be in 5 years?
STREETH is the merging of STREET and ETH as we are built on the Ethereum blockchain.
I see ourselves not only as the undisputed leader in the Street Art X Nft space but also as a global lifestyle brand which includes physical collectibles, offices and locations, global events and partnerships, collabs, charity initiatives and so on.
Q6. Let's now talk about your token, STREETH & BRICKS. what are the Functions of both and why are there two Tokens? What are the benefits of using your Token? What are the utilities ?
STREETH is our utility token
By holding it, you are granted benefits and perks such as automatic whitelisting for every NFT drop we release, lowered fees across our platforms, free access to our Metaverse Museum and plays on our VR videogame, exclusive access to Merch drops and IRL events. You can also stake it and generate BRICKS, our reward token which has a very limited supply and its only given as staking yield and as prize in contests and competitions.
Q7. One important aspect for all projects is Revenue. How does Streeth generate profit to fund future developments?
Yes that's important. We have NFT drops, add-ons and power-ups that will be offered for sale. We have a 1% reflection on the token trading volume on dex. We have the fractionalized minting - limited edition street art drops. We have the street art auctions. We have NFT trading royalties.
The Museum and Video Game will be paid services (for non-holders)
Q8. How do you plan to spread awareness about your project in different countries speaking different languages? Do you have local communities so they can better understand your project?
Yes we are little by little getting local communities started on telegram. We have Japanese and Vietnamese so far with Brazil and Turkey on the go. Our discord has National groups too. We are a global company as Street Art can be literally anywhere.
Q9. Do you have any plans to attract non-crypto investors to join your project? What are the plans to raise awareness about your project in the non-crypto space and beyond.
Yes our audience is comprised of Crypto/NFT people, of course but also contemporary art/modern art/street culture/street wear fans and collectors with a higher demographic as well. We have a pretty versatile audience and street art is an amazing medium to bring people that are not in the crypto space yet to become part of it.
Q10. Do you have In-real-life locations and are you connected to the communities ?
Yes our headquarter is in Miami
We are lucky enough to be in a key city for both Art/Street Art AND blockchain.
Our office is across street with the FTX arena
And yes we are very connected to local communities and even municipalities. We want to help bringing attention and beautify underserved locations. I'm sure we will have several collabs and initiatives with local authorities all over the globe.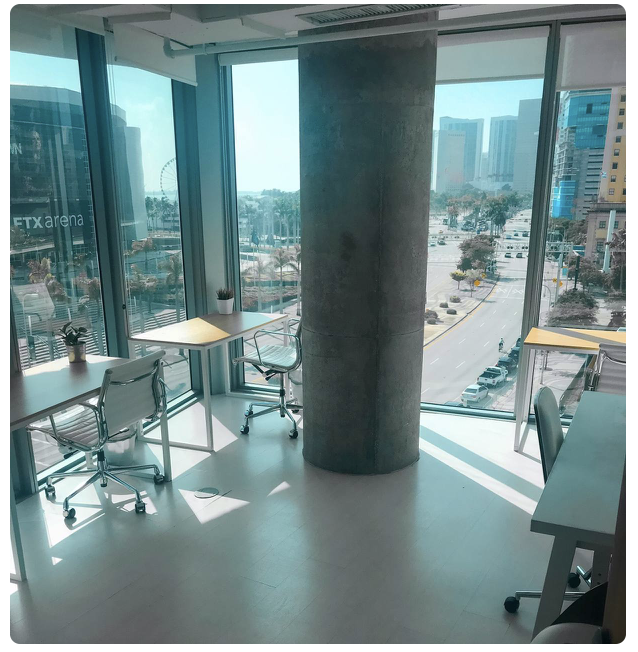 Live Questions Round
Q1. Can you share to us your tokenomics? How much is the total and circulation supply of your tokens? Will there be buy back system or token burning in the future?
Total is 300M
Max is 254M after an initial burn of 46M
Initial circulating will be around 6M
Initial market cap around $450k
Q2. According to the project's roadmap- what are your most important next priorities?
First Ever Street Art Fractionalized Graffiti
Holders DAO
Streethers (our 3D avatars) ecosystem
Marketplace
Q3. What are the ways for your project to generate revenue in the long run? What is the progress of business development and what are some of your commercial partnerships?
We have revenue streams such as NFT trading royalties, fractionalized minting drops, graffiti auctions, token 1% reflection, IRL Merch and Collectibles.
Q4. Where I can get the latest updates or more information about the project?
Our main channels are our Discord and Twitter + our websites
Discord.gg/streeth
Twitter.com/onstreeth
Streeth.io
Q5. How does project increase the token's value, liquidity and utility ? So that it can lead to an increase in token prices ? What is your plan to make your project stable and provide the highest return for investors in the long term ?
As starter, we have some of the best partners when it comes to token launch strategy, market making, liquidity providing and protection.
In regards to the value, it will simply follow our capacity of delivering. And we will do everything we can to over deliver.
About BinStarter
BinStarter is a decentralized mining-style approval mechanism insurance protocol that is designed to examine projects according to certain criteria for 30 days and to protect liquidity providers against possible financial damages or any negativities.
Website | Announcement Channel | Telegram Chat | Twitter | Medium
BinStarter Blog & News Newsletter
Join the newsletter to receive the latest updates in your inbox.
---