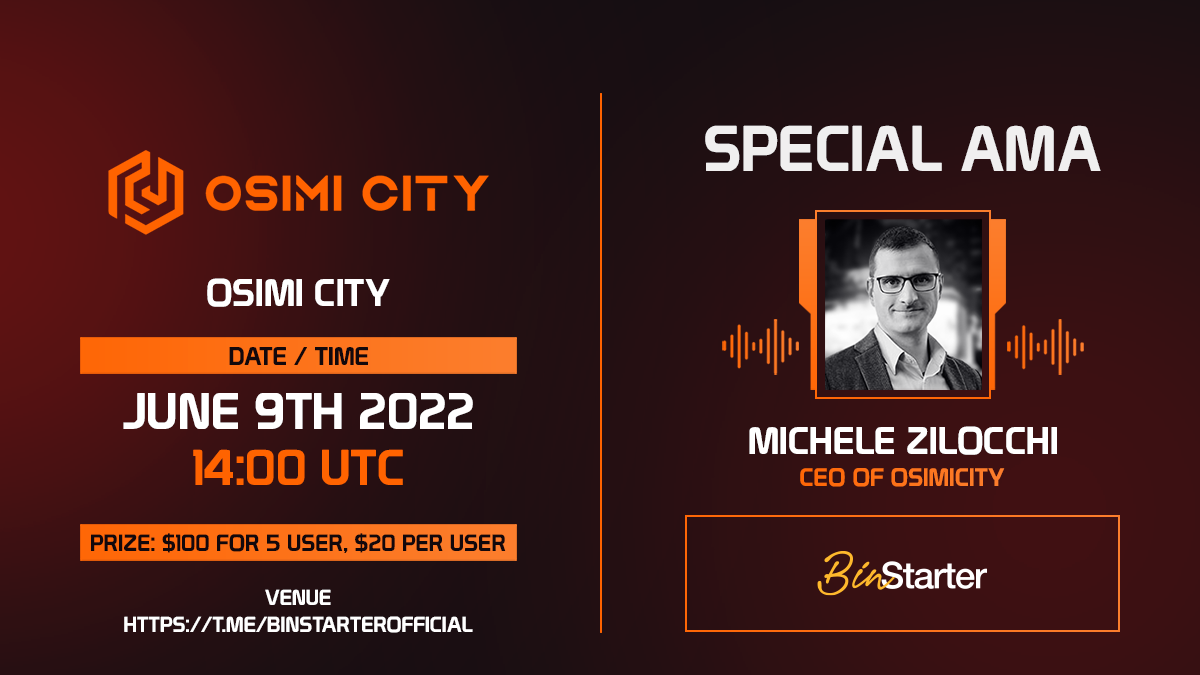 The First Metaverse Game And SocialFi
Osimi City is an open world action-adventure game, built on the Binance Smart Chain and Ethereum. It is the ingenious combination of the Metaverse, NFTs and the Play-to-Earn business model. With eager anticipation, this game promises to excite and entertain!
To prepare for their IDO, we hosted an AMA with Michele Zilocchi, CEO on BinStarter Telegram Official Channel. In case you missed it, here's a quick AMA recap.

Introduction Round
Q1. Before we start learning about Osimi City, can you please provide us a little background about yourself and the rest of the team behind Osimi City?
My name is Michele Zilocchi, I live in Italy and I started my journey into the crypto-space back into 2017 with a small UK fund. In 2018 I started my advisory activities for several blockchain startups and my focus has lately been on tokenization, tokenomics and metaverses. That's why you see me here today, proudly representing Osimi City.
After four years of operation, Osimi's team continues to grow. Currently, Osimi City employs over 30 in-house staff including 3D artists, game developers, graphic designers, content writers, and marketers. We are confident to bring significant contributions to Osimi City in particular and the crypto space in general.
The most part of the team is based in Vietnam, but as you probably see from our website, we have also professionals spread across the world since we strongly believe in international thinking and in merging experiences.
Q2. Now, can you please talk about the game Osimi City and tell us how it works?
Osimi City is an open world action-adventure game, built on the Binance Smart Chain and bridged to Ethereum. It was developed by Osimi City Pte. Ltd., based in Singapore. Osimi City is the ingenious combination of the Metaverse, NFTs and the Play-to-Earn business model.
In Osimi City, players can participate in thrilling racing, shooting, zombie killing matches as well as become landlords buying and selling NFT real estate to earn crypto.
The initial gaming concept has been taken from Grand Theft Auto, that has been killing the market for 20 years so we decided to get inspired from relevant success stories.
With eager anticipation, this game promises to excite and entertain! Osimi City is poised to dominate the blockchain gaming genre in 2022! For more information, please visit our website: https://osimicity.com/
Q3. Can you please share the achievement the team has made so far? What is the significant achievement that Osimi City has got? Also, please share to us the vision of Osimi City.
Currently, we have completed the first steps and are gradually approaching the market.
The beta version of the game is available on our website, and you can already play it.
Whitepaper is ready like and we are approaching some large and reputable VCs.
Throughout 2022, we'll hold a lot of activities to attract more players and investors such as AMA series, bounty, airdrop, giveaway, mini-games, etc. Perhaps the most significant achievement is that we built and reached our own community.
We will be honored to have you in our community.
https://t.me/OsimiCity_Official
Osimi City has the honor and distinction of being the first AAA blockchain game.
Our vision is to make Osimi City the premier game in the blockchain gaming market of the 21st century, where everyone has the ability to fairly participate and profit.
Q4. It's good to know you're focused on building community. Can you share with everyone what events Osimi City are organizing for your community up to date?
Sure!
Currently, Osimi City is holding 2 big events where all of you can participate to receive valuable rewards as well as learn about Osimi City.
First, the first Airdrop Campaign of Osimi City has just launched with a prize pool of up to $30,000.
You can join now at  t.me/OsimiCityAirdropBot
Second, and this one is huge for us (and potentially for you all too), the Mainnet Pre-Register Event will open TOMORROW, participants will immediately receive 2 free NFT boxes and 500 in-game cash after just filling out the Registration Form. Stay tuned to the event information at https://t.me/OsimiCity_Official
These are special events with very rare gifts that Osimi Ciy organizes, I think you should join to have a chance to receive great rewards.
Q5. What do you think are the competitive advantages of your project in the crypto space?
Yes, as we said, we started from the free-to-play version to make everyone have the chance to experience our game.
The goal of Osimi City is to attract millions of users. Among games of its kind, Osimi City has developed the most preeminent gaming experience. Here are some noteworthy features of Osimi City that make it a bigger draw, in comparison with the competition:
- The first AAA-rated blockchain game.
- Free-to-play with no starting fees or requirement of capital.
- Play-to-earn model with considerable earnings.
- An extensive number of NFTs.
- The unique, open world metaverse, with several gaming modes.
- The ability for non-gamers to participate in staking tokens for profit.
You can update our latest news at https://t.me/OsimiCity_Finance.
Be sure to follow us and turn on your notification for our next wonderful news!
Q6. Can you please tell us what is the role of the token in your ecosystem? Could you tell us a bit about the tokenomics of Osimi City?
Of course, OSI is our native token, OSI token is the core of the Osimi City ecosystem. Let me introduce our tokenomics.
- Trading: OSI token is used for buying, selling items and trading on cryptocurrency exchanges. Players can earn OSI tokens by playing the game, completing the missions and trading NFT items.
- NFT exchanging: all resources in the game are NFTs. Players own these NFTs, train to increase their value, and then trade these resources on the marketplace with OSI tokens.
- In-game rewarding: players are rewarded with OSI tokens after successfully completing missions.
- Staking: users are allowed to stake OSI tokens to generate passive income.
Q7. Talking about NFT, it is one of the hottest and most sought-after topics in the blockchain space right now. Can you share your opinion on NFT with us? Do you think NFT will disrupt the current financial system? What is your project's approach to the NFT sector?
Sure thing, but before going further, I forgot an information from the previous question. That is too much important and it's vital for gamers.
To avoid inflation in the game and protect our players, Osimi City issues stable tokens having a fixed price, that will be used just for internal purposes.
Players will be able to use these stable tokens to purchase specific in-game items to start participating in the games. In that way, we will control inflation and keep the game accessible even when the $OSI token may skyrocket.
Well I think NFTs are more than just a hot trend. They represent a new way of transferring value and ownership on unique digital, even physical assets.
It's full of creativity, innovation and more and more utility. As the internet enters a new age, an age of decentralization, NFTs are a store of value that will continue to grow with the most successful projects building strong communities, increasing holder value and growing utility.
Our approach is to facilitate this revolution.
NFT plays a very important role in Osimi City ecosystem.
All in-game resources are NFTs items including weapons, costumes, vehicles, houses, etc. They can be transferred out of the game for trading on NFT marketplaces.
We plan to sell NFT and release our NFT marketplace in 2022. Let's update about it on our official telegram channel: https://t.me/OsimiCity_Finance and twitter https://twitter.com/Osimicity
Q8. I would like to know next about the game feature in detail and how we can earn in Osimi City.
RACING: Players manoeuvre their vehicles at high speeds through the streets of the city, against in-game characters or in PvP races.
SHOOTER: As a marksman, you will rely on your skills and knowledge of weaponry to terminate  enemy troops, before they can destroy you. Currently, Osimi City is focusing on the extremely thrilling zombie-killing PVE map.
Open-World Metaverse: Players create their own unique and individualized personas in this futuristic realm. Players will spend large amounts of money to purchase a property on  Osimi City. Property owners will be developers and also act as community leaders. They are responsible for creating and implementing their own economies and ecosystems.
Tournaments: Osimi City will hold tournaments of racing and shooter with prize pools of millions of dollars.
The OCS is for racing games and the OPL is for shooter games.
Each league has its own rule and regulations. In the OCS, the players will compete as individuals and in the OPL, the players will compete as teams.
Competitive players can enter the world of Blockchain eSports through it.
Players can earn in several ways:
- Win the races and gunfights as well as complete in-game quests to earn rewards (PvP & PvE modes)
- Participate in business and investment in the Open-world mode
- Exchange NFTs such as vehicles, characters, weapons on NFT Marketplace
- Stake $OSI to earn passive income
It can be said that the opportunities to earn money are several in Osimi City. Everyone will have its own chance!
Q9. That's exciting but how about the entry fee, many NFT games require a large entry fee to begin playing the game. Do we have to pay first when we play in Osimi City?
We understand that the struggle of having to pay an entrance fee or invest in NFTs to join NFT games.
So we decided to develop a Free-to-Play game. It is free to start playing game, everyone can join the world of Osimi City as well as experience the game with no investment.
Each player will be assigned a character & a pistol as soon as logging in the game.
Anyway, NFTs will be quite cheap, so everybody will be able to join the P2E version of the game, with just a few dollars.
Then it's your choice to buy NFT for a more immersive experience and having the chance to get rewarded with real money, or not.
Q10. It has been great so far and I think we covered pretty much every aspect of the game so I would just like to ask if your project is only for English-speaking countries or for users of other languages?
Yeah, that's usually a huge limitation for a lot of players around the world
Osimi City aspires to build worldwide communities, so we're not just focusing on one region, we're trying to build spaces for communities from many countries with different languages. Currently, we have several official communication channels. Let me grab them
Osimi Vietnam: https://t.me/OsimiCity_VietNam
Osimi China: https://t.me/OsimiCity_China
Osimi Indonesia: https://t.me/OsimiCity_Indonesia
Osimi Korea: https://t.me/OsimiCity_Korea
Osimi India: https://t.me/OsimiCity_India
Osimi Philippines: https://t.me/OsimiCity_Philippines
Osimi Brazil: https://t.me/OsimiCity_Brazil
Osimi Arab: https://t.me/OsimiCity_Arab
Osimi Thailand: https://t.me/OsimiCity_Thailand
Osimi Japan: https://t.me/OsimiCity_Japan
Osimi Turkey: https://t.me/OsimiCity_Turkey
In the future, we will try our best to bring Osimi City closer to more and more communities from all over the world.
Live Question Round
Q1. Osimi City is a multi-mode game that includes PvP and PvE modes. What are the characteristics of the PvP and PvE mode of Osimi City? Do you plan to include more game modes in Osimi City?
PvE means Player vs Environment. That means that there will be standard missions like in many other Arcade Games. This will be a Play2Earn game, but with lower rewards than the Player Vs Player
In the PvP version, there will be actual tournament with cash prizes where gamers will pay a small entry fee that will contribute to create the jackpot for winners. Besides, we plan to have Sponsors that will fund tournaments prizes, adding eventually more money into the PvP version of the game
Q2. Without an working products any idea has zero value. We see many projects are on paper only and no product. So, kindly ensure us that your project is just not an idea and it's already has an working products or practical usecases?
Sure. I love this question.
Give a glance to our website www.osimicity.com where you will find the downloadable version of the game.
You can already play the Desktop version of the game, and soon we will release the mobile version of it. So we already have the game.
Next step, after our token launch, that will be carried out here on Binstarter, we will open the Player vs Environment game-mode
Q3.  Can you list the features that your project have and other similar projects don't and Can you convince me to invest in your project as compared to others which are similar to yours?
I am not convincing anybody. I give information and we hope that our work and idea is appreciated from the market.
We are an AAA game
We are on BSC (making everything fast, scalable and reliable) + a bridge on ETH-chain
We have a playable MVP
We already have all the plans for the rewards and the NFTs functionalities.
We got inspired from Grand Theft Auto that has been killing the market for over 20 years meaning that this kind of gameplay is very appreciated
All of the team-member that you can see from our website is real and has a proven track record of business development in the crypto-space.
When you launch a new project there is no guaranteed success and be aware of people who guarantee you tons of money. We are just saying that the odds are on our side
Q4. Do you plan to buy back in the future when the market price becomes unstable or decreases?
Super-question. Thanks for that
Yes, as you can see from this screenshot, taken directly from our website, we have a plan for the burn AND the buy-back (also for burning purposes) to make the token deflationary.
Our aim is to support the token value with internal economy (in-game mode) and financial mechanisms (burn, buy back and reserves)
Q5. Is there an additional reward of $OSI tokens after the player completes the mission? and how long does it take to complete? Is #OsimiCity only for gamers? what about those who don't understand what Metaverse,NFT and Games are? but what role do you want your project to be #OsimiCity to be better in the future?
There will be different rewards:
$OSI token and in-game-currency for the winners. Then $OSI token can be earned with staking and airdrops. Missions usually may last from few minutes to tens of minutes.
OsimiCity is for Gamers thanks to the different missions and play-modes
Speculators that may buy Metaverse lands, create their own brand in our Metaverse (with a high presence of gamers) with offices, events and more.
Traders, that may trade the token or buying at the very beginning for long term purposes.
NFT collectors, buying NFTs to use them, to #rent them or to keep them for the long-term
So I guess that our game is very likely one of the most clear example of 360° ecosystem.
Osimi City Socials:
Website | Telegram Channel | Telegram Group | Facebook | Discord | Twitter | Linkedin | Reddit | Medium | Youtube | Substack
About BinStarter
BinStarter is a decentralized mining-style approval mechanism insurance protocol that is designed to examine projects according to certain criteria for 30 days and to protect liquidity providers against possible financial damages or any negativities.
Website | Announcement Channel | Telegram Chat | Twitter | Medium
BinStarter Blog & News Newsletter
Join the newsletter to receive the latest updates in your inbox.
---