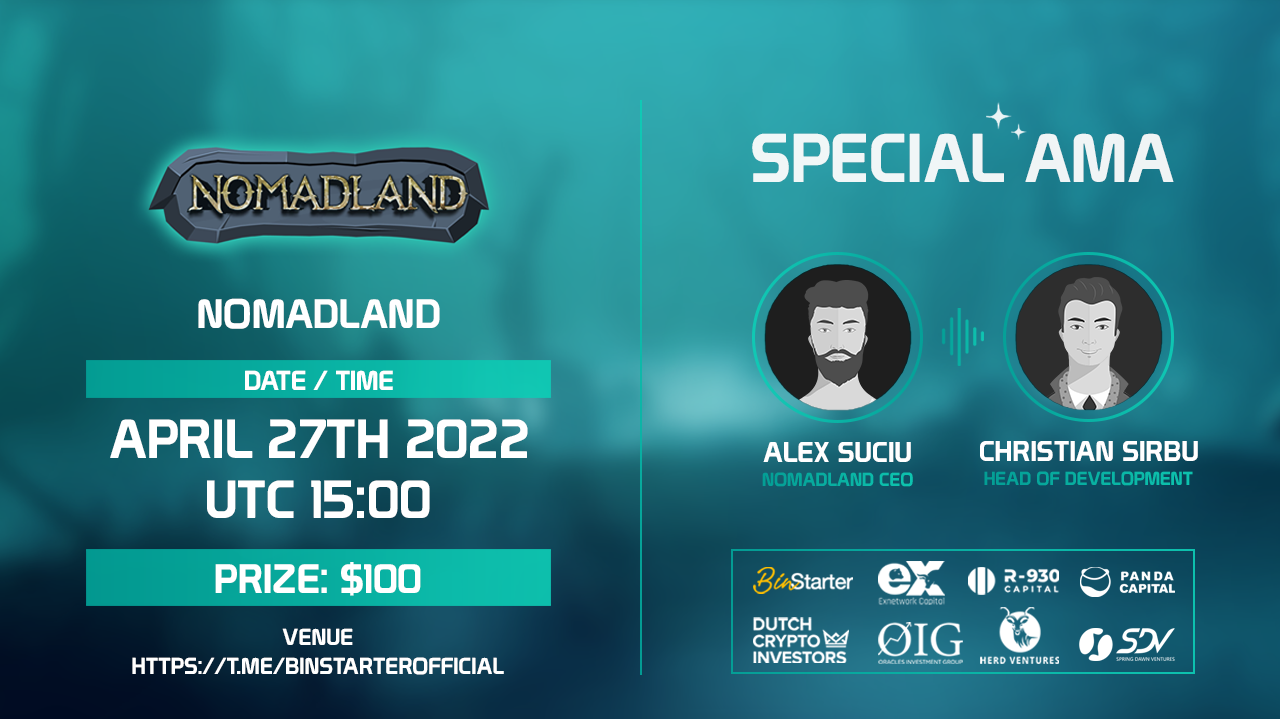 An Action RPG and Strategy Game Built on the Unreal Engine
Nomadland is an Action RPG & strategy game built on Unreal Engine, BSC blockchain based. Players are invited to discover the Nomadland Island, buy land, build farms, produce mystic flames, battle epic monsters and carnivore plants, capture and train the captured monsters.
To prepare for their IDO on April 30, we hosted an AMA with Alex Suciu - CEO and Christian Sirbu - Head of Development on BinStarter Telegram Official Channel. In case you missed it, here's a quick AMA recap.

Nomadland IDO Whitelist is open until April 29, check their IDO page and apply for the sale!
Introduction Round
Q1. Before anything else, can you please introduce yourselves to our live audince & maybe you can also provide a brief background about what yo do.
I am Alex, CEO of NOMADLAND.
I have over 20 years of experience in software development, I have participated in numerous international projects that have allowed me to gain extensive experience in IT.
Together with my partner Cristian our Head of development – we have more than 5 years in the Crypto space and we are very enthusiasts to put together our all experience in order to make a great success from our NOMADLAND project.
Q2. For my next question, can you please explain what Nomadland is?
Nomadland is an Action RPG & strategy game built on Unreal Engine, BSC blockchain based
Ranzuhn is a mysterious character. Found on a beach around the age of 5 by his adoptive mother, he grow up in a nomadic tribe who settled in the hostile RINK MOUNTAINS.
Players are invited to discover the Nomadland Island an open world universe (forest and swamp), fight monsters and carnivore plants, after defeating them player can capture them and bring them back to his Farm for domestication process
In the Farm there are many actions that player has to do, like:
- Farm domestic plants that produce main game resources Mystical flames, used to develop farm
- create new weapons and armours
- heal Ranzuhn after battles
Sending an AUDIO for you guys to listen, the story of Ranzuhn
Once the monsters are domesticated player creates an army of five monsters and can enter with the army in ARENA battles against other players
The NFT's in Nomadland are active weapons, armours, monsters and carnivore plants. While many NFTs currently in the crypto space are strictly collectibles or "artwork", the NFTs in the Nomadland NFT Framework server multiple uses.
Players can use the NFT's in the game or transfer them out of the game and sell them or exchange them on 3rd party sites.
Buying land will bring huge advantage for the player by having a much faster speed of farming processes so the player can advance faster in the game
Players receive prizes for completing daily missions or from winning battles into the ARENA against other players
Players can make an income by selling or renting them NFTs or extra production of mystical flames into the internal marketplace
Come dive into the NOMADLAND universe, WIN tokens as you play!
Q3. What do you consider the unique points of the project which set it apart from the others?
One of the best graphics, much more details and realistic characters, second person camera mixed with top view camera
Complex game scenario: RPG mixed with strategy, open world action, farming, arena fight between players armies
free to play
NFT'S and land buy/sell/rent
Play to win but also passive incomes available.
Q4. I have skipped to  ask this but can you also talk about your team and provide their background so that we will just have an idea about the team behind Nomadland. Also, can you share to us the physical location of the company if there is any?
Core team is based in Romania and is formed from 12 people.
The design and development team formed from more than 20 people is an international team located in 4 countries from Europe ( Romania, Ukraine, France and Germany).
Our all team formed from over 30 people has a large experience in IT and game development from : design, 3d modelling, animators, programmers, Unreal engine developers, blockchain experts and marketing – we cover all for a successful project.
Q5. Can you talk about the tokens and utilities available in Nomadland?
The Nomadland native token will be used to purchase and swap for NFTs in-game and outside the game world. We foresee this being one of the main uses of the token. The in-game auction houses will allow players to list their NFTs for sale and swap them for the Nomadland native token.
The Nomadland token is connected to and synchronized with the Binance Smart Chain. As such, it can be easily, quickly, and cheaply sent from one wallet to another or the network. It can also be sent into and out of the Nomadland universe.
The currency is used to purchase NFTs such  as weapons, armours, special moves.
How to obtain tokens in-game
Nomadland will give players a chance to earn Nomad tokens. Nomad tokens will be credited to the player's wallet in these cases:
 When a player is getting high in-game ranking;
 When a player sells limited resources as Land of NFT's that they own at higher prices than initially purchased;
 When the player will stake Nomad tokens;
 Farming allows players to produce resources that can be sold to other players in the in-game marketplace.
 When a player wins a fight in the arena, game owners will reward the winner with a prize in NOMAD token
Q6. As we all know, current market condition isn't really ideal nowadays, how do you make sure that your project will stay afloat? Do you have a token burn or buyback program plan to attract investors?
We implement burning mechanism for example for all tokens made from internal marketplace fees.
A BuyBack program is also planned, almost all game incomes are used to buy back tokens from the market.
A lot of other new things game related will be implemented in the future, so after releasing the game new updates will be available making the game even better and attractive to players keeping the player community active and growing.
We intend to create a long them project and we expect our over 170k community members to sustain the project and to benefit together from this!
Q7. Can you please share to us the Nomadland roadmap and milestones that we can expect from the project?
Our roadmap for 2022 :
2022 Q2
TESTNET AND BETA ACCES
2022 Q3
NOMADLAND Game Goes Live
2022 Q4
NOMADLAND Game new Updates and features will be released
Q8. Lastly, can you also mention the key partners and backers of Nomadland?
Incubated by : Exnetwork Capital
Backers: Maximus Capital Group, Shima Capital, Wealth Union, Alpha Crypto capital, Dutch Crypto Investors, R-930 Capital, OIG, SDV INTR Ventures, HERD Ventures, Panda Capital, Azer Capital, Abx Ventures, Jinlin Capital, Oddiyana Ventures, Blago Capital, Octopus CC
The benefits received from our incubator and investors are the trust in our project, the experience shared by them and also the exposure to the already existing communities
We appreciate their support and thank them for their trust in our project
Live Questions Round
Q1. Did you consider community feedback/requests during the creation of your product in order to expand on fresh ideas for your project? Many projects fail because the target audience and clients are not understood. So I'd like to know who your ideal consumer is for your product?
One we get to the stage of testing the product we will whitelist community members to participate in testing and of course we will listen to all suggestions in order to deliver a final fantastic game. All the details will be announced on our website and social media ( telegram, twitter, discord ) so please make sure you stay connected with us.
Q2. Are you a global project or local project? At present, which market are you focus on, or is it focused on building and growing to gain customers, users and partners?
We aim for a global community. At the moment we have moderators who respond in English to our members, but soon we will introduce new moderators who can answer in several languages ​​so that all our members can easily receive and understand the information transmitted.
Q3. Currently a lot of people are looking at NFTs, metaverse, and games. Can you tell me what advantages will you have in this field future?
The NFT's in Nomadland are active NFT's that players can insert in the game and gain big advantages. For example, in order to capture a monster, you will have to discover the NOMADLAND universe, fight it and if you defeat it, capture it and tame it on your own farm. By launching an NFT in the form of a monster, you will immediately benefit from the advantage of inserting it into the game, being able to make it a member of your army and use it in the fight in the arena.
Q4. How can I buy your tokens right now? Andwhich Wallet  Support  your Token?
In this moment we are running IDO on multiple launchpads and if you follow our telegram announcement channel you can find all the details. After IDO tokens will be available on DEX and CEX, again stay connected with us to get the details. We hope that a large part of our community that loves the project will participate in the acquisition of the NOMAD token.
Q5. Do you have any ongoing or upcoming reward program events, please let us know in detail &do you have any ambassador program as well as your project?  More communities hold events to attract more people. That is also the main thing to attract project investors.
We have an ongoing Airdrop campaign and we invite you all to participate, all details on our announcement channel. Also we try to participate on as many AMA sessions as time allows giving a lot of project details and of course prizes for some of the good questions that we receive. Based on this activities we managed to grow our community to over 170k members and is growing daily.
Nomadland Social Links
• Website: https://www.nomadland.to/
• Telegram: https://t.me/nomadlandofficial https://t.me/nomadlandannouncement
• Twitter: https://twitter.com/nomadgame1
• Discord: https://discord.com/invite/UMAwUV5ZUY
• YouTube: https://www.youtube.com/channel/UClF25-7VvdpTKhqP4aczX9g/videos
About BinStarter
BinStarter is a decentralized mining-style approval mechanism insurance protocol that is designed to examine projects according to certain criteria for 30 days and to protect liquidity providers against possible financial damages or any negativities.
Website | Announcement Channel | Telegram Chat | Twitter | Medium
BinStarter Blog & News Newsletter
Join the newsletter to receive the latest updates in your inbox.
---