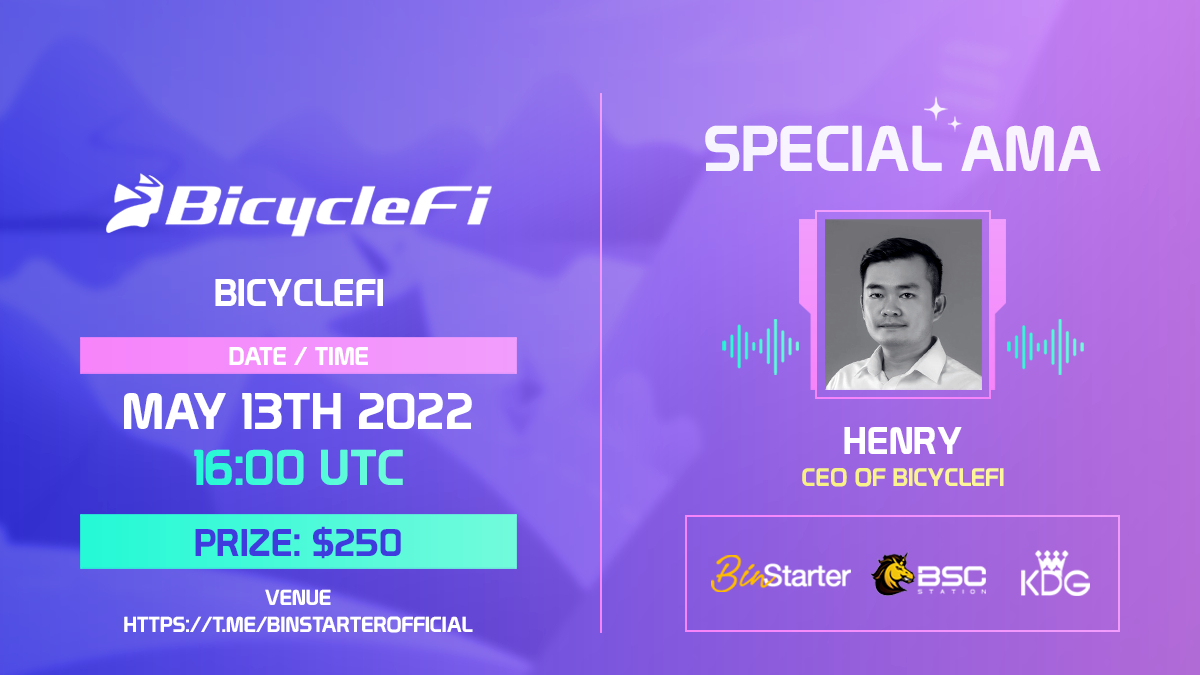 A Web3 Lifestyle App with Social-Fi and Game-Fi Elements
BicycleFi is a Web 3.0 lifestyle Dapp & app with inbuilt Game-Fi, Metaverser, Social-Fi elements. With the aim of building strong fitness communities to improve their health and earn profits! Bicycles are used in delivery activities, sports to improve health, racing, and touring.
To prepare for their IDO on May 17, we hosted an AMA with Mr Henry0- CEO on BinStarter Telegram Official Channel. In case you missed it, here's a quick AMA recap.

BicycleFi IDO Whitelist is open until May 16, check their IDO page and apply for the sale!
Introduction Round
Q1. Before we start, could you briefly introduce about yourself, Mr. Henry?
As mentioned earlier, my name is Henry and I am CEO of BicycleFi.
I graduated from University of Technology  and had an Global MBA  from (FPT Institute of Business Administration) with many years in management of global company . With over 3 years of experience, I have involved in different blockchain industry sectors and for sure I'm an active contributor to every community I have been through.
Personally, I found my way into the crypto market about 4 years ago.  From then until today, I have advised several blockchain start-ups on how to build great products, to shape tokenomics, and bring value to the cryptocurrency community. And for now, BicycleFi is my destination. Hopefully with my experience, I can bring BicycleFi as far as I can...
Q2. Then about BicycleFi, Can you tell us more about what is this all about?
Sure. Firstly, for an overview, BICYCLEFI is a Web 3.0 lifestyle Dapp & app with inbuilt Game-Fi , Metaverse, Social-Fi elements.
We aim to help people improve healthy.
BicycleFi is built by the daily movement of people. Bicycles are used in delivery activities, sports to improve health, racing, touring. We are following to effectively bring to life a functioning move & earn concept, the first project to apply blockchain technology in Bicycle app .
Users equip themselves with NFTs in the form of Bicycles. By Cycling, moving , delivering  or Cycling outdoors, users will earn CYC tokens, which can either be used in-game, or cashed out for profit.
The first phase in Game-Fi, BICYCLEFI aims to nudge millions toward a healthier lifestyle, combat climate change and connect the public to Web 3.0, The project deals with the Social-Fi aspect of the community of users, building a lasting platform to promote Web 3.0 content...
Q3. Nowadays, move to earn is trending and Bicycle is building based on this trend. Do you think after downtrend, your project will dead and all investors will lose their money?Also, who is BicycleFi's target audience?
I know everyone fear of trending projects cause their lifetime is very short but BicycleFi is not one of them cause we have a big plan for development in the long-term. Especially people love cycle we aim to build them for last long.
Yes, I agree move to earn is trending now. But it is a good signal because catching up with new trend will help BicycleFi received great attention from users. We are one of the leading project in this term so the potential to develop is huge.
Second, I think move to earn is a special trend and it would be hard to downtrend because it is associated with people's daily life: exercise, cycling…
BicycleFi is a project always follows the blockchain market. If the trend is down, the market changes, we will up-to-date and adapt with those. So there is nothing to worry about the bad impact from downtrend. We are the long-term project . We also develove the reality model to make people more enjoy...
Q4. Can you share the status of the current project and the future plans of  BCF? To be more specific, I want to know about your project roadmap.
Sure.
This is Q2 of 2022 and BicycleFi has a very clear plan:
- Communities Building
- GPS planning I Marketplace
- Marketplace web
- GameFi release: Riding Jobs, PVE, Staking, Update level
- Metaverse Ideas Phase
- IDO/IEO
- DEX listing
- The next quarters, we will upgrade product features, add PVP mechanism, expand connections with partners, etc.
Soon, we will have in-app GPS function and metaverse technology. Everything is in progress and prepare now.
And for details about our roadmap, you can access BicycleFi's website to update: https://bicyclefi.io/
Q5. Can you tell us more about your tokens BCF and CYC? What do they used for in BCF ecosystem?
1. BCF token
- BCF is the core governance token of BicycleFi with the limited supply. There are many scenarios that require BCF such as: PVE bottle rewards, staking, liquidity reward, NFT trading, minting NFT, level upgrading, crafting equipment, voting.
- Token Name: BicycleFi Token
- Ticker: BCF
- Blockchain: Binance Smart Chain
- Token Standard: BEP-20
- Contract: will be announced when listing
- Total Supply: 5,000,000,000 BCF
- Initial Market Cap: $325,000
2. CYC token
- CYC is the in-game token of BicycleFi, where most of the actions will consume CYC, such as: PVE, upgrading items, recovering energy, crafting equipment, bicycle repairing and so on. You could earn CYC from Daily work.
- Ticker: CYC
- Blockchain: Binance Smart Chain
- Token Standard: BEP-20
- Contract: will be announced when listing
- Total Supply: unlimited
With a team of experiences, I think that the governance and operation of the token's mechanisms will be appropriate and bring many benefits to our users.
Q6. Do you have any plan to expand your community? Especially for people that can't speak English, how will you attract them to BCF?
Yes. We understand that the success of any project comes from the support of the community. We always respect the community that trusts and follows us.
And yes, we have plans to expand our community and attract new investors through our events such as airdrop, giveaway & bounty. As you guys would see, we are running many events with partners about that
More good events will come soon, we will try to conduct as many exciting news as we can.
For users who can't speak English, we try to give them the best support by establising local groups. For now we have Vietnam group, club and in the future more local groups will be opened. It's a promise from BicycleFi team ...
Q7. What is the upcoming marketing plan for BicycleFi development? What will BicycleFi team focus on in the long-term & short-term?
To build a successful project, we have mainly focused on. build great product, building a solid community and bringing ideas, products, or services with such best value and benefits to users.
We have discussed and come up with a specific plan for the short-term & long-term for BicycleFi.
In the short term, we are now focusing on expanding the community by organizing events, airdrops, build a strong network of partners, IDO and listing token. Products as begining aim to make users familier with BCF
In the long-term, we want to build BicycleFi to become a lifestyle app integrating with metaverse technology for users not only on blockchain market but all over the world. We will be the first company apply move to earn in Metaverse . We also aim to attract more investors, push up marketing by cooperating with KOLs and connecting more with partners, maximize the benefits of users with exciting events.
Live Question Round
Q1. Do you plan to burn any tokens after pre-sale is done to ensure the higher token value? And to keep the price of in-game token cause it will be suffered from inflation?
Yes, It is hard to keep price of any tokens because the blockchain market is always changing. But also, it's always have solution to reduce the bad impacts to token price. we will speed up the marketing to many people using it and the token will burn following the schedule as we are public.
Q2. When does BicycleFi launch their IDO? And how to join?
Sure.  We are public this information in our media.
BicycleFi IDO will be held from May 15-18th on various launchpad platforms.
BinStarter: https://binstarter.io/  is one of trusted lauchpad we start cooperate with.
We also IDO  KDG, BSCStation, NFTb. Please follow lauchpad intruction you can join us. There are just a few days left so don't miss it out guys...
Q3. Most of the questions people had during the AMA asked about the strengths of the Project . So at this time, can we talk about your difficulties and challenges? What difficulties did you face developing "BicycleFi' and how did you overcome them?
For a new project there will be a lot of difficulties we have faced. If I had to mention, I would say there are 4 challenges we had to deal with during game development time.
1. The first is to think of a game layout that is attractive and attractive enough to keep players engaged with the game from the beginning.
2. The second is to create an ecosystem of in-game currency that is reasonable and attractive to many different types of players from amateurs to professionals.
3. The third is how to integrate blockchain technology and NFT digital assets into the game safely and conveniently in the exchange of buying and selling items with in-game tokens.
4. Finally, the hardest and most important part is integrating Metaverse virtual reality and GPS technology into the game
But the challenge is the opportunity for us to show our abilities and we have the confidence to take BicycleFi further.
Q4. Many projects are not focused on security of platforms. How can we trust your project is legit and have you done any Audit?
Yes, I agree that hackers are the concern of any investors in the blockchain world, and so does BicycleFi. We understand that.
To avoid hackers/ system crashes, we are now in the progress to audit our token contract with Certik - one of the pioneer in the sercurity field. In addition, we have also cooperated with Lossless security to protect our users even further.
Moreover, our technical team members have many experiences in security & blockchain, so we definitely can deal with any security case. Nothing to worry about; in BicycleFi it's completely safe for our users.
Q5. How much does it cost to play any game on the Game platform? Can we experience Game for free BicycleFi?
We are plan to sale NFT from 100$ -200$ this is good  cost at the moment.
For free players, we will have renting model that you can rent the bicycle from others users and play for get reward . you also have to pay 70% reward that is  the renting fee for owners.
BicycleFi Social Links
🌐Website: https://bicyclefi.io
🐦Twitter: https://twitter.com/bicyclefiio
🗨️Telegram: https://t.me/bicyclefiofficialgroup
🤖Discord: https://discord.com/invite/pwshZfyswg
About BinStarter
BinStarter is a decentralized mining-style approval mechanism insurance protocol that is designed to examine projects according to certain criteria for 30 days and to protect liquidity providers against possible financial damages or any negativities.
Website | Announcement Channel | Telegram Chat | Twitter | Medium
BinStarter Blog & News Newsletter
Join the newsletter to receive the latest updates in your inbox.
---