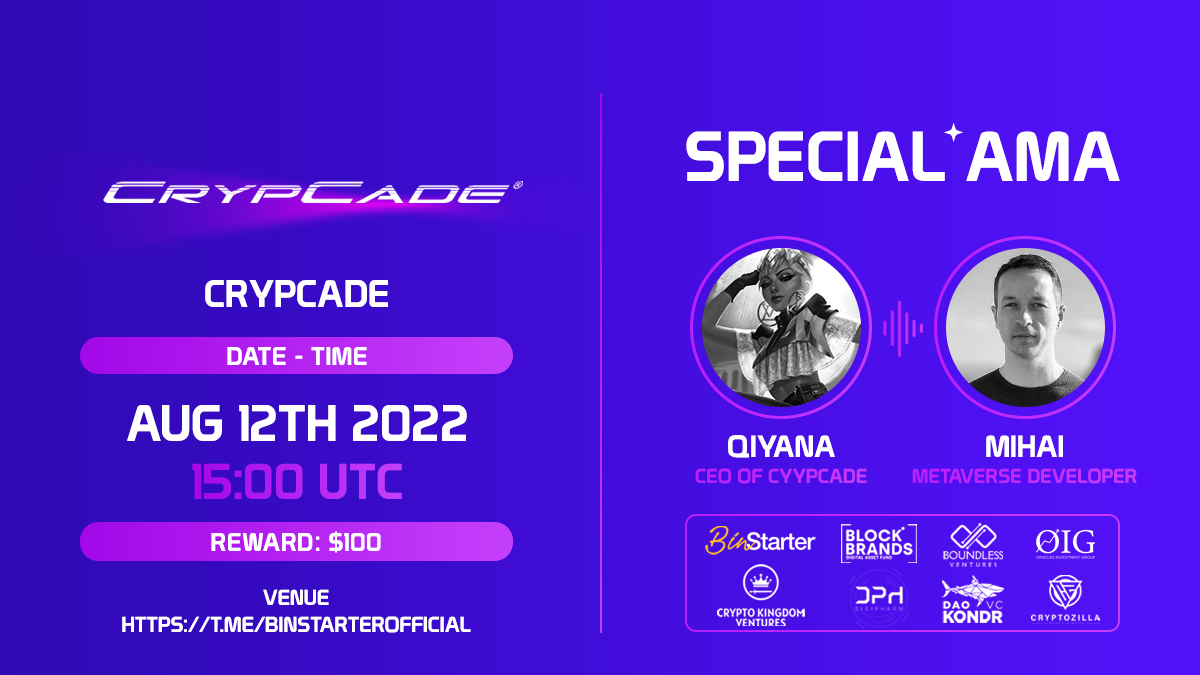 Get to know: CrypCade City
A world of spectacular graphics, fully functional NFTs, social interactions & engaging Play-2-Earn games
CrypCade City is a Functional Fullstack Open Entertainment #Metaverse on #Blockchain that brings ultimate #Gaming & Entertainment experience for Users while connecting Real world business to the WEB3 virtual world.
To prepare for their IDO, we hosted an AMA with Qiyana, CEO & Mihai, Metaverse Developer on BinStarter Telegram Official Channel. In case you missed it, here's a quick AMA recap.

Introduction Round
Q1. So first, let's get to know you and a bit about your project, can you tell us how you got into crypto and where the idea came from for CrypCade and tell us about your core team members and their background?
I have been making games for over 12 years, starting from web games and then transitioning to mobile, Nintendo and PC games. Our mobile games have over 40M installs across all platforms.
I have been in crypto since 2016. The entire core team has been in the crypto space ranging from 3 to 7 years, we come from different backgrounds, like Finance, Marketing, Architecture and Urban Planning, Graphic Design, IT. We have started CrypCade in 2018 as half arcade, half luck-based platform and the development and team's commitment to this project has been ongoing ever since. At the beginning of last year we decided to expand the user experience and launch our metaverse.
Q2. Could you please tell us what the Crypcade Metaverse is and what makes it different to other metaverses?
The CrypCade Metaverse is creating an immersive world that will use growing technologies such as 3D,AR, VR, MR, AI. The ecosystem is comprised of 4 main parts. Gamefi, Social Interaction, Business Integration and Advertising. Play to Earn and Player vs player games, arcade games, and an array of exciting sectors and playable content will be introduced for years to come, relax at your very own club lounge where projects or groups can create their own space and use social chat to engage in meets, AMAs, gatherings and meetings, turn your Web2 into Web3 by taking your online business or project and having it built in the CrypCade Metaverse in a 3D interactive storefront or building!
It is primarily designed for traditional gamers that don't have exposure to crypto yet. We are converting regular gamers to crypto/metaverse users. We aimed for a low entry price with reasonably priced NFTs. Users can play even if they don't spend (we offer a free default character) and they can even play to earn by borrowing NFTs from investors/other players. The iCADE token is a deflationary coin that rewards long term holders via staking.
Q3. What are the benefits of being part of the CrypCade Metaverse, what can users expect by joining and purchasing your NFTs?
Our ecosystem is designed to be self-sustaining and various features of Sector 1 allow players and investors to reap the benefits of being part of the metaverse. Users can earn passive income by owning the Key NFTs or property NFTs and they can also stake their iCADE. Active income can be generated via P2E games and daily challenges and tasks.
The CrypCade Keys are limited to 777 Keys per sector, they are Exclusive Access passes that will grant the holders access to restricted areas, access to restricted buildings reserved for specific projects, priority on futures drops including a guaranteed WL to the land sale. The Keys just like the Land will allow the holders access to a shared profit pool that will earn them a passive income from the net profits of the CrypCade Ecosystem.
Q4. You mentioned you have 4 main parts earlier, we can see the incredible graphics and the game side, can you explain the Social, Business Integration and Advertising side.
Social Interaction, Users, Projects, Businesses, Companies; They will all be able to buy and create or rent spaces in the metaverse to hold social gatherings using proximity speech to interact and engage with one another, hold meetings, amas, social events within a virtual world with their avatars
Moving on to the Business Integration, businesses once used traditional media to attract customers by advertising in Print, radio, billboards, etc. Then they adapted to web 2 and created websites, they became their brick and mortar giving businesses an avenue to reach more of their customers on a global scale. Web2 to Web3. Businesses can have their storefronts, buildings, and headquarters built inside Crypcade. Businesses can integrate their NFT's and give special access to holders, connect their websites to their Virtual store and sell or display their projects and NFTs, this can be a crypto project, to any SMB, SME and large corporate headquarters.
Lastly we have the Advertising side, spread throughout the metaverse will be Digital Displays, Billboards, Holograms, signage, an array of advertising possibilities. The grid will be a horizontal x vertical grid and these spaces will be rented out on a time basis to businesses and projects looking to advertise in the virtual world.
Q5.What unique features or technology does CrypCade platform have that will allow developers to deploy natively created dApps for monetisation in their ecosystem?
Our metaverse is built in Unity, the most popular game-building engine, we believe we can attract a wide range of developers that can integrate their apps and games to work seamlessly within the CrypCade Metaverse.
Since we offer Metaverse as a Service, we can integrate any business, real-life or blockchain based, into our metaverse with a very fast turn around. The ecosystem allows these businesses to join the metaverse economy and expand the user experience. Imagine shopping but in VR via CrypCade.

CrypCade thanks to the partnerships we have is an interoperable metaverse, the token iCADE and the NFTs will be able to be used on many blockchains, currently it is interoperable with BSC, Eth, Polygon, OKX, TRX with more to come.
Q6. How do you plan to gain initial traction and market to the new users?
We will be utilizing our social channels and KOLS provided by partners to create user acquisition campaigns and user incentive campaigns. Discord is a popular platform used amongst Gamers and NFT Projects, we have a gamification reward system in the server allowing for rank progression to reward users for their engagement. We have a beta testing channel and are present on most forms of social media. We are working with partners who share the common goal of adoption and creating a space users can immerse themselves in within a virtual world.

We are fortunate to have some great partners who are helping us promote the project, we have some great marketing strategies such as User Acquisition Campaigns, User Incentive Campaigns, cross promotional collaborations with other projects, on top of that we are looking to work with other metaverse projects since we are already are interoperable it would make sense to build towards having a universal metaverse that can adapt with other metaverses allowing users to traverse the virtual world.
Q7. Can you tell us the uses of the iCADE token to users and its relevance in your ecosystem? Also, can you tell us how iCADE token mining occurs in CrypCade?
Owning iCADE is like owning a percentage of the company, staking this will earn passive income for holders, it is used in game to purchase in game assets for future drops and any interaction in the metaverse.
The way the tokenomics work has the net profits from revenue going to a pool that is distributed in iCADE stakers, key holders and land holders, 100% of net profits goes to the pool, this is after fees and other expenses are taken out, 80% is distributed to the users and 20% goes to reserves, the reserves are used for buybacks this will help alleviate sell pressure and help the token price.
The entire economy of the metaverse revolves around the iCADE token. As I mentioned previously, users can earn iCADE via passive and active income sources. Players can also spend iCADE within the metaverse on various upgrades for the character, property taxes, tickets to participate in play 2 earn games.
Q8. Can you tell us a little bit about your tokenomics and also in the next 5 years, where do you envision CrypCade?
Regarding tokenomics I can briefly tell you that the total supply is 750,000,000 iCADE, launch price will be $0.04, released at TGE there will be 12,400,000 iCADE total and IMC will be $496,000. The tokens are all vested and vesting info can be found in our whitepaper. I will let Mihai brief you in about development.
The CrypCade metaverse is a continuous development project. The metaverse will have a total of 7 Sectors. Four P2E games will be added this year + multiple mini-games. Main version of Sector 1 is coming out in late August. We're building the foundation of an infinite metaverse that blends real-life businesses with social activities, shopping, investing and casual and play to earn games.
Q9. Can you shed some light on the CrypCade Marketplace? Can you also give us a timeline for the mobile app release and NFT game assets implementation?
The NFT game assets have already been implemented - we have over 300 characters, dozens of vehicles and several types of properties. Once you purchase an NFT character for example the game will recognize it and you can use it in the game (everything is done through a secure Metamask login). The mobile app is currently focused on Augmented Reality and it will have a surprise feature that you won't find in any other traditional game or metaverse.
Live Questions Round
Q1. Can you tell us about the Play to Earn component of CrypCade? What types of games are being developed within the Metaverse? Will special NFTs be required to play them or will our NFT Avatar be enough? How much money can we earn in them?
We have multiple P2E games, out of which the racing game and hover racing game are live in the demo. A shooting and an action game are coming soon. You need one of our NFT characters to participate in P2E games, but the cost is under $50/NFT.

Q2. To own Avatar in Crypcade, is there any fees or cost needed to spend by the player?
You can walk around the city with the default character, but you will need to purchase one in order to play and earn and interact with others. Characters are generally cheap and bring lots of benefits. One can own multiple characters as well.
Q3. Staking, NFT is very hottest, do you think you will apply NFT technology to your products in the achieved future?
Staking will be live on launch. As for NFTs we have a lot of different collections coming up as well as seasonal ones.

Q4. What are the attractive features in your project? What is the vision and goals in your project that you want to achieve in 2022 and beyond?
We have spectacular graphics, multiple P2E games, real business onboarding as well as social interactions. Our project is being continuously developed.
Q5. One of the problems with NFT games is that they remain profitable for the first few months, but then massive sales occur and market crashes are generated to the point that the game ends up bankrupt, so Crypcade has some measure to avoid those events community in NFT games?
We have lots of measure in place and the beauty of CrypCade NFTs is that they don't just have 1 usecase, their usecase gets upgraded and recycled so you'll always need them. There will be some collections that will be very limited and those ones generally give you extra benefits compared to the normal drops.
Crypcade City Socials
🌐 Website 🕊️ Twitter 📣 Channel Ⓜ️ Medium 🤖 Discord ✉️  Global Community
About BinStarter
BinStarter is a decentralized mining-style approval mechanism insurance protocol that is designed to examine projects according to certain criteria for 30 days and to protect liquidity providers against possible financial damages or any negativities.
Website | Announcement Channel | Telegram Chat | Twitter | Medium
BinStarter Blog & News Newsletter
Join the newsletter to receive the latest updates in your inbox.
---