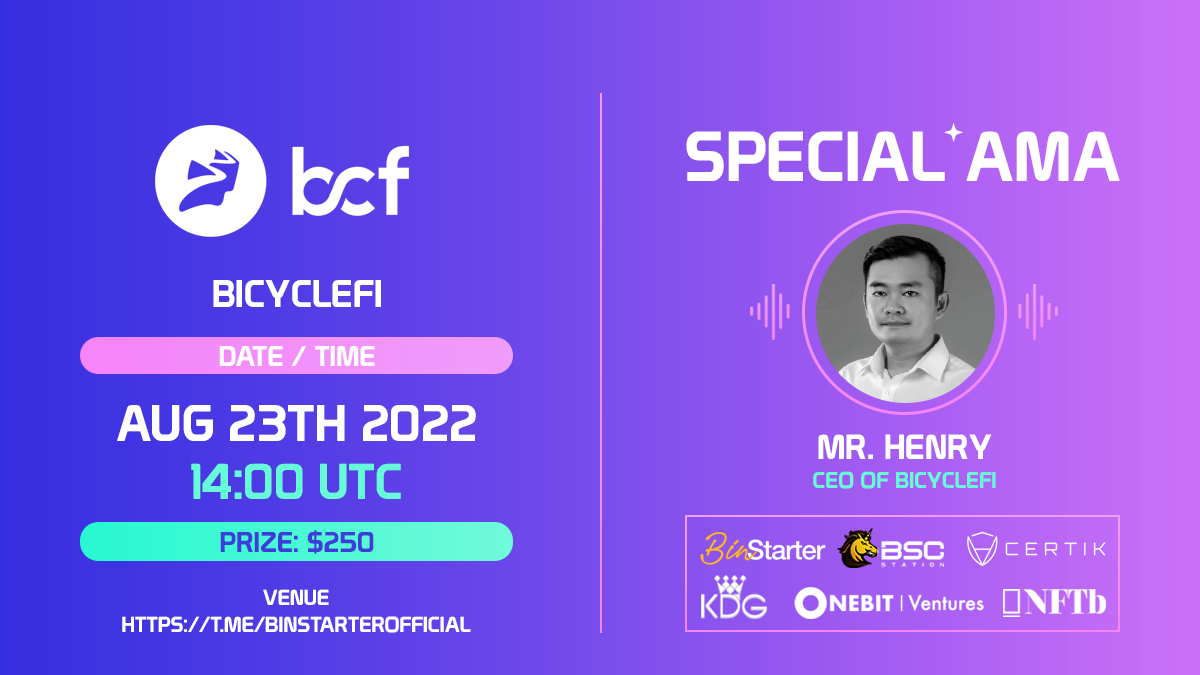 Get to Know: BicycleFi INO
Introduction Round
Q1.First, can you please give a small introduction about yourself?
As mentioned earlier and before, my name is Henry and I am CEO of BicycleFi.
I graduated from University of Technology  and had an Global MBA  from ( University of Business Administration) with many years in management of global company . With years of experience, I have involved in different blockchain industry sectors and for sure I'm an active contributor to every community I have been through.

Personally, I found my way into the crypto market from 2018. From then until today, I have advised several blockchain start-ups on how to build great products, to shape tokenomics, and bring value to the cryptocurrency community. And for now, BicycleFi is my destination. We are go from underground of market and now we go to the new chapter. Hopefully with my experience, I can bring BicycleFi as far as I can...
Q2. Can you briefly describe what BicycleFi is so far?
For an overview, BICYCLEFI is a Web 3.0 lifestyle Dapp & app with inbuilt Game-Fi , Metaverse, Social-Fi elements.
We both have app and Dapp
BicycleFi is built by the daily movement of people. Bicycles are used in delivery activities, sports to improve health, racing, touring. We are following to effectively bring to life a functioning move & earn concept, the first project to apply blockchain technology in Bicycle app .
Users equip themselves with NFTs in the form of Bicycles. By Cycling, moving , delivering  or Cycling outdoors, users will earn CYC tokens, which can either be used in-game, or cashed out for profit.
The first phase in Game-Fi, BICYCLEFI aims to nudge millions toward a healthier lifestyle, combat climate change and connect the public to Web 3.0, The project deals with the Social-Fi aspect of the community of users, building a lasting platform to promote Web 3.0 content ...
Q3.Would you mind updating any hot news or big events of BicycleFi to attract more users in the upcoming time?
Yes. Currently, we are having a lot of attractive events to attract users. We are launching event make video - get BUSD with total prize pool up to 1250 BUSD. Details can be found in the video below
The link will be in bicyclefi
Currently, we are having a lot of attractive events to attract users. We are launching event make video - get BUSD with total prize pool up to 1250 BUSD. Details can be found in the video below (gửi video lên)
Besides, every week, we will hold an event learn to earn by telegram quiz bot at . Top 5 fast and accurate players will receive rewards from the program.
And an event that tech lovers can't miss is the bug bounty event, where hunters will hunt bugs and report on the program for rewards.
These are our social media channels, you can follow the next events: Website 🚲 Twitter 🚲 Telegram 🚲 Channel 🚲  Discord 🚲 Medium
Q4.To start playing BicycleFi game in app how much money do I need? Is it required that I need to have NFT characters or a specific number of $BCF tokens? Also tell us how does $BCF focuses more on the player experience in and out of the games to create a balance for playing & earning?
Sure. Our game totally new deverlopment  and inovation
Depend on speed. Here are the prices for the 6 types of NFTs:
🎁Road bike box : $200
🎁Hybrid bike: $150
🎁Touring bike box: $120
🎁BMX bike box: $100
🎁Mountain bike box: $80
🎁City bike box: $50
Users of the Move to Earn form can profit from their own physical endeavors, such as brisk walking and running. These movements will be tracked using GPS, and the program will combine information from mobility and health sensors. Users may quickly access the program on their phones.
Currently, a lot of people are passionate about bicycles but have no knowledge of blockchain. And more than that, even though there are many people who love bicycles, it is still not enough for us to achieve our development goals in the long term. The exposure of this problem is a challenge for BicycleFi at this stage will change some of the operational mechanisms and create more content to better adapt to the market and meet the needs of the users, but also an opportunity. Expanding more guild resources on top of the existing guild cooperation.Currently, we are looking to actively explore global market, we have already established contact with a number of guilds. We are also in contact with the most influential industry practitioners around the world to discuss.
A smartphone application called BicycleFi has Social-Fi and Game-Fi elements. The move to earn concept of BCF will be a step toward introducing blockchain technology to everyone in a way that is incredibly simple and accessible to all.
Users of BCF just need to download the application, own their NFT, and then choose the move-to-earn options that best suit their needs in terms of profit and health.
Q5.NFT and Metaverse are growing very fast, does BicycleFi have some barriers to entry into this marketplace? What are your plans to unlock market's full potential, in order to compete with other NFT Games in this rapidly evolving market?
Yes. As you must know, all blockchain ventures, including BicycleFi, are negatively impacted by a bad market. However, I believe that the market goes through its own ups and downs; however, some things, such as technology, strategies, ideas, and products, will last for a very long time

Additionally, BicycleFi has cutting-edge technology and innovative concepts in the works, so the negative market won't be a concern in the long run. Our goal is to develop a fantastic product for users everywhere.
Beside that, we did have short-term plans to lessen the negative market effects, including the launching of new products, encouraging users to utilize more BCF tokens, burning tokens to maintain the price, and keeping up with emerging trends. Everything was planned and scheduled.
The benefit of the users is our top focus. I believe that the bearish market offers us an opportunity to prove our worth.
Live Questions Round

Q1. I haven't seen anything about the CYC token. Can you talk about the project's intentions for this token?
CYC token
- CYC is the in-game token of BicycleFi, where most of the actions will consume CYC, such as: PVE, upgrading items, recovering energy, crafting equipment, bicycle repairing and so on. You could earn CYC from Daily work.
- Ticker: CYC
- Blockchain: Binance Smart Chain
- Token Standard: BEP-20
- Contract: will be announced when listing
- Total Supply: unlimited
- Circulating Supply: CYC
We have a plan to list CYC tokens in the near future. Expected :  September
Q2. What date is the app expected to launch? Why do you choose that time ?
Yes. App will be launched in mid of September. After the bug bounty event ends at the end of August, we will spend more than 10 days to finalize and test it, then officially release it to the community.
Q3. How many boxes will be sold in phase 2? Is the price expected to decrease or increase compared to phase 1?
Yes. As expected, phase 2 will have 1800 boxes sold. And the selling price will still be the same as phase 1. We have some partner has booked the number of box the rest will be FCFS
Q4. When will Dapp staking function launch?
It is expected to be launched around September 10-20 th
Q5. For those who don't have much time to get involved, does BicycleFi have any passive products such as STAKE? If so, can you share a little bit about it?
Yes, this is what our advantage about dapp. Users and invester can stake the NFT incase they busy with job still got reward. It nice for investor who dont move by car, bicycle, bike , train ...
BincycleFi Socials
Website 🚲 Twitter 🚲 Telegram 🚲 Channel 🚲  Discord 🚲 Medium
About BinStarter
BinStarter is a decentralized mining-style approval mechanism insurance protocol that is designed to examine projects according to certain criteria for 30 days and to protect liquidity providers against possible financial damages or any negativities.
Website | Announcement Channel | Telegram Chat | Twitter | Blog
BinStarter Blog & News Newsletter
Join the newsletter to receive the latest updates in your inbox.
---