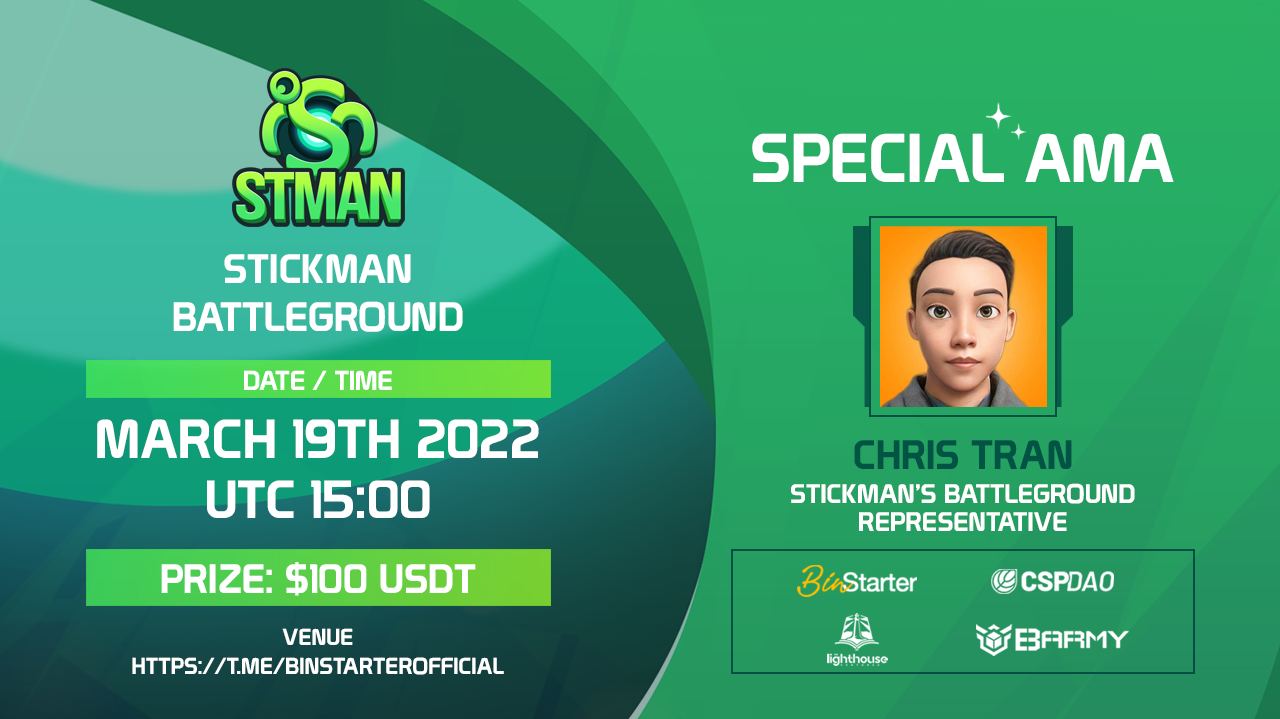 Get to know: Stickman's Battleground
The Funniest Stickman NFT Game Ever!
Stickman's Battleground is an anti-inflation NFT game of survival with free play-to-earn mechanism. It's worth experiencing the most trouble-free gameplay but a high profit. It is expected to be a craze for the NFT gaming market in 2022.
Here are the advantages of STMAN, which makes it worthy for playing:
✔️Attractive PvE mode ✔️Real-time Survival PVP Game mode ✔️Dynamic weapons ✔️Profitable staking and yield farming ecosystem
To prepare for their IDO on February 17, we hosted an AMA with Chris Tran, Stickman's Battleground's Representative on BinStarter Telegram Official Channel. In case you missed it, here's a quick AMA recap.

Stickman's Battleground IDO Whitelist is open until February 16, check their IDO page and apply for the sale!
Introduction Round
Q1. First of all, can you tell us what is Stickman, being the name of your game?
So our name - Stickman's Battlegrounds is the combination of Stick figure games we used to play in the earlier days of the internet and the recent hype in the gaming community, which is PlayerUnknown's Battlegrounds. We want to combine the best parts of these 2 together that's how we start with Stickman's Battlegrounds.
Q2. If  I want to play Stickman's Battleground, how can I get started?
If you want to start when the game launch, which will be in mid-April, you will need to own at least 1 of our NFT Heroes. You need it to play the PvE game mode that will be released upon launching the game.
To acquire an NFT, you can open one from the box on sale RIGHT NOW during our INO on our partnered launchpads or you can buy the lesser box from our marketplace when the game launched
Q3. Do we get the option to play for free in STMAN?
Of course, the Free-2-Play mode will be released with future updates, when we have stablized our player base 👌
Q4. So what is the entrance fee to STMAN?
For the PvE game mode, the entrance fee is whatever you spent to buy the box or the NFT, for PvP, the entrance fee starts at $1
Q5. Can you please tell us how the reward system works in Stickman?
Absolutely, so in STMan players can earn in 2 ways
The first one is in the PvE game mode. In this mode, players will need to hunt for the treasure box and break them for the reward, the higher the level of the box the better the reward.  The reward for this mode is Ticket, which players can exchange for $STMAN right away with tax.
Or, use it to earn in the second way, which is use those Tickets to participate in PvP mode, where they can earn even more by beating other players in the Deathmatch/Survival game modes. Winners in this game mode can earn much more reward than PvE.
Q6. Can you tell us briefly how to play in Stickman? Like the type of challenges we can expect..
Well, the game is designed to be extremely simple and fun to play so I'm sure players will take no time to get used to the game and in case you need further instruction and tutorial, we will upload instruction videos to our official Youtube and Tiktok so players can learn about it we literally show you guys how to get our money.
Q7. How do NFTs work in Stickman?
So the NFTs in STMan are called Heroes. Heroes have 7 level of rarity, ranging from D-C-B-A-S-SS-SSS. The higher the rarity, the stronger the Heroes.
Beside the rarity, the Heroes' level will also be a factor affecting their strength. The more players farm one NFT, the stronger it will get however, to make sure the fairness between new and experienced players, we will make it that all the NFTs are not too imbalanced in power in the PvP mode.
There are 1,250,000 unique Heroes NFTs in circulation and there are only 200 SSS Heroes, so their price will definitely be astronomical, HODL if you got one.
Q8. What is the token of Stickman's Battleground and how do we use them in STMan?
$STMAN is the only token used in STMan's ecosystem. User can use it for payment, staking, farming, yield farming or syncing.
Q9. Do you have the feature where we can interact with & meet other community members?
Not yet, but we definitely add it to the game in the future updates.
Q10. Can you tell us about Stickman's roadmap?
At the moment, our most important items to complete are the INO, which are happening right now, and the IDO. Our IDO will take place on Binstarter TOMORROW, so make sure not to miss it.
Other launchpads' IDO will be on the 23rd of March. By the end of this month, we will be releasing the game's alpha and beta test and the game is set to be released on PC and Android in mid-April.
Q11. So we are down to our last question, can you tell us the official channels we can reach Stickman?
You can update the latest information about us on these channels:
Website: https://stman.io/
Twitter: https://twitter.com/Stickman_STMAN
Telegram Channel: https://t.me/stman_ann
Telegram Group: https://t.me/stman_official
Discord: https://discord.gg/3MntXvjxfR
Fanpage: https://www.facebook.com/StickmanBattleground/
Facebook Group: https://www.facebook.com/groups/441727427543914
Medium: https://medium.com/@stickman_battleground
Youtube: https://www.youtube.com/channel/UCbmhuARU4X_qufUQ15DzXpw
Tiktok: https://www.tiktok.com/@stman.io
Instagram: https://www.instagram.com/stman.bg/

Live Questions Round
Q1. Did you consider community feedback/requests during the creation of your product in order to expand on fresh ideas for your project? Many projects fail because the target audience and clients are not understood. So I'd like to know who your ideal consumer is for your product?
We are constantly listening to our communities' feedback and improving the game. If you are a long time holder of our token, you can have a voice in the changes we make to the game. Our target audience is not just in the gamefi world, but in the gaming world in general as well.
Q2. Do you have any plan for burning tokens in the future to reduce the supply of the token and increase its investment attractiveness?
Yes, we have one of the best Anti-inflation mechanism in the market right now together with traditional token burning.
Q3. Revenue is an important aspect for all projects to survive and maintain the project/company. How have you been able to build a complete project and what is the way to generate profit/revenue of the token? What is the income model?
We have 2 revenue streams
1. from the sales of our NFT box
2. players' entrance fee
Q4. On your website you don't mention that you have done any internal or external audit of your smart contract, so can you give us details if you have done any audit before? And in case you haven't, would you plan to perform any review of your smart contract in the near future?
We are being audited by Verichains, one of the biggest auditors in crypto at the moment, and it is not free audit either, it's a paid service to make sure that everything is thoroughly checked.
Q5. Will Game launch a gaming tournament soon to introduce the game for new comers & to build more solid community?
Yes, we are working with many gaming guild to plan out future tournaments/events for our players.
Stickman's Battleground Social Links
💬Twitter 💬Telegram Group 💬Telegram Channel 🌐Medium 🌐YouTube
About BinStarter
BinStarter is a decentralized mining-style approval mechanism insurance protocol that is designed to examine projects according to certain criteria for 30 days and to protect liquidity providers against possible financial damages or any negativities.
Website | Announcement Channel | Telegram Chat | Twitter | Mediu
BinStarter Blog & News Newsletter
Join the newsletter to receive the latest updates in your inbox.
---