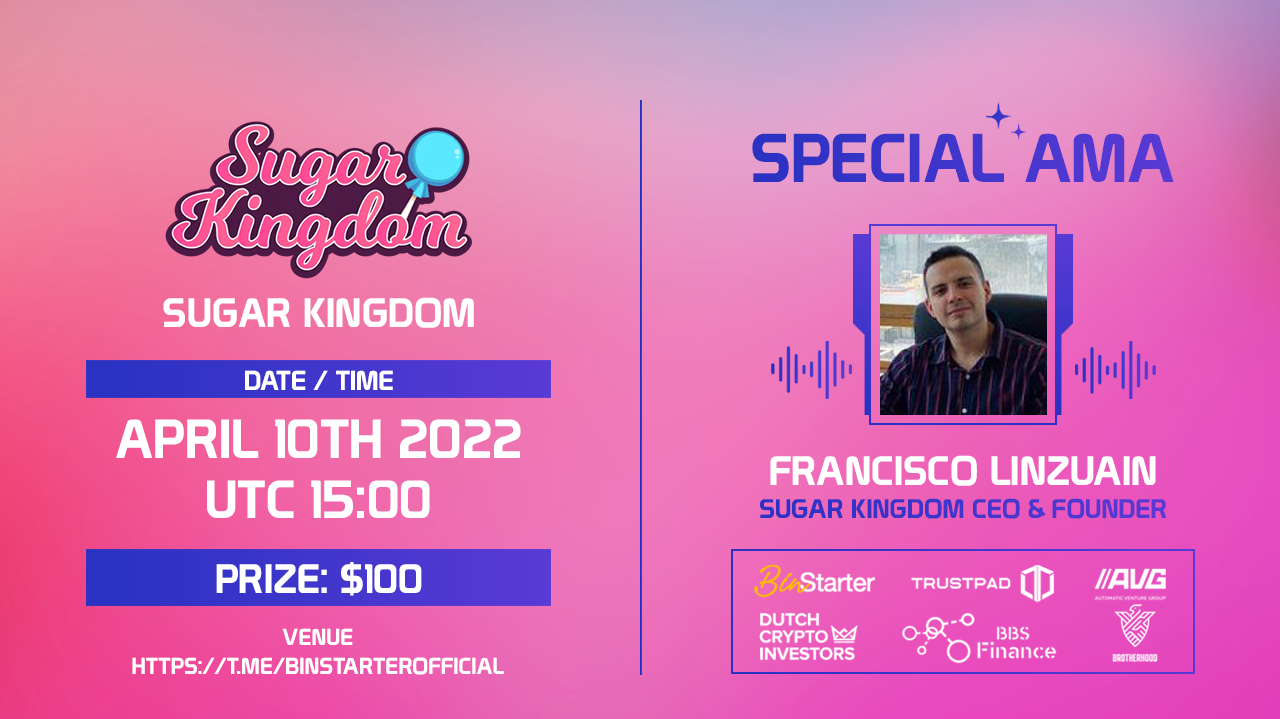 Get to know: Sugar Kingdom
The sweetest Land in the Play-To-Earn Ecosystem
Sugar Kingdom is a fantastic Blockchain NFT Play to Earn Match-3 Game,  engaging and challenging, with a catching experience and Metaverse features, suitable for all ages, gender neutral, where everyone enjoys.
To prepare for their IDO on April 11, we hosted an AMA with Francisco Linzuain, CEO & Founder on BinStarter Telegram Official Channel. In case you missed it, here's a quick AMA recap.

Sugar Kingdom IDO Whitelist is open until April 10, check their IDO page and apply for the sale!
Introduction Round
Q1. For my first question, can you please give us a brief background about yourself both in the crypto space as well as traditional?
Sure! Well, as you said earlier, my name is Francisco Linzuain
Im CEO of Apes International Group Corporation (the company in charge or developing Sugar Kingdom). I consider myself a tech lover, I found amazing how technology create powerful ways of evolution. I also believe that the most important thing in a project is its team.
If you don't have the right people, then it will be impossible for a project to be a success. This is why Sugar Kingdom has one of the most formidable and passionate teams in the ecosystem.
Just a reference, our Art Director is also "Head of Design" in the famous Metaverse "The Sandbox" and our CFO is also the Chief Economist of the Banking Association of our country. We also have people from Decentraland and professionals with a great trajectory in the traditional world.
Today we are more than 20 people in the team, and we keep adding members.
Q2. Can you briefly at a high level explain Sugar Kingdom  is about before we dive into some deeper questions?
Yes, of course!
Sugar Kingdom is a Metaverse focused on casual games. One of these games will be launched at the TGE, along with a VIP staking and a Sweet Staking.
Here, you can enjoy many simple but very attractive games. It is suitable for everyone, regardless of your age or gender. Within the ecosystem, in addition to being able to earn money, you can become a member of the Royalty, you can have your own followers and be an important noble.
Sugar Kingdom has its own Lords, Princes and just one King, who rule and dominate the sweetest lands. 🍭
Q3. One of the many goals of most projects is to attract investors.  What is it that sets you apart from your competition in this space? Also is there any issue that you observe from other projects which was not being addressed by others but you were able to address in Sugar Kingdom?
Well, together with our team, we have conducted an analysis to determine why most current game projects fail. We come to the following conclusion:
For one thing, tokens have NO real utility. This means that the nature of the token price is that it only lasts for a short time until circulation increases and the game dies.
The other problem is that the games are not attractive to users. Many of them don't even enjoy it and only play it for profit, while the economics of the project are not robust.
We find the solution as follows:
1- One of the best teams in the ecosystem, with proven experience in other long-standing projects (The Sandbox and Decentraland).
2- We are one of the few projects that have a wide token utility and use during the TGE, one of the games in our ecosystem is ready and will be published in a very short time, as well as the different Staking sections.
3- Everyone loves sweet things, right? Our theme and artistic composition gives us a different perspective and both our partners and our community know it very well and agree.
Q4. Each gaming platform design the "Metaverse" in different ways. With Sugar Kingdom, what does the Metaverse concept mean to you and how have you applied it within the platform? How does this help to improve the game system in Sugar Kingdom and improve the user experience as well?
Great question!
Our LAND system plays a central role in the ecosystem.
By mixing the social status of the players, offering titles of nobility and the possibility of having followers, your land is no longer just a financial asset, but it becomes a center of life, a place thanks to which you have a different gameplay, where you can customize and design everything as you wish.
Games can be hosted in the LANDs and the returns of the players who participate will be shared with the owners of the LAND. It is a win-win system, you can learn more about it in our whitepaper!
Q5. Your whitepaper states  that Sugar Kingdom is developed by Apes Group International Corp, a leading software engineering company in the blockchain gaming space, so, can you share some of the benefits and advantages of Sugar Kingdom being a fork of this organization?
The advantage is that we are an experienced team, which we have a professional management in the aspects that refer to our business. All our profiles are public, both on Linkedin and on our website. A fully doxxed team!
Q6. What phase is the project currently in? Have  there been any issues that the team has endured that they have grown stronger from learning now?
As for the level of development, the first of the games that are part of the ecosystem IS FINISHED. About the problems we face... well... it's a long story.
I remember that Sugar Kingdom was born as a dream, one day we met with our team at the office table and began to design, which later became this beautiful adventure.
And when we decided on the name and concept, I remember we thought... "I would like to be King, but of a world without evil, of a better world"
There… The sweetest Metaverse was born.
Unlike other projects, we start developing BEFORE raising funds. That made the product very mature today.
Q7. Sugar Kingdom uses two tokens: Candy and Chocolate. Could you briefly describe the functions of these two tokens, what is the importance of each of them within the system, what are the benefits they offer to their holders?
Sure! As I have told you guys before, our CFO (in charge of putting together our tokenomics) is the Chief Economist of the Banking Association of our country, a well-known man. He has designed our tokenomics and their flow scheme.
About the utilities:
CANDY token: Participate in VIP Staking (deposit CANDY and earn more CANDY, at a very high APR, it is exclusive), Participate in Sweet Staking (deposit CANDY and earn CHOCOLATE), Buy NFTs to access the game, Buy LANDs to become a landowner , Customize the land, bet and participate in different tournaments (burn mechanisms) and also make use of Royalty Staking (become a member of royalty). You also will be able to use CANDYs in the next games that we will release within the ecosystem of Sugar Kingdom.
CHOCOLATE token: Vote on different governance decisions in the senate (a mechanism to deal with royal governance power). Vote to decide different community issues and participate in community events.
Q8. Many players today are looking to join games that generate profits, so how will Sugar Kingdom build a Metaverse that is fun and dynamic but also have earnings? How do you balance these things?
We know that our players' earnings are very important. That is why here you will have the opportunity to earn not only by playing, but also thanks to all the mechanisms that we have available. Whether it's becoming a Royalty Member, staking, owning LANDs or playing any of our games, there will ALWAYS be place for you to make a profit.
Q9. Will the game be user friendly where someone can start playing instantly? Also, is there a barrier to entry?
You can start playing for free, there are no barriers to entry! We will launch the testnet version in the next few days, so you can connect and start testing our game! You deserve something sweet 🍭
Q10. For my last question, what is the revenue model for Sugar Kingdom?  How will the project stay afloat?
We not only charge a % for sales on our marketplace, but we also offer aesthetic customizations to LAND owners, Brands or Celebrities who want to be part of the metaverse, in exchange for a fee.
Live Questions Round
Q1. Do you have any plans to attract non-crypto investors to join your project?
Because the success of a project attracts more investors who haven't yet entered the crypto world. What are the plans to raise awareness about your project in the non-crypto space.
Yes, we are developing FIAT gateways to attract users that are not related to the crypto environment. Also we are in contact with celebrities that are also related to e-sports, so we are working hard to make some implementations with them in order to attract traditional gamers to the Sugar Kingdom Metaverse!
Q2. Are you planning to promote your project in countries / regions where English is not good? Do you have a local community for them to better understand your project??
Yes Miss, we have a lot of local communities in our Discord Server. You can join us there! If for some reason your country is not listed, let us know and we will add it asap! Sugar Kingdom is open to every single person in the world! 🍭
Q3. Security is often the number one consideration for projects. So, have Sugar Kingdom's contracts been audited by any company? If so, can you share it with us?
Yes, our contract has been audited by Solidity Finance and CoinFabrik. The reports will be available on 11th of April!
Q4. Regarding the current market situation is too unstable, to restrain investors. So can you give me some good reasons why I should buy your tokens in the current market situation? And also why should your token holders continue to hold?
Because we have a product that is already developed, ready to be launched! We have a free to earn scheme. Our company has a fully doxxed team with members that are very well known in the ecosystem! We will continue working day by day to add features to the Sugar Kingdom Metaverse and increase the utility of our Tokens!
Q5. You made a game very similar to Candy Crush, which is a very popular game on mobile. But you have an important difference, we can earn money by playing your game. My question to you is: Are there any conditions such as what #NFT is required to play Sugar Kingdom?🍭
No NFT required to play Sugar Kingdoms games! If you Purchase one of our NFTs, with them you will be able to increase your rewards based on their multiplier. Also you can stake them!
Sugar Kingdom Social Links
• Website: https://sugarkingdom.io
• Telegram: https://t.me/SugarKingdomOfficialChat
• Twitter: https://twitter.com/SugarKingdomNFT
• Discord: https://discord.com/invite/DSCapguM6y
About BinStarter
BinStarter is a decentralized mining-style approval mechanism insurance protocol that is designed to examine projects according to certain criteria for 30 days and to protect liquidity providers against possible financial damages or any negativities.
Website | Announcement Channel | Telegram Chat | Twitter | Medium
BinStarter Blog & News Newsletter
Join the newsletter to receive the latest updates in your inbox.
---