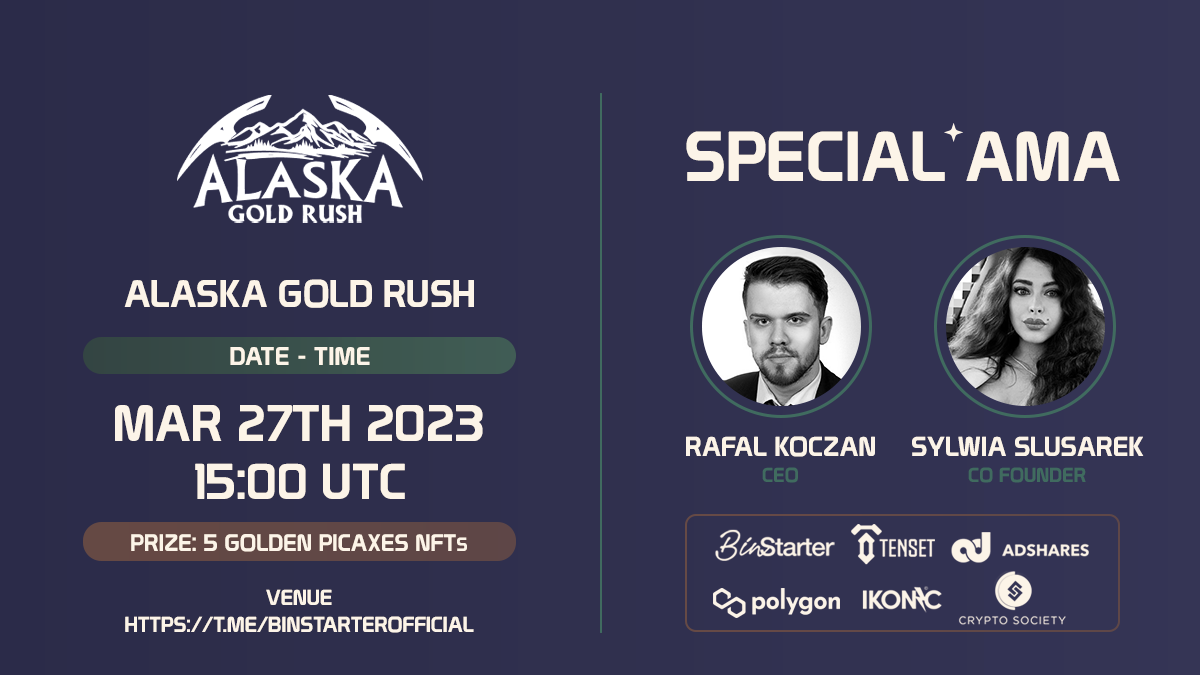 Get to know: Alaska Gold Rush
Get Rich or Die Tryin' in Alaska!
Alaska Gold Rush is the first WEB3 native game with an open world and exciting plot and adventures within the metaverse. Become one of the first daredevils who set out to Alaska to get riches while exploring the unexplored!
To prepare for their IDO, we hosted an AMA with Rafał Koczan - CEO; Sylwia Slusarek - Co founder of Alaska Gold Rush on BinStarter Telegram Official Channel. In case you missed it, here's a quick AMA recap!
Introduction Round
1. Can you introduce yourself to the BinStarter community and briefly tell us about your team?
Hello my name is Sylwia , I am Co Founder of the Alaska Gold Rush project .
I am a crypto researcher , VC shareholder and gamer , a big fan of the witcher and God of War so the Web3 games trend excited me from the start.
I am here today together with Rafal our CEO.
There are 5 people in our core team , each of them has a minimum of 5 years of experience in the cryptocurrency market.
Our CTO Przemysław Bieniek is the CEO of a gaming company listed on the Stock Exchange in Poland Baked Games.
The studio has 8 years of experience in game development , they are currently mainly working on the development of Alaska so we are the same team and have not outsourced our game.
About 20 game devs and graphic designer are building our game.
2. What is the story behind creating Alaska Gold Rush and can you talk a little bit more about this game?
Alaska Gold Rush is a role-playing game where the player takes on the role of George, a young man who sets out on a journey to Alaska to discover what happened to his father and to claim his inheritance. Along the way, he must navigate the harsh environment, overcome obstacles, and search for gold while battling robbers and other dangers. The goal of the game is to multiply your stash of the $GOLD and $CARAT tokens that the in-game mining can obtain, but there are many other amazing game dynamics to keep the fun at all times :) You got NFTs, loot boxes, PvP arena and of course an amazing storyline.
3. Alaska Gold Rush is in a Web3 platform, can you talk a little about this as one of the game's edge?
As for the aspects of Web3 that will be included in Alaska are first and foremost the integration of NFT into the game - skins , mines which will be our lands .
Another aspect of Web3 is the use of our token in the game .
In Alaska there will be two tokens in play :
On Chain token CARAT - a blockchain token trading on exchanges
Off Chain GOLD - soft in game currency a token that we often see in RPG games .
By digging gold players will receive off Chain token which is neccesary to buy weapons , portfions and improve Your Stats to take part in pvp duels where you can earn real money .
Every player will have the opportunity to take part in pvp part where each participant put a token on Chain into the pool .
Those with the best skills and weapons will win a prize minus our fee, part of which will be burned....
4. What is the requirement to play Alaska Gold Rush such as the minimum entry amount? Is it only playable in pc or is there a mobile version?
There is no minimum entry amount, as we want to be open to all the players - the first $CARAT tokens needed in the game can be bought but there is also $GOLD that can be earned by working in the mine (if you don't own one you can work at the other people mines).
The game will be only for the PC and laptop for now, but you never know - we definitely acknowledge that the mobile gaming market is huge!
5. How does this game differ from other blockchain games?
Two years ago when the hype for Web3 games started there were a lot of titles , most were simple card games or poor quality games that we saw in the traditional market 15-20 years ago .
Alaska Gold Rush is first and foremost a high quality game , with an extensive environment and many options available .
Our game is built by a professional gaming studio which has been on the market for more than 8 years and has a lot of success.
In addition, our product is not just a game but also an original and fully balanced Win2Earn economy .
The entire model is available on our website for review .
Our goal is to create a product that is playable, fun to play and monetise without generating the inflation that has killed most previous Web3 games.
6. Can you talk about the features of CARAT token in the project especially the own feature if this is available in the game?
The $CARAT token in the Alaska Gold Rush economy serves as an on-chain currency and utility token. It can be obtained from exchanges, the arena, and special events.
Its main uses include speeding up timers, buying NTFs, mines (lands), rare loot boxes, battle pass, and NFT tickets.
In contrast, the $GOLD token is the soft currency of the game and is off-chain. It can be obtained from mines and rewards from achievements. The main uses of $GOLD include buying, crafting, and repairing equipment, buying loot boxes, and obtaining rare in-game items.
Equipment in Alaska Gold Rush can suffer from deterioration over time. Clothes offer less protection against the cold, weapons do less damage, and mining tools have a lower mining rate or none if completely deteriorated. To regain their initial power, players must spend $GOLD to repair the equipment.
Alternatively, players can spend $CARAT to instantly repair their equipment.
7. What are the milestones Alaska Gold Rush has achieved so far that you are proud of?
The last few months have been very busy for us .
What we have achieved is: Developing an in-game economy that is based on the Win2Earn model .
We know that the economy is very important and that is why we have hired 4 in game economists as well as working with Machinations to audit our economy.
-The release of the playable Alpha demo - here we have to boast an above-average result from testers . 75% of Golden Picaxe NFT hodlers downloaded our game for testing in the first week
- Another success was the release of the first NFT collection on the Magic Eden platform . The public mint round was completed in 4 seconds !
Last week was our first IDO on the TenSet launchpad where we successively raised $3m
8. How about Alaska Gold Rush roadmap? What are the upcoming updates that we should expect from now?
Firstly, we focus on all listing related things such as CEXes, and finishing up the launchpad sales on Tenset and Binstarter - we want the listing to be amazing!
The next major update is set to be released in Q2 of 2023, which will include the beta version release and the sale of gold mines.
In Q3 of 2023, the focus will be on the environment of the game, with the implementation of hunting, fighting, fishing, and camp life. The main play-to-earn storyline will also be introduced, and the game world will become an open world, connecting players together into a PvP space.
In Q1 of 2024, the game will receive a season update. Players will be able to own their mines and hire miners, and NFT trading and an in-game marketplace will be added.
Finally, there will be a major engine and graphics update to improve the overall gaming experience.
9. Can you highlight some of your important partners and backers supporting Alaska Gold Rush?
Our partners include Magic Eden who helped us organise our first NFT sale , Polygon , Baked Games Studio who are building our game.
We also have partnerships with projects such as CryoWar , Rebase and Adshares .
Our investors and partners also include Evan Luthra and the Crypto Society - a group ...
10. Regarding your IDO happening on the 29th March, what made you decide that it is the right time to launch your project despite the current market condition?
The condition is not that bad - actually it seems amazingly good and bullish as we are at the 27-28k mark on BTC with much bad news for crypto industry. We believe that the deepest crypto dip already happened and we are set on a good course right now.
Also, the date of listing wasnt confirmed it anywhere yet. But we want to launch in April indeed.
Live Question Round
1.Gaming sector is extremely competitive & many platforms had to work very hard to reach their current user numbers. How will Alaska Gold Rush compete with the existing gaming platforms & what extra features will your project offer to attract the gamers from the other platforms?
Thanks to our partners' solutions, we want to make it easy for web2 players to join the game with simple wallets that are generated through social media or an email account and on ramp gateway that will allow you to enter the crypto world with a credit card.
2. My question is important : can i buy land and property nft in alaska games?
Yes! You will be able to buy a goldmine which will let You hire peaople to dig some nuggets for You. It's your source of additional $GOLD, will also save You time and let You prepare better for the duels where You earn our precious $CARATS :)
We are working on the mine sales with some top nft marketplaces around so don't miss Your chance to save the spot!
3. Ambassadors play a very important role in every project, Do you have an ambassador program? If yes, how can I be one?
As much as possible we want to involve influencers and ambassadors in our project . The first step to being an ambassador is to test our Alpha demo and create content, send us feedback on discord .
Today or tomorrow at the latest there will be information on how you can get involved in creating content .
4. What is your strongest advantage that you think will make your team leading the market?
Revolutionary wagering based economy that let's our players bring the real value to the token and back it with stables. For that we hired 4 independent game economists, independent company and company that is doing game economy stress-tests and audits.
5. I am interested to invest in your project. When and where can I buy your tokens Is it already listed exchanges?
You can currently invest through launchpads.
Our next IDO will take place at the Binstarter launchpad on 29th March.
Alaska Gold Rush Linktree: https://linktr.ee/alaska_gold_rush
About BinStarter
BinStarter is a decentralized mining-style approval mechanism insurance protocol that is designed to examine projects according to certain criteria for 30 days and to protect liquidity providers against possible financial damages or any negativities.
Website | Announcement Channel | Telegram Chat | Twitter | Blog
BinStarter Blog & News Newsletter
Join the newsletter to receive the latest updates in your inbox.
---