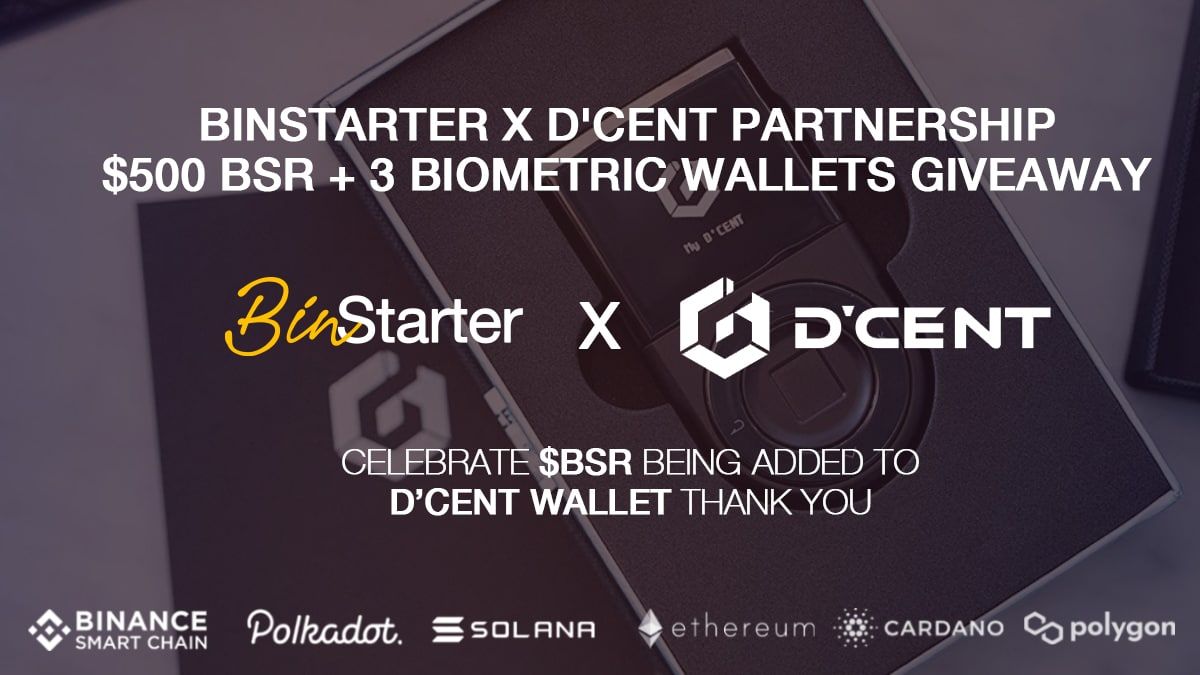 D'CENT Wallet and BinStarter: Partnership Announcement!
D'CENT Wallet is pleased to announce a partnership with BinStarter, the first decentralized multi-chain launchpad with insurance protocol that aims to protect investors from potential financial risk in newly launched Initial Dex Offering (IDO) projects. The BinStarter's innovative Anti-Fraud Insurance Protocol will provide users with a fair, transparent, and rewarding opportunity in the IDO investments.
Through this partnership, D'CENT Wallet will integrate and support BinStarter's cryptocurrency BSR (BEP20 protocol) which provides the following utility in the BinStarter ecosystem:
✅ Project-based advantages given to BSR holders according to their level.
✅ Priority purchase opportunity in projects published on BinStarter.
✅ Stake $BSR on BinStarter and get a fair share of project revenues.
The main collaboration effort includes D'CENT wallet integration with the BinStarter platform to provide users with easy and secure access to the service. Users can participate in the IDO by accessing the BinStarter service from the Dapp browser in the D'CENT Wallet.
D'CENT Wallet in collaboration with the BinStarter team, we are excited to provide improved accessibility of the BinStarter platform and a safer service environment to users.
About D'Cent Wallet
D'CENT Biometric was introduced in 2018, and it is the world's 1st hardware wallet with biometric authentication and Bluetooth connectivity. The hardware wallet is built on multi-chip architecture, including a Secure Element (SE) for secured processing and isolation of private keys.
Website | Medium | Twitter | Facebook | Youtube
About BinStarter
BinStarter is a decentralized mining-style approval mechanism insurance protocol that is designed to examine projects according to certain criteria for 30 days and to protect liquidity providers against possible financial damages or any negativities.
Website | Announcement Channel | Telegram Chat | Twitter | Medium
BinStarter Blog & News Newsletter
Join the newsletter to receive the latest updates in your inbox.
---