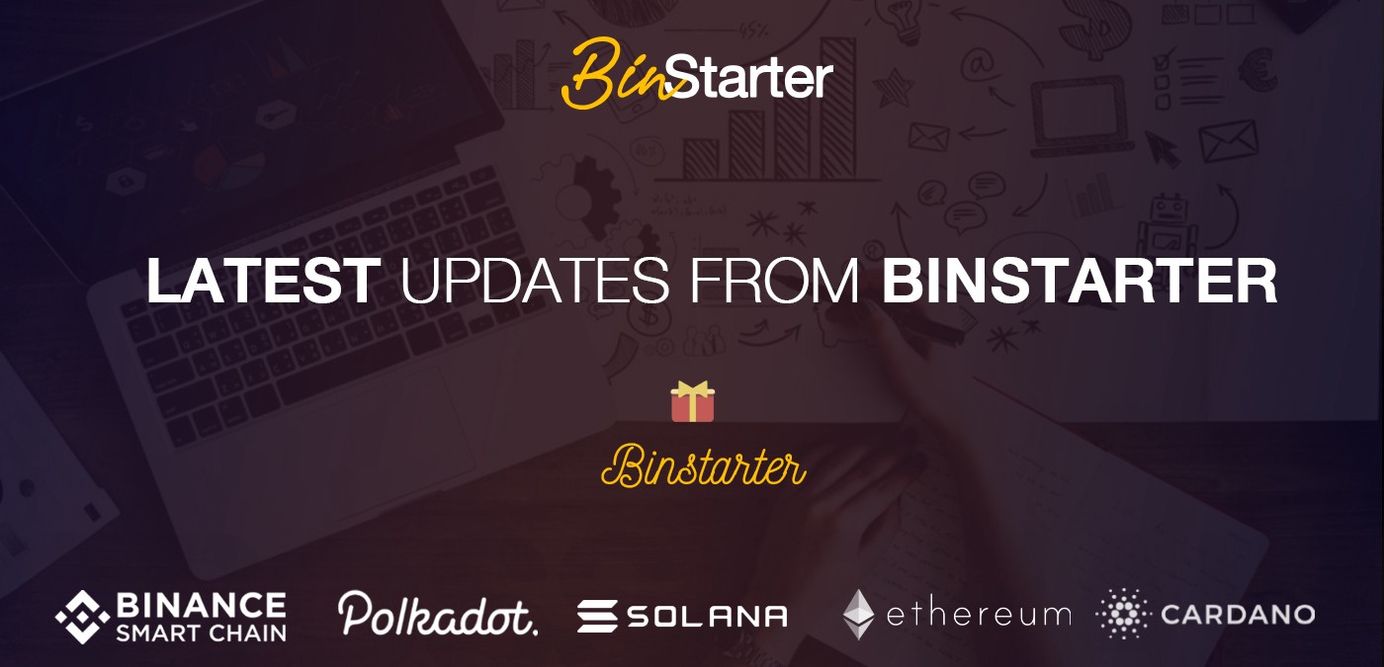 LATEST UPDATES FROM BINSTARTER
Binstarter team have been working day and night to improve our project and expedite our ecosystem development in order to offer the best results to our investors. As a result of these efforts, we are proud to share the exciting news with you.
We would like to share the latest developments with you under a few headlines.
1. Software Process
The software processes of the projects are quite important for BSR holders. Especially after the public sale stage, the active opening of the services of the projects is among the factors that increase the demand for the project and directly affect the price.
In this sense, we happily share with you that we are well ahead of our roadmap.
a) Launchpad
We carried out the Seed Sale phase with our own smart contracts. In this process, we carefully examined the requests from our community and quickly fulfilled the requests.
- Sales progress can now be followed instantly
- The remaining amount for hard cap is updated instantly.
In the upcoming period, you will be able to follow the entire sales process efficiently and transparently.
b) Android Mobile Wallet Link (Trust Wallet)
This issue is also present in other projects and originates from Trust Wallet. The solutions we have developed for this issue are as follows.
- In some android versions, it can be solved using browsers such as Google Chrome, Safari.
- If the Trust Wallet application is out of date, it can be solved by updating it.
- It can be solved by clearing the Trust Wallet memory.
- In some android versions, this problem cannot be solved.
The definitive solution if the above steps did not work: If you have a different phone.
1. Login to https://bsr.binstarter.io from a different phone's browser.
2. Link your wallet by scanning the QR Code. (Settings > Wallet Connect)
3. Start the swap. (Different Phone)
4. Confirm from your own phone. (Own Phone)
iPhone and Desktop (Mac, Windows etc.) works without any of the above issues.
c) Stake
Today we proudly announce the staking part of BSR, where you will get price stability, guaranteed purchasing right in projects to be published on BinStarter, and equal and fair share of BinStarter revenues.
Demo: https://stake.binstarter.io
Real time data is pulled direcrtly from the smart contract. In order for the pool's to load correctly, you will need to connect your wallet with the Binance Smart Chain Mainnet in the BEP20 network.
-BSR Pools:
25M, 25% of the total supply is designed to be distributed across our BSR community. In this context, there are 11 BSR pools.
These pools offer you different APR rates depending on the amount of BSR you hold and give you the chance for guaranteed purchase from the projects that will be published on BinStarter.
-Flexible: 80% APR
You can deposit BSR into the flexible pool at any time and withdraw BSR whenever you want. However, to have the right to guaranteed purchase from new iDO projects, you're BSR must be locked and staked in tier pools.
BSR Pools:
-Tier1: %100 APR
Level 1
Reward: You can withdraw your reward once in 24 Hours.
-Tier2: %120 APR
Level 2
Reward: You can withdraw your reward once in 24 Hours.
-Tier3: %140 APR
Level 3
Reward: You can withdraw your reward once in 24 Hours.
-Tier4: %160 APR
Level 4
Reward: You can withdraw your reward once in 24 Hours.
-Tier5: %180 APR
Level 5
Reward: You can withdraw your reward once in 24 Hours.
-Tier6: %200 APR
Level 6
Reward: You can withdraw your reward once in 24 Hours.
-Tier7: %250 APR
Level 7
Reward: You can withdraw your reward once in 24 Hours.
-Tier8: %400 APR
Level 8
Reward: You can withdraw your reward once in 24 Hours.
-Tier9: %500 APR
Level 9
Reward: You can withdraw your reward once in 24 Hours.
-Tier10: %900 APR
Level 10
Reward: You can withdraw your reward once in 24 Hours.
To earn the specified APR rates, you must have the number of BSRs in the table. However, after the token is sent to BSR holders, you will be able to earn the amount of APR in the pool you want, regardless of the token amount in the first 3 days.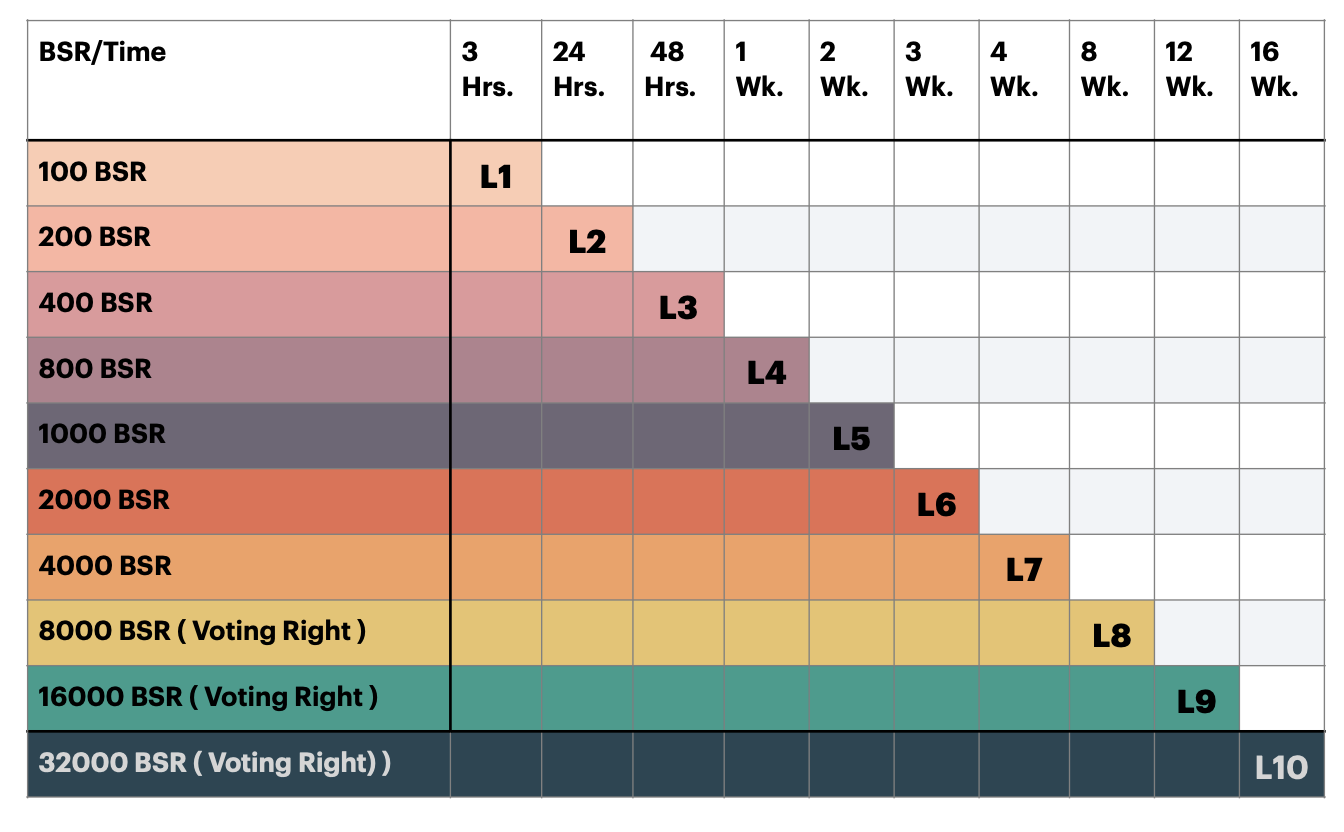 For example: Let us say you deposit 2000 BSR into a Tier10 pool with a 16-week lock-in contract. You can start earning 900% APR instantly and withdraw the BSR you earn every 24 hours.
Note: The APR rate may vary according to the participant rate in the pool. As the number of users in the block increases, the profit may be halved.
BSR pools can work with different token groups. Depending on the agreements to be made with the projects to be published on BinStarter, different token rewards can be offered.
BSR stake: BSR rewards
New Token stake: BSR rewards
BSR stake: New Token rewards
BSR stake: Link rewards
Link stake: BSR rewards
BSR stake: MATIC rewards
MATIC stake: BSR rewards
d) Multi-Chain
BinStarter was originally designed to operate on the "Binance Smart Chain" network and according to our roadmap, other networks will be integrated by the end of this year, but we are happy to announce that we have accelerated this process and completed the integration process with new networks.
BinStarter is now fully compatible with Ethereum — Binance Smart Chain — Polygon (MATIC) networks.
We will mutually announce the BinStarter and Polygon integration process soon. Working with the giant names of the sector will positively affect both the awareness of the project and price of BSR tokens.
2. Marketing Plan
Previously in our seed sales 14k wallets was successfully whitelisted. Binstarter team predicts that Public Sales Whitelisting event will generate record number of whitelisting applications. With this request, we aim to establish a volume that will facilitate exchange deals in Pancakeswap listing and a community that will strengthen our hand in project deals.
Binstarter marketing team have been working endlessly in meeting schedule with content producers and influencers in different countries on multiple Social Media Networks. As a result of hundreds of interviews we conducted, we created a very intensive marketing plan that we believe will be beneficial for our community.
3. Project Agreements
We have already started to contact projects in order to publish reliable IDOs that will create value and contribute to the ecosystem after the Public Sale. In this sense, we quickly activated our multi-chain structure for project diversity.
At this stage, we will aim to maximize the success of IDOs attended by BSR owners by providing advertising and financial support to the projects.
4. Initial Circulation Supply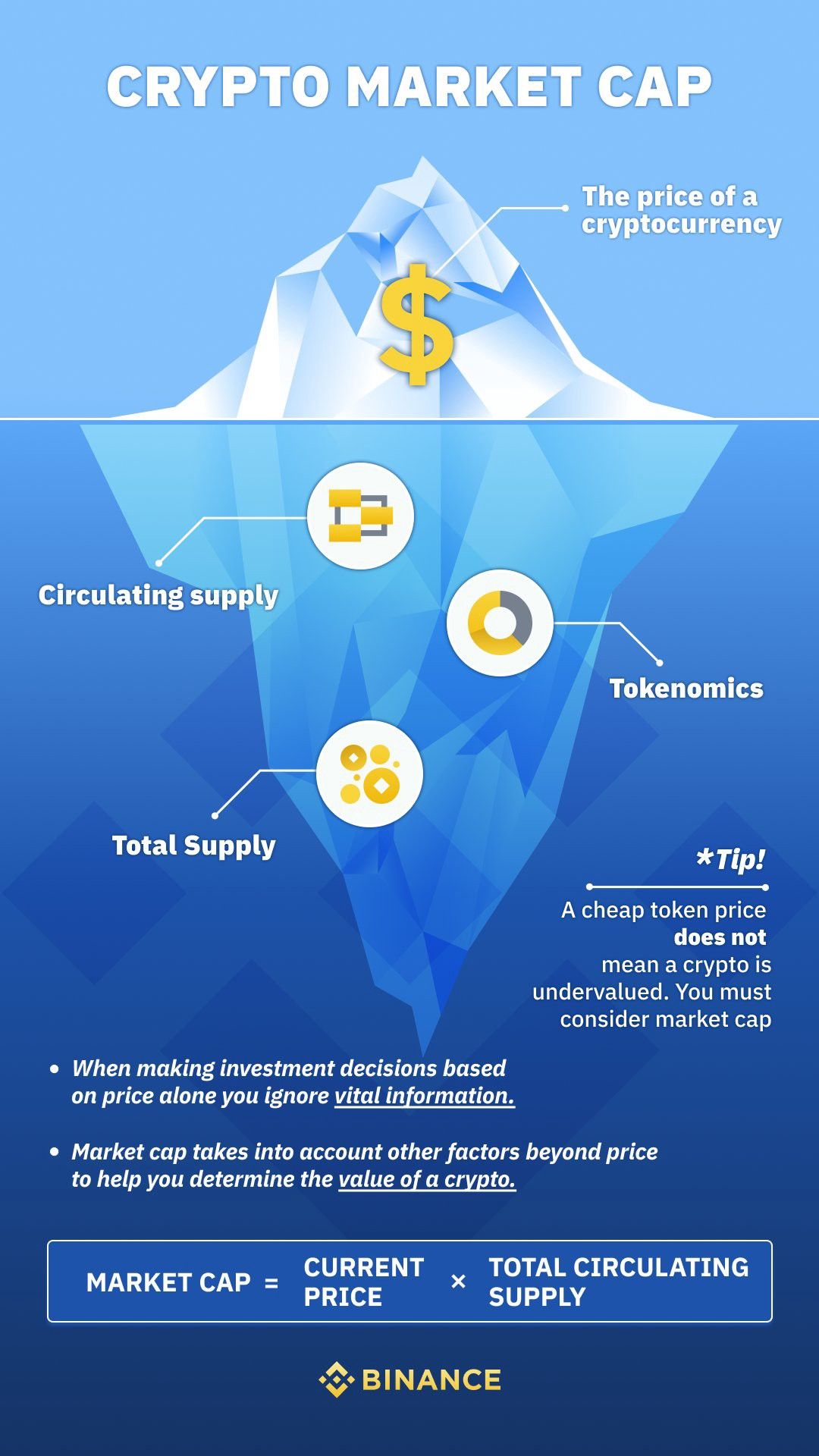 The market cap value and initial circulating supply determine the price of the token. At this stage, we will burn 8.5M tokens to provide maximum benefit to our investors after the public sale. With a total of 15.2M burning tokens, we will have burned more than 75% of the targeted initial circulating supply.
BinStarter Public Sale Whitelist is LIVE
Join to Whitelist: https://binstarter.io/whitelist.html
Public Sale Details: https://binstarter.medium.com/binstarter-public-sale-whitelist-is-live-3ac3a3b5427b
Join Us!
Website | Announcement Channel | Telegram Chat | Twitter | Medium
BinStarter Blog & News Newsletter
Join the newsletter to receive the latest updates in your inbox.
---