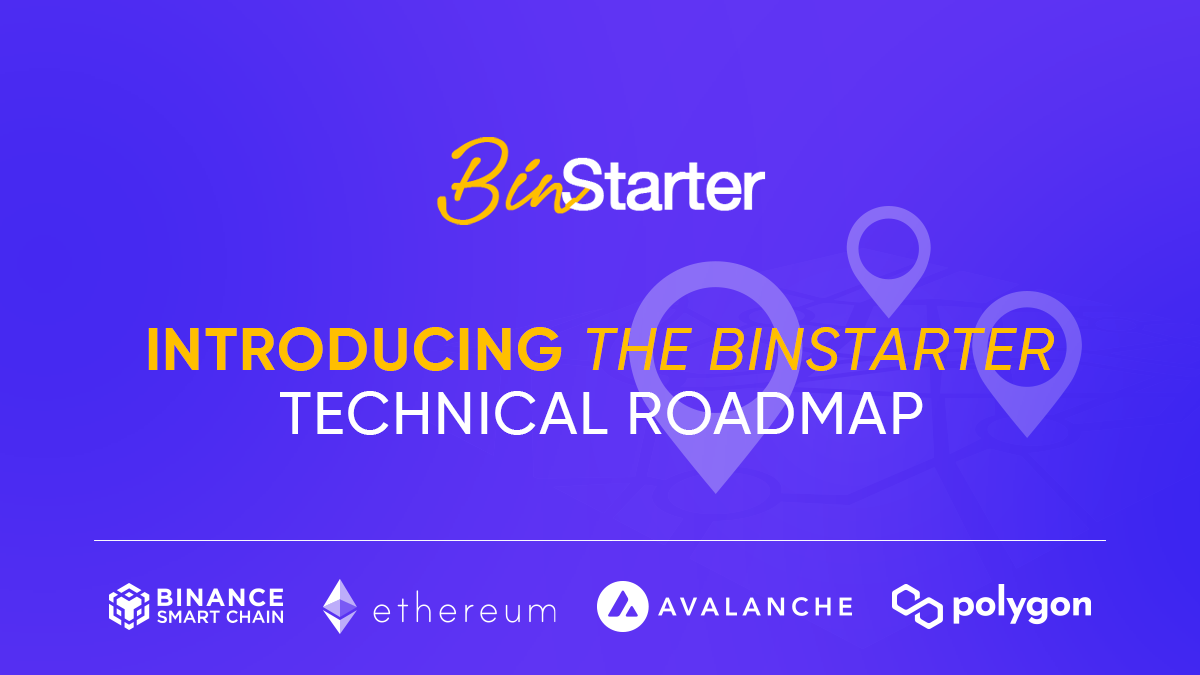 Introducing the BinStarter Technical Roadmap
We are excited to release our initial technical roadmap. Will also outline the BinStarter platform and our plans for the future.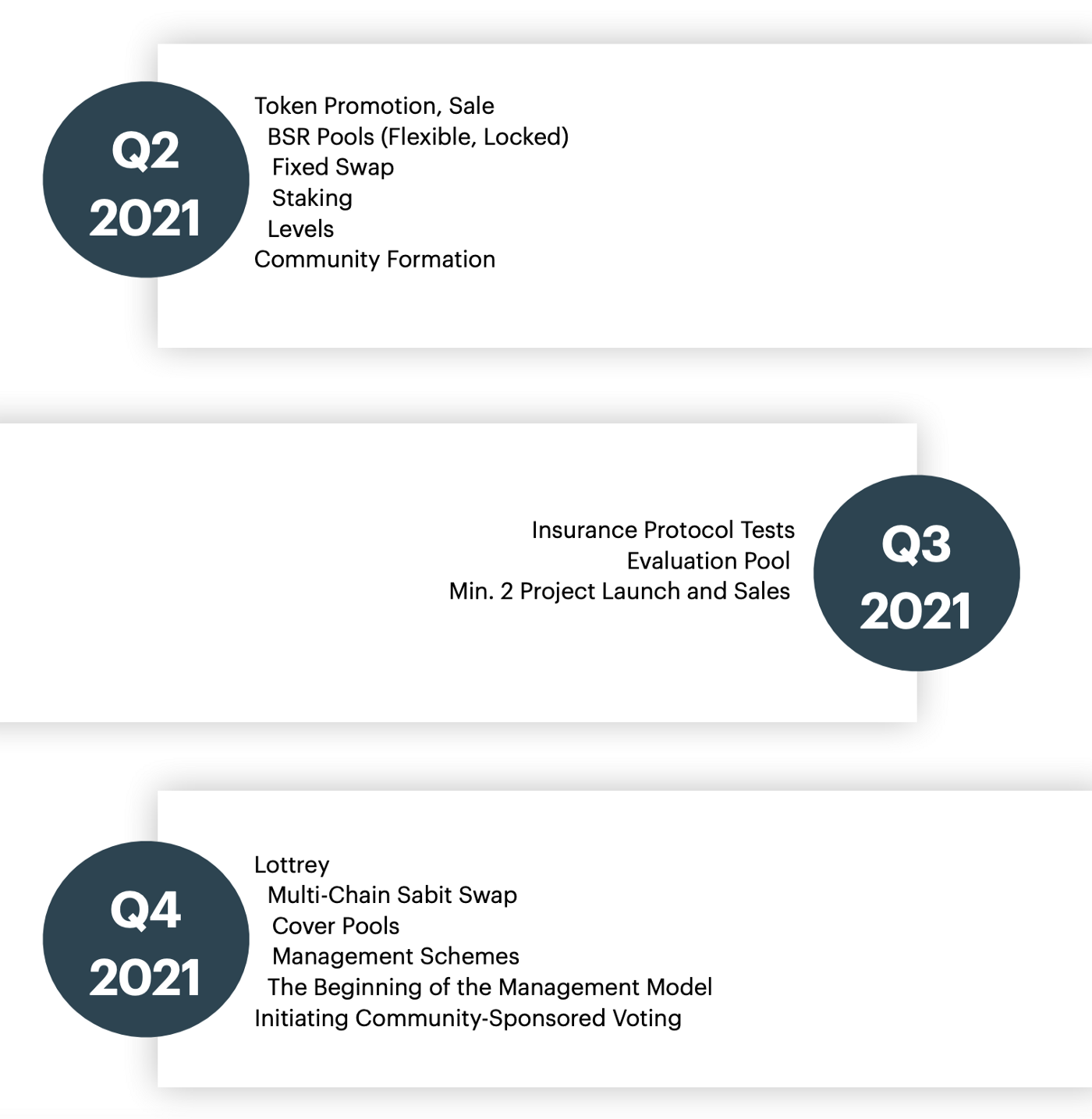 BinStarter Key Features
We have been actively following processes such as ICO and IDO since 2016. As the investor of many successful and unsuccessful projects in the sector, we had the chance to gain important experiences. In this field, we aimed to create a market that securely connects pool formers and liquidity providers with a collateral protocol, with the experience we have gained as a group. BinStarter is the first decentralized structure in the industry to have a collateral protocol. The future is in decentralized structures.
Swap Pools
We have two different fixed swap pools; users can view these pools from the pages section of our home page;
Secured Fixed Swap Pools
Within the scope of coverage, they are project pools that have received community approval. Your funds are guaranteed with smart contracts against possible risks.
Fixed Swap Pools
These are project pools that have received community approval but are not covered by the collateral.
Community approval: Evaluation Pool
Private Pools And Whitelisting
One of the BinStarter use cases is private fundraising and closed over the counter deals.
Stake
It is used for BSR holders, level determinations, and APR award earnings. However, projects published on BinStarter for price stability and long-term success can integrate their own tokens into these pools
Levels
BSR holders are offered some project-based benefits. These benefits may affect your purchase amount in the project, depending on your level. Your levels are determined by the number of BSRs, and time slice you stake on BinStarter. These time frames are as follows: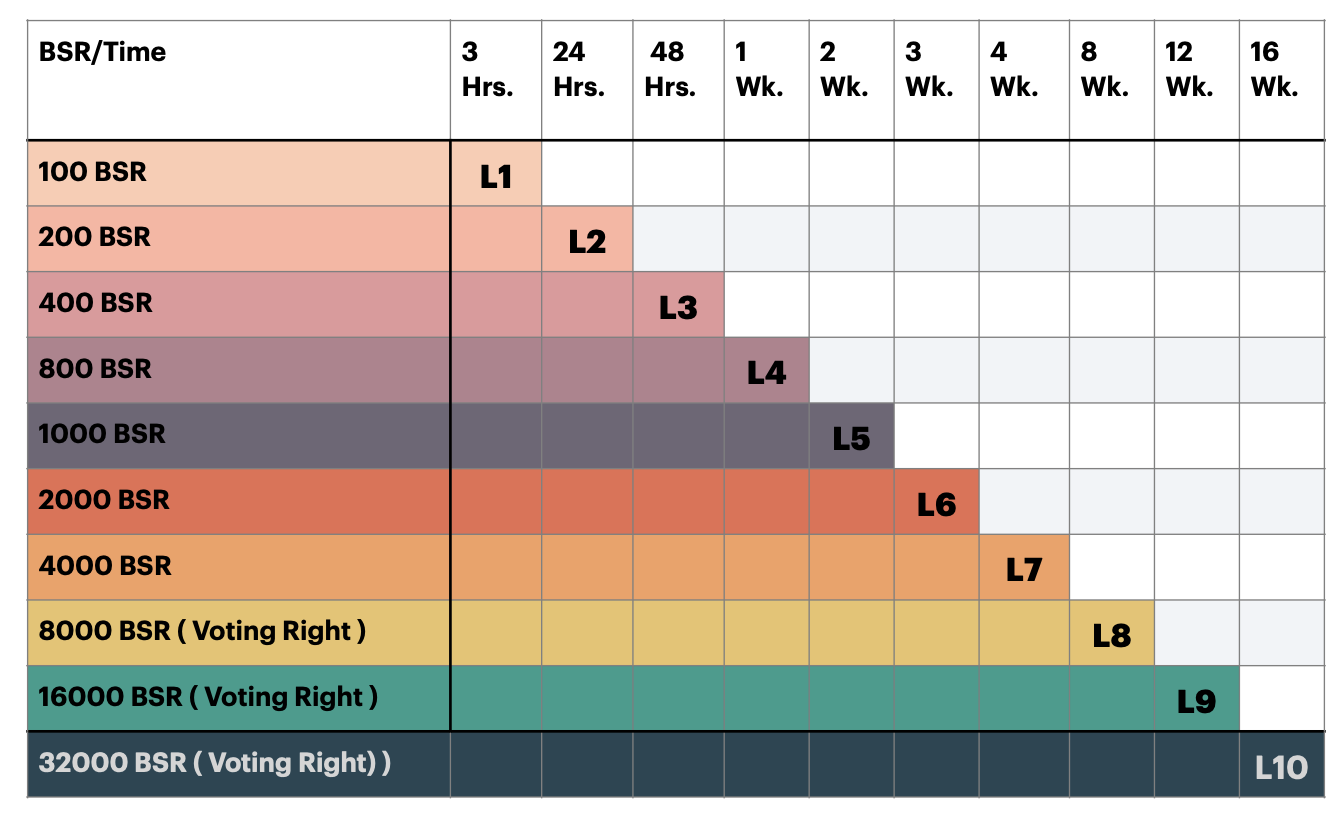 BinStarter Evaluation Pool
The BinStarter protocol has developed a mining-style scoring system for evaluating projects. In this system, BSR holders of Level 8 and above can participate in the decision-making mechanism by voting on projects to be published on BinStarter.
How Does the Evaluation Pool Work?
The wallet numbers of BSR holders are subjected to a scoring system regarding the success or failure of the project they participated in the vote. This scoring works as follows:
For a successful project;
BSR owner who voted yes: +1 point
BSR holder who voted no: 0 points
To an unsuccessful project;
BSR owner who voted yes: -2 points
BSR holder voted no: +2 points
This scoring system is determined according to the price-tracking system we developed every month in a 3-month period starting from the start date of the project. Accordingly, a user who votes for a project receives 3 different points in total.
Each new project is voted at 70% by people with the highest scores and at 30% by those who have not participated in the project scoring before.
In order for a project to pass this evaluation pool, it must reach a minimum of 60% "Yes" votes.
Evaluation Pool Reward System
People in the evaluation pools are rewarded for their contribution to the decisions. This reward results in 10% of the burning amount being distributed to the voters according to their level of BSR;
Distribution of 10%
Level 8: 20%
Level 9: 30%
Level 10: 50%
Collateral Awards
Successful project collaterals, when the risk factor disappears, the collateral amount allocated for the determined collateral pool is distributed, as shown below.
10% — Evaluation Pool
10% — Developer Awards
30% — Pool Rewards
50% — Burning
Evaluation Pool: We can think of it as miners validating data; BSR holders that play an active role in issues such as project follow-up.
Developer Pool: The ecosystem is developing and getting better every day; with the decision of the community, the amounts accumulated in this pool will be distributed to the people who contribute to the project.
Pool Rewards: Collateral Rewards, pool rewards effect will be added at a daily rate of 3.33% for a total of 30 days (100%)
Burning Rewards: The amount that corresponds to 50% in terms of price stability will be burned at a daily rate of 3.33% in 30 days (100%) in total.
Developer Pool
The developer pool is a public platform. Anyone who can contribute to the development of the BSR project can earn BSR from this pool with the community's votes. The developer pool is open to everyone, from a simple job to a professional level job. BSR believes that development is a need. Meeting this need can be achieved by bringing together people with new ideas, experiences, and different perspectives to contribute.
How Does the Developer Pool Work?
You present your opinion to the community by application.
The idea is approved by the community.
You realize the idea you promised.
The community confirms that your promise in the application has been fulfilled, and the BSR amount is transferred to your account.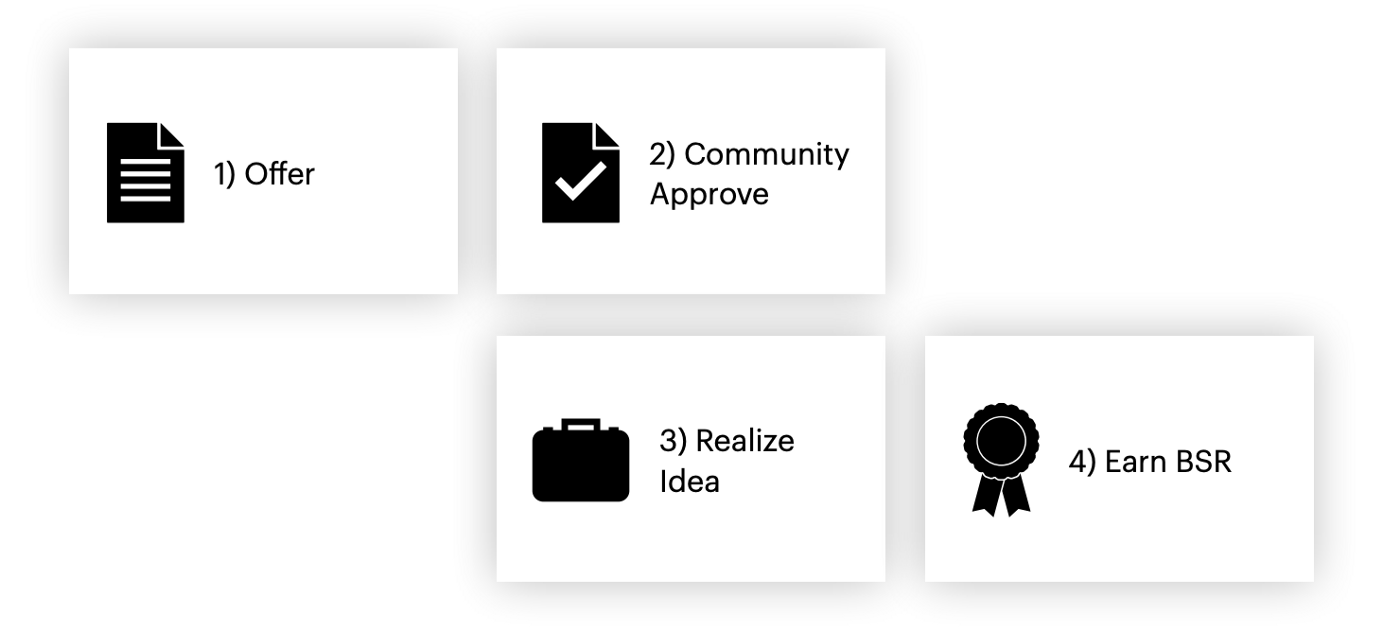 The decision-maker in the applications is the "Evaluation Pool."
Developer Pools Limits
The upper limit of a job to be done in the developer pool cannot exceed 10% of the amount in the pool.
Website: https://binstarter.io/
Twitter: https://twitter.com/BinStarterio
Telegram Chat: https://t.me/BinStarterOfficial
Telegram Announcements: https://t.me/BinStarterAnnouncement
Docs: https://docs.binstarter.io/
BinStarter Blog & News Newsletter
Join the newsletter to receive the latest updates in your inbox.
---