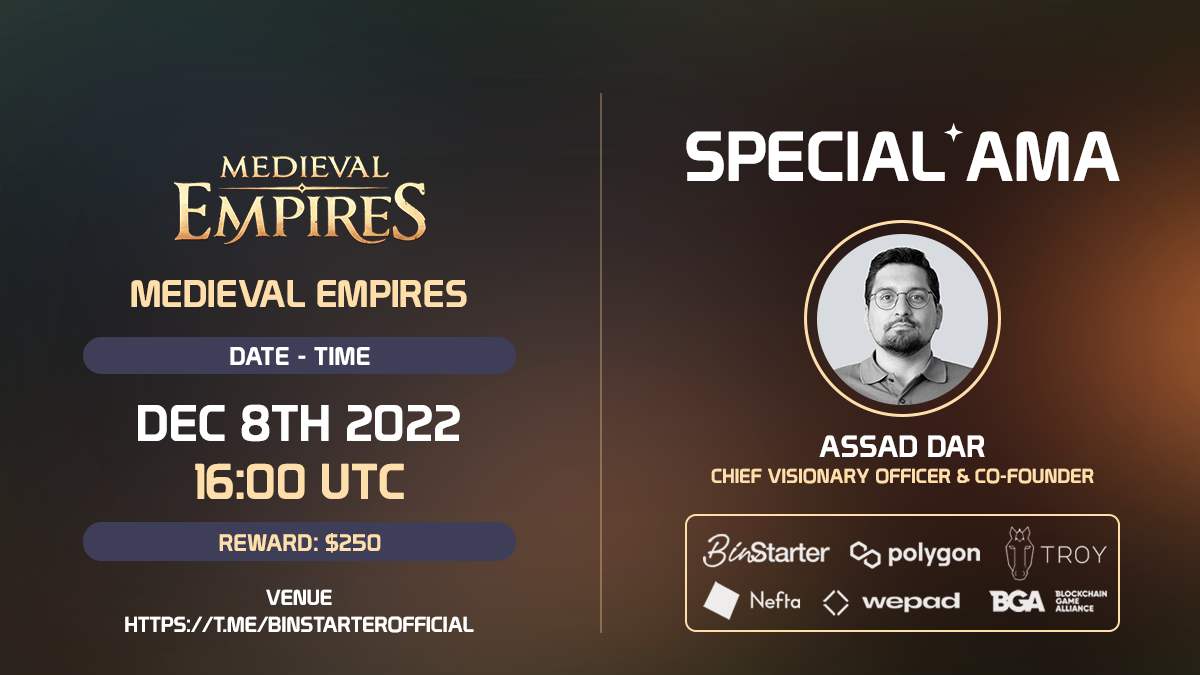 Get to know: Medieval Empires
An Adventurous Blockchain Strategy Game
Medieval Empires is a mid-core multiplayer online strategy game based in a blockchain powered world, where the players will be able to build, explore and conquer with exciting opportunities to #playandearn!
To prepare for their IDO which is taking place on December 16th-16:00 UTC, we hosted an AMA with Assad Dar - Chief Visionary Officer & Co-Founder of Medieval Empires on BinStarter Telegram Official Channel. In case you missed it, here's a quick AMA recap.
Introduction Round
1. Can you introduce yourself to the BinStarter community and briefly tell us about your team?
I am Assad Dar, the Chief Visionary Officer and Co-Founder of MoonGaming, that is creating its first web3 game, Medieval Empires. Our game is a mid-core strategy game, set in the 13th century Turkic region featuring the famous Turkish actor Engin Altan Düzyatan in the lead role. And to create this game we have built the most exceptional team, bringing in talent from the best gaming studios in the world.
2. What is the story behind creating Medieval Empires and can you talk a little bit more about this game?
Having worked in the digital transformation business for many years, I have always been interested in revolutionary technologies. So, when the opportunity came up in the form of blockchain technology and web3 gaming, I knew there was a lot of potential here. I then reached out to the crypto influencer and investor Carl Runefelt who loved the idea of crypto gaming. With Carl's involvement, a solid business plan and a highly accomplished team, we kicked off on our dream project early in 2022.
Since then, we have achieved many important milestones, and the game is beginning to take shape in terms of art, game mechanics and game economy. We are now headed towards another major milestone for us, which is the MEE token launch happening on 19th December.
3. Can you talk about the features of MEE token in the project especially the OWN feature if this is available in the game?
MEE token holders will get a lot of benefits, including voting power and VIP status, access to purchase NFTs such as land, early use of some game features and access to airdrops among other benefits. So, the token will have actual utility within the game instead of being just a currency.
The play-and-own feature basically means that players will actually be able to own their in-game assets and generate value through them. One example of this is the LAND in the game. Players who own land can earn an actual income by renting out parts of their land to other players. They can also generate resources on their land and either use them in gameplay or sell to other players, however they want to strategise.
4. If we want to see how the game is played, do you have anything to show for it while the game is not launched yet?
The game design and development teams are working hard to create a truly outstanding game backed by a solid game economy. With the world map showroom already live on the website, the team is currently working on the town module, which is basically the town view where players will be able to build and expand their towns and generate resources or train units on their land. You can follow our social channels for more updates on the gameplay and game design.

Here you can see some first idea on the game: https://www.youtube.com/@MedievalEmpires
5. What is the requirement to play Medieval Empires such as the minimum entry amount? Is it only playable in pc or is there a mobile version?
There is no monetary requirement to start playing Medieval Empires. That's the best part – it's a free-to-enter and play game. And the process to enter the game is greatly simplified with the use of custodial wallets, which allows anyone to register and simply start playing and earning!
The game will be playable on PC (Windows), Mac (OSX) and mobile devices as well, both Android and iOS. The desktop version of the game will be available to play by mid-2023.
6. How does this game differ from other strategy/blockchain games?
We have the most talented team putting together an outstanding game in terms of intriguing gameplay, stunning art visuals, strong game economy, a unique play-to-own-model and the use of top-notch technology.

In addition, the game is backed by a huge name in the crypto world, Carl Runefelt and features one of the biggest stars in the Turkish entertainment industry, Engin Altan Düzyatan. This combination, I believe, is something not being offered by any other strategy or blockchain game at the moment.
7. What are the milestones Medieval Empires has achieved so far that you are proud of?
There are so many! The World Map for one, is something I am very proud of. And the first Land Sale we had a few months ago was also a massive milestone. Our website launch, story trailer, first public announcement that happened in Turkey...it has all been a really exciting journey full of achievements for the whole team!
8. How about Medieval Empires' roadmap? What are the greatest milestones that we should expect from now?
All teams are geared towards making this a success at the moment with marketing in particular going full steam ahead. Following this, the biggest things our community can expect from us are the launches of the Alpha and Beta version of the game in 2023.
9. Regarding your IDO happening on the 15th December and listing on the 19th December, what made you decide that it is the right time to launch your project despite the current market condition?
We are laser focused on creating a great product, with all the ingredients for success. Our game is built on a strong foundation of engaging gameplay, flawless tokenomics and outstanding user experience while being backed by an exceptional team and just the right partners. And I think that is all you need to launch confidently

For regular updates, always check our telegram: https://t.me/Medievalempireschat
10. With the confidence that you have, I'm sure that there is a reason behind it and one of the reason I can think of is being backed by competent partners in the industry. Can you highlight some of your important partners and backers supporting Medieval Empires?
Our project is backed by some of the biggest industry names, along with notable partners and top advisors. Carl Runefelt, the famous crypto influencer and investor is a part of our project. We also have Engin Altan Düzyatan, the popular Turkish actor as the lead character in our game.

Other than that, we have partnered with several launchpads including WePad, TrustPad, Poolz and BinStarter and a number of guilds as well, such as BlockchainSpace and Troy.

We also have several very highly accomplished advisors on board, including a history advisor with a PhD from Harvard and the former CMO of Illuvium

And many good ones more!
11. Where do you see Medieval Empires years from now?
For one, the game world of Medieval Empires would have expanded into other territories, beyond the Turkic region. As we add more factions to the game in addition to the Kayi tribe and English Crusaders, more provinces will be added to the game world, and eventually we envision it to become a grand game universe with potential factions such as the Mongols or even the Holy Roman Empire!
Check that out https://t.me/Medievalempireschat/28052
Live Question Round
1. Have you being audited ? Have not heard you talk about that security of funds is what every investor craves for and plans to escape incase of insecurity if funds,scams and rug pulls ? How strongly built are your security put in place?
Sure we are fully audited on our smart contracts and we have a very experienced CTO with 20 years of experience to make sure we are safe!
2. Staking  programme is very important for any project,?  Can i stake your token,?   Do you have any plan of starting staking ?
We have plans for staking the token in the game to get VIP status and Airdrops. Other than that we also working on other staking solutions at the moment.
3. Most people judge a project by its token price. So, what is your plan to maintain the token price? Will there be some kinds of burning/buy-back program?
The token price will be mainly maintained trough releasing a really good game millions of people want to play! Be sure, if we have a good gamey enough people want to invest on the token.
4. Currently, Game developers can manipulate game, which prevents players from feeling really owners of their elements. Since many video games do not allow the exchange of items, shady markets are created with high fees. How does your project eradicate gloomy markets?
By adding the advantages of real ownership, using Blockchain technology. We call our category Play and Own because we believe in real ownership!
5. Is an NFT blockchain game, most of the NFT games only focus on profit with P2E, because this is one of the main attractions of blockchain games. So, is  more focused on the player experience on and off the game to create a balance between playing and winning?
That fits to the last question. We first of all build a great game to play! You should have fun playing it even if you would not earn anything. But we add real ownership on top.


Medieval Empires Linktree: https://linktr.ee/medievalempires
About BinStarter
BinStarter is a decentralized mining-style approval mechanism insurance protocol that is designed to examine projects according to certain criteria for 30 days and to protect liquidity providers against possible financial damages or any negativities.
Website | Announcement Channel | Telegram Chat | Twitter | Blog
BinStarter Blog & News Newsletter
Join the newsletter to receive the latest updates in your inbox.
---