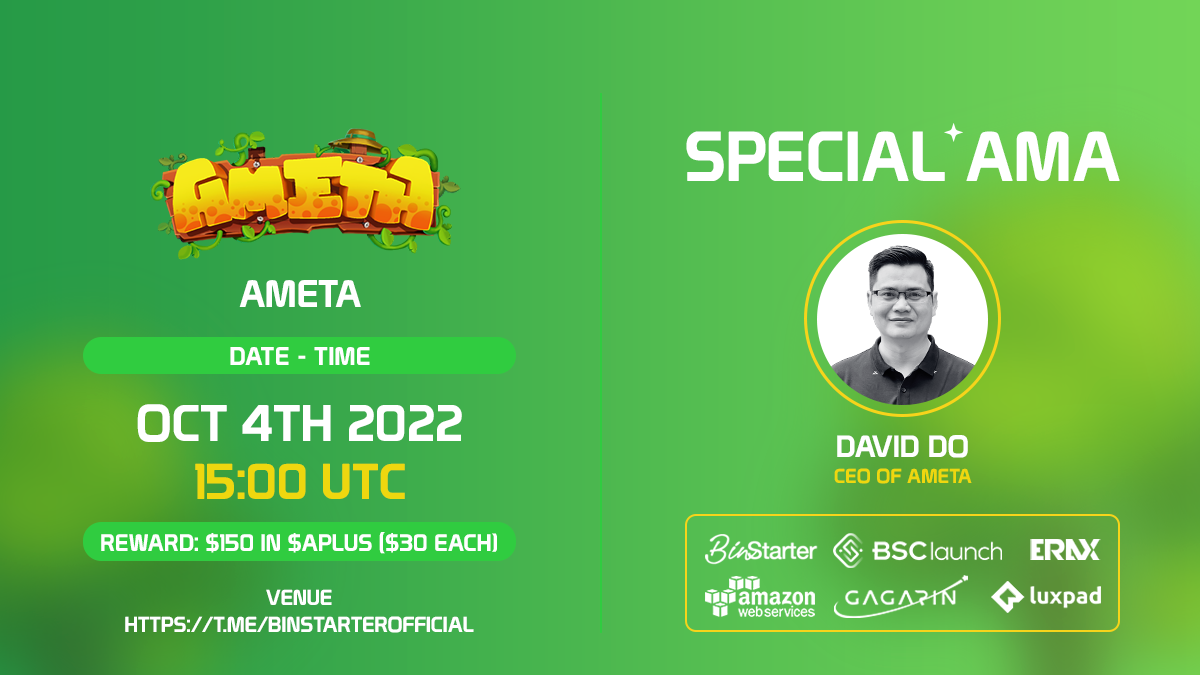 Ameta is a free-to-play farming game that combines the gamefi and socialfi. Players will be able to participate in exciting activities such as farming, fishing, building a new farm to grow crops, buying or renting rods for fishing, and socializing in a wide range of activities such as dating, trading, PvP gaming modes.
Introduction Round
Question 1: First, could you introduce yourself, tell us a little about the project team and their experience, and explain why you had the idea to create Ameta?

My name is David Do, a serial entrepreneur having a wealth of experience in the Technology field and has implemented many projects before, especially in Financial Technology.  
I assume CEO, the role of the main business model builder and operator.
I'm also Founder of Alphaway Game Studio, Alpha Technology which plays a big role in Ameta's product development.
We have Alphaway Game Studio and Alpha Technology, to major part which contribute the most for Ameta's product development

Alphaway Game Studio is having more than 10M game downloads so far in mobile in Playstore and AppleStore and Alpha Technology has about 5++ years experience in Fintech and Blockchain domain

Hmm about the reason why we create Ameta, it's a good question.

We've found that current gamefi projects can not really convert traditional players effectively.

So instead of trying to educate users about crypto, why not make a game where both traditional and crypto players can play against each other? That's why AMETA was born.

Ameta will have an interesting mechanism to unlock the ultimate farming experiment to both traditional and crypto players.

Question 2: Please tell us what is the essence of Ameta, how do you assess its potential and what part of the market do you hope to occupy?
Ameta is a blockchain-based & free-to-play farming game.

So we have free-to-play factor and we define Ameta as a gateway to the farming metaverse with some unique points

1. We maximize the social interaction and encourage players through social and community activities like chat, guild, co-op together in game missions ...

2. We enable you to showcase the real-life emotion, you will become a character that enjoy a digital world in other world, Ameta can be a digital life for you

3. Ameta also develop a lot of interesting in-game mode, such as fishing, one of the mechanism to solve the earn problem for crypto and traditional game players
4. Ameta will server both crypto game players and traditional game players in a game, that is really interesting

For the 2nd part of the question, we expect that traditional users will become key players in Ameta ecosystem also the target users we want to reach.

Traditional gamers are those who experience different games, but they may still not be acquainted with playing and earning in crypto.

In the AMETA world we build up a comprehensive ecosystem where they can freely play and still earn, no need to learn much about crypto at the beginning but they will be transformed naturally into crypto users when time pass by.

Question 3.What is your anti-inflationary strategy? I see many gamefi projects that had high apr/apy in the beginning but they are no longer sustainable now. How can you maintain a stable token price that will attract users to join AMETA game?

Yeah,sure!
To encourage traditional players to join and benefit from blockchain, our Tokenomics focuses on solving 2 main problems:
- Remove all technical barriers for traditional users to own APLUS tokens.
- Buy NFT items directly from fiat money.
1. Buy NFT with Fiat Money
Ameta builds the mechanism and technical foundation to help players own NFT without blockchain knowledge. It really makes sense for traditional players who simply come to Ameta to experience and have a desire to permanently own the items they like.
2. Convert normal Item into NFT
When experiencing the game, players will have a lot of opportunities to create or own a variety of inherently valuable items, for example, production tools, friends' gifts, collectibles, etc. If they love it, desire to own it, trade, or simply personalize it, they can spend a little $APLUS to turn the item into NFT.

For more information about our token and its tokenomics you can visit :
https://whitepaper.ameta.games/economy/usdaplus-token

For sustainable growth and transition to Metaverse, the Ameta team believes it's essential to create a tokenomics targeted toward converting traditional players to blockchain players.

The revenue stream of AMETA collect from:
Fiat from traditional user
Transaction fee in marketplace
NFT Sale
Upgrade fee in-game

About Anti-inflation Mechanism: our team uses the profit of the game to buy back $APLUS. Then we use an amount % of the buy back token revenue to invest in the reward pool, which means we invest back in the game for players. This mechanism prevents inflation of the token because we use the profit to buy.

Question 4: What is your main strategy for ensuring the long-term success of your project in a volatile market? Which core value do you believe you can persuade us (as investors) to invest in your project?

Yes of course, before the reward in game for users. We will open Staking/Farming pools for investors with APY attractive. According to our latest event, we are planning to open a Farming pool for early investors of Ameta to stake and earn NFT !
And another Defi mystery that you can only find in the in-game mode.
We are also designing a lot of benefits in-game for pioneers.

Furthermore, Ameta will also build a mechanism of sharing 20% profit from the game for Ameta holders ! COMING SOON!!

On the other hand, we believe that we can bring a mechanism that allows both traditional players and crypto players to play in one game, one community.

For new bie: they can use the ewallet bundle in-game to start play game and get everything from game without any task to collect with their personal wallet

For experience player: they can connect with their personal wallet to play game
and we enable Ameta Rent Centre to allow traditional players to rent NFT from crypto players. You can send your NFT into AMETA Rent Center (in game), somebody can come and rent your NFT for period of time and they play game —> they earn the tokens by using your NFT -> you got revenue sharing from that.

Question 5: Being a multi-chain platform is now required to be considered a competitive project, so can you explain who and how many chains you can support?

We do have plan to run multi-chain for Ameta. We will have the official announcement soon, but i'm pleased to let you know earlier.

Ameta will run on 3 chains, which are Kardiachain, OKC and BNB chain. We will have the bridge for all chains via Multichain.org

Multichain is a cross-chain router protocol, ; an infrastructure for multi-chain ecosystem, envisioned to become the ultimate router for Web 3.

So with the support of Multichain, users can easily swap APLUS tokens between 3 different ones that I mentioned earlier.
Question 6: The game will be released in the coming weeks. Could you please tell me what the next milestones are for Ameta in the coming quarters?

As you see, we will IDO soon in next few days

And the good news is the early access for Ameta game will open in the next few hours

You can download early access of Ameta game in Playstore soon.

For this year, we will release a mainnet in Q4 2022

And all users can enjoy the "Play together" features in Ameta soon right in 2022

Question 7: Due to their simplicity and availability for play anywhere and anytime, mobile games are popular now and possibly in the future. Will your game be offered through the Playstore or Appstore, or only through Dapps?

Yes  we said, Ameta will be uploaded on playstore soon.

In general, we will support mobile (Android & iOS) in 2022

We will release the version for Windows and Mac OS sometime in mid of 2023

Please follow our community channel to get the latest update.

Question 8: Tell us more about the role of NFT in the Ameta system. What are the benefits of owning them?

We have 3 kinds of NFT:
NFT tool for farming, fishing.
NFT rewards to trade and earn tokens.
NFT skin & accessories to customize characters in game.

Owning the NFTs will bring you all big perks:
1. Catch NFT items to trade and earn
Those who own NFT is that they can earn NFT items. For example, in the fishing mode, only those who have NFT rods can catch NFT fishes which can be sold on the marketplace.

2. Lend NFTs to traditional users or those who do not have much budget to buy NFTs to join
NFTs tool owners can share the commissions with the tenant
3. Minting new NFT rods
As Ameta will only release 20,000 NFTs. This would be a shortage in the NFTs rods quantiy when later joiners come in. Hence, you have the power of minting the new NFTs to supply for them.

Questions 9: That's sound interesting. I have noticed that Ameta is running an INO. Can you give me more information.
Yeah sure. We will have 3 NFT boxes: Silver, Gold, and Diamond. Each box contains different level of rods. The rarer the rods, the higher chance for owners to get the rare fishes, which have the higher prices.

In this INO, we will sell NFT silver box. The drop rate is Common (80%), Rare (15%), Epic (4%), Legendary (1%).
Price: $40/ box, which is such a good entry price for those who want to enter P2E space.

Quantity: 10,000 boxes
Especially, we have NFT insurance mechanism which will help you secure your investment in Ameta.
- Only before the mainnet, in case you want to cancel the purchase, you can get your money returned anytime (only applicable to wallets that haven't claimed NFT).
- After the mainnet, users cannot withdraw the investment.
You can buy NFT silver boxes with NO RISK with our NFT Insurance mechanism here: https://t.me/AMETA_Official_ANN/116
A good things that almost 1000 boxes are sold until now.
Question 10: Tell us what gives you confidence in the success of the project, despite the fact that the launch takes place in the current difficult cryptocurrency market?

The Ameta Core team comprises leading experts in traditional games from Alphaway. We have a proven, successful released game portfolio, which surely blows your mind:

- Elite Sniper Campaign 3D: 128M impressions
- Turbo Speed Car Racing: 86M impressions
- CS X Sniper Elite: 99M impressions

We understand that past experiences do not translate into future success, but they are the most critical indicator for future success.

Furthermore, the mechanism game mode for both traditional & crypto that Ameta are developing  users will help to balance the economy in game.

and lastly, as you see in the traditional market, farming games still develop very strongly, so in the crypto world, we aim to develop Ameta as a free to play - long life circle game, not play-to-earn, but free to play, enjoy gaming experience and earn sustainably.

Question 11: Could you reveal information about your most important backers and partners? Maybe there are some teasers about the listing venue and upcoming activities plans?

Sure, we are pleased to have some first valuable partners accompanying us from the beginning on the path to success, like KARDIACHAIN, PINKSALE, GAGARIN, ONUS, BINSTARTER, OKC, etc.

Stay tuned for the IDO date of AMETA in (BinStarter) on 5th October 2022

About the listing plan, APLUS token will be listed on 7th Oct and we will add the liquidity at the same time on 3 exchanges: ONUS (One of the biggest CEX in VN), Kardiachain (SEA leading blockchain ecosystem), Pancakeswap (DEX).

Also after IDO, We will open a staking pool with attractive APY and investors can stake and earn free NFT to play the game.

Another good news, Ameta's testnet will be released few days after IDO, We almost done the product feature and can't wait to show it for you guys~
Live Question Round

Q1. Can you explain how is your Tokenomics Distribution? How many tokens Will be minted ? And How many tokens Will be locked by the team?

This is our token metric: https://whitepaper.ameta.games/economy/usdaplus-token
We have 12% for team, locked in 1 year and then vesting in the next 36 months
So my team is all commit to this project. Only the success of project can help us a good income after at least 1 year.
Q2. Did you consider community feedback/requests during the creation of your product in order to expand on fresh ideas for your project? Many projects fail because the target audience and clients are not understood. So I'd like to know who your ideal consumer is for your product?
The total token market cap is 1B token, we can not mint token anymore. The token bridge (multichain.org) has the power to mint/burn token to make sure that they can transfer Aplus token from one chain to another chain by mint token in a new chain and burn token in the old chain when they do the token swap
Q3. Hi, is your game currently integrated with AR and VR? if it is not integrated now, will you integrate it in the future? Thanks for answer.
We are 3D game and our target is to build metaverse
So you can play the game as a 3D game in 2022
in 2023, the VR will comes to Ameta, so you can enjoy the virtual world in the most realistic way
Q4. Is your project a community only for English speaking an countries or for users not of other languages?
Ameta will start with English first. But we have plan to build multi language soon. It based on the geography distribution of Ameta community
Q5. Can I exchange your $APLUS token from anywhere in the world if you have any idea let me know?
The listing date is 7th Oct 15:00 UTC. You can sell and buy APLUS token in Pancakeswap, Onus Exchange and Kaidex
Please follow our Telegram Group if you guys want to know more information
https://t.me/AMETA_Official_Chat
Ameta Socials
About BinStarter
BinStarter is a decentralized mining-style approval mechanism insurance protocol that is designed to examine projects according to certain criteria for 30 days and to protect liquidity providers against possible financial damages or any negativities.
Website | Announcement Channel | Telegram Chat | Twitter | Blog
BinStarter Blog & News Newsletter
Join the newsletter to receive the latest updates in your inbox.
---