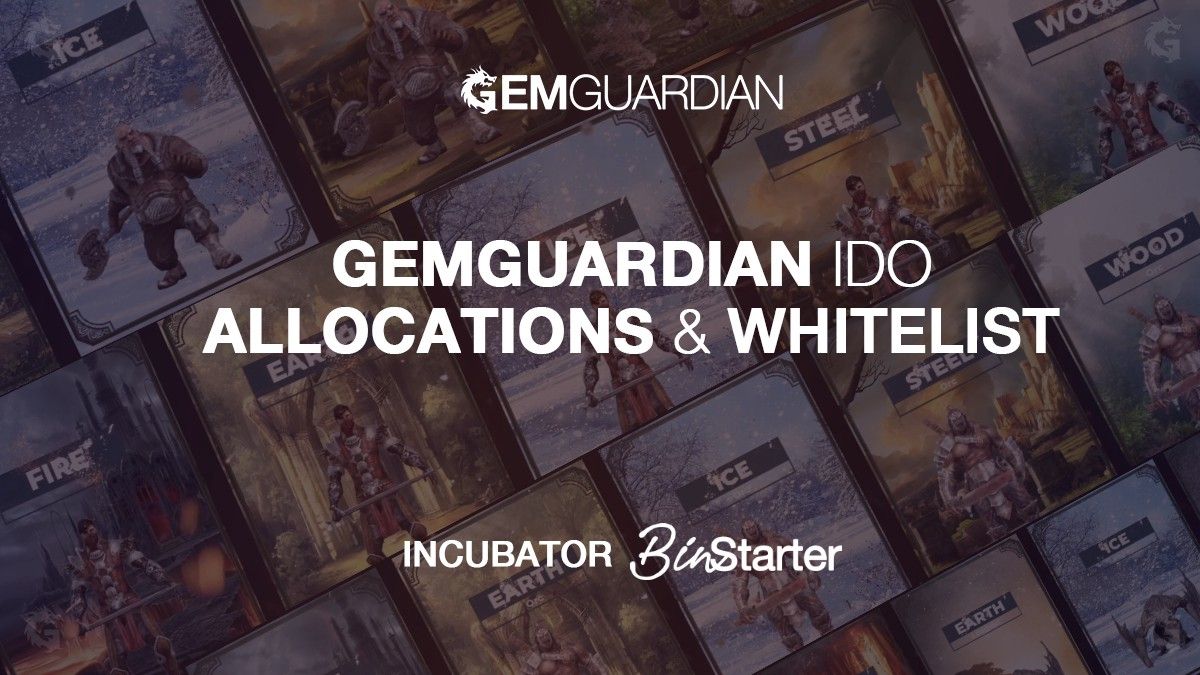 GemGuardian IDO Allocations & Whitelist
GemGuardian $GEMG is IDO Allocations
BinStarter is very honored to have an opportunity to launch the IDO event for GemGuardian Project. GemGuardian is an NFT Card Game on the BSC Network. We utilize the Dual Token economy to promote price sustainability, but at the same time keeping the game fun and lucrative. Players will acquire Guardian and Dragons to battle and earn in-game rewards that can be staked for a lucrative APY.
IDO Details
BinStarter Raise: $150k
Price: $0.10
Initial Market Cap: $210k
Raise date: 24th-25th September 2021
PCS listing: 26th September 2021
Location: https://bsr.binstarter.io
IDO Page & Timer: https://binstarter.io/gemguardian.html
IDO Allocations Distributions:
Pool 4:
Total Qualifier: 99 Participants
Amount of Allocations: $757 BUSD
https://binstarter.io/pool4.txt
Pool 3:
Total Qualifier: 226 Participants
Amount of Allocations: $199 BUSD
https://binstarter.io/pool3.txt
Pool 2:
Total Qualifier: 295 Participants
Amount of Allocations: $66 BUSD
https://binstarter.io/pool2.txt
Flexible Pool/ Pool 1
Lottery Winners: 300 Participants
Amount of Allocations: $35 BUSD
https://binstarter.io/pool1.txt
GemGuardian Sweep Campaign Details:
BinStarter is very happy to reveal the results of the GemGuardian Sweep campaigns. The event garnered upwards of 188,166 individual participantsand accumulated 14.8 million entries. As a result, 15 highest entry participants were given 1 whitelist allocation, whereas 85 lucky participants were randomly selected to receive 1 whitelist allocation. Once the result comes out in 21 hours, we will make an official announcement.
What is Next After the GemGuardian IDO for BinStarter Launchpad?
BinStarter IDO Launchpad has many exciting updates after the coming IDO events. Some of which will be announced in the next few days and some very big updates will be announced in 1–2 weeks. In order to qualify for all the below events, all stakes must continue staking in the pools. Daily snapshots will be taken every day to ensure fairness.
Please track remaining time of the GemG Sweep Campaign here: https://sweepwidget.com/view/33133-zwlh4mxy
Breaking News will Include
1) Evaluation Pool rewards and governance rights for Pool 4 stakers.
2) Weekly GemGuardian and Polypunk NFT Winners: The winners will be announced starting September 27 weekly for 4 weeks.
3) New IDO announcement and qualifications
About BinStarter
BinStarter is a decentralized mining-style approval mechanism insurance protocol that is designed to examine projects according to certain criteria for 30 days and to protect liquidity providers against possible financial damages or any negativities.
Website | Announcement Channel | Telegram Chat | Twitter | Medium
BinStarter Blog & News Newsletter
Join the newsletter to receive the latest updates in your inbox.
---