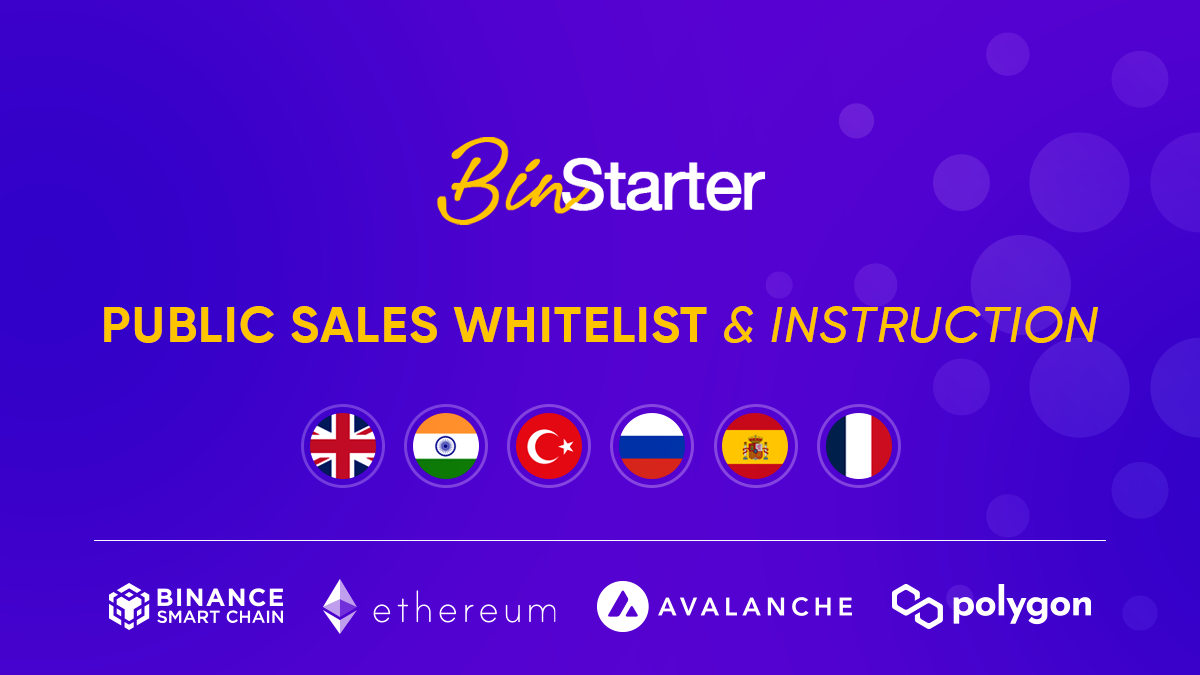 [English] Public Sales Whitelist & Instruction
How Will The Sale Take Place?
Preparation
Metamask or Trust Wallet
BNB
Access https://bsr.binstarter.io/
Pre-Sale Price: ~$0.10
Pre-Sale Softcap: 165 BNB
Pre-Sale Hardcap: 1115 BNB
Planned Listing Price: ~$0.30
Initial Market Cap is Only $150k USD
First Round: The Whitelist Guaranteed Allocation Sale will begin at 4th of August 18:00 UTC. 1 hour will be given to Whitelisted participants on Guaranteed Allocation Masterlist. For all other participants, sales page will be activated at 4th of August 19:30 UTC.
Second Round: At 4th of August 19:30 UTC the sales page will be open to everyone. All participants can make a purchase until the hardcap is full for the next 24 hours then sales will be closed.
Purchase Quantities
First Round: Whitelist, Min. $200, max $350 could be purchased.
Second Round: It will be open to everyone and there will be a minimum purchase limit of $200 and a maximum of $350
Min: 0.6 BNB
Max: 1.07 BNB
Limitations
Round 1: whitelisted participants max purchase is limited to $350 per wallet.
Round 2: All participants maximum purchase amount is limited to $350 per wallet. Will be first come, first served.
Min: 0.6 BNB
Max: 1.07 BNB
Whitelist
TOP100 + 900 Random
Full List Link: https://binstarter.io/whitelist.txt
Click CTRL+F and copy your wallet address to the search section to easily check if it is on the whitelist.
Trust Wallet — Android Phone Connect Problem
Problem:
In some android versions, it can be solved using browsers such as Google Chrome, Safari.
- If the Trust Wallet application is out of date, it can be solved by updating it.
- It can be solved by clearing the Trust Wallet memory.
- In some android versions, this problem cannot be solved.
The definitive solution if the above steps didn't work:
If you have a different phone.
1. Login to https://bsr.binstarter.io from a different phone's browser.
2. Link your wallet by scanning the QR Code. ( Settings > WalletConnect )
3. Start the swap. ( Different Phone )
4. Confirm from your own phone. ( Own Phone )
Attention and Beware of Scammers:
The sale will take place only at https://bsr.binstarter.io. Please do not send BNB to any address.
The sales will be held only on binstarter platform and all announcements will only be on Binstarter Telegram Group and Binstarter Announcement Group. URL: t.me/BinstarterOfficial and https://t.me/BinStarterAnnouncementwith 50k plus telegram members. Thats the best indication you're at the right group.
Admins will never message you or ask for your information and private keys. Binstarter personnel will never ask you to send them money.
Some fake groups and scammers include: https://t.me/BinstarterGroup 10k members. As stated above the real group have 50k plus members, please do not send money to or join any telegram groups that have our logo but under 50k members. Those are all fake groups.
To avoid fraud, follow our official Twitter address (https://twitter.com/BinStarterio) and turn on notifications. Only consider notifications made via Twitter.
Step 1 Follow Our Official Twitter Account
https://twitter.com/BinStarterio
Step 2 Turn On Notifications
Purchasing Stages With Picture
You do not need to do anything after completing the swap process. BSR will be sent to you automatically before Pancakeswap listing.
Join Us!
Website | Announcement Channel | Telegram Chat | Twitter | Medium
BinStarter Blog & News Newsletter
Join the newsletter to receive the latest updates in your inbox.
---