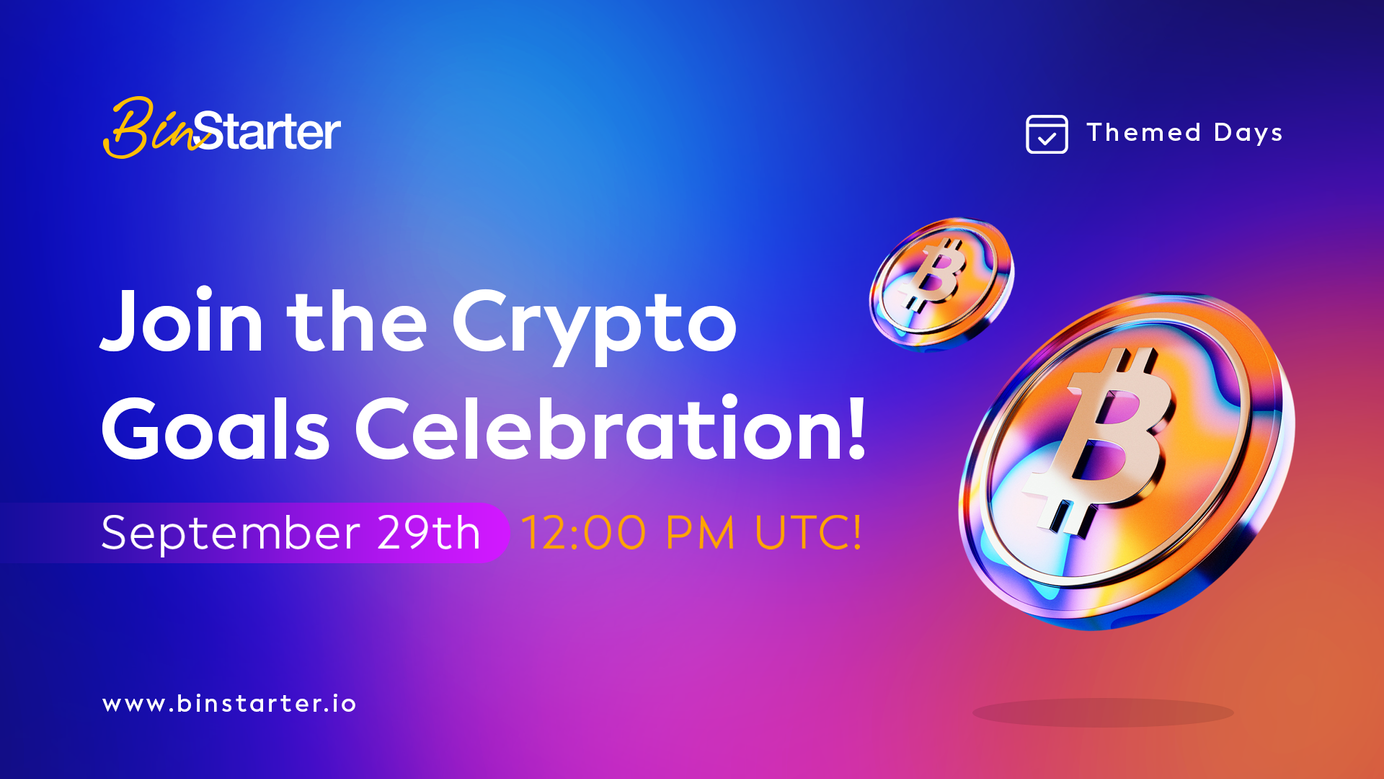 Crypto Community Engagement: Building Success Together
In the fast-paced and ever-evolving world of cryptocurrency, community engagement has become an essential pillar for projects seeking long-term success. After two years of relentless dedication to the crypto industry, we at BinStarter are excited to take our commitment to the next level by introducing Themed Days, starting with "Crypto Goals and Aspirations Day" on September 29th at 12:00 PM UTC. 🚀
The Power of Community Engagement
In the crypto sphere, success isn't solely defined by financial gains or technological advancements; it's about fostering a sense of unity and purpose among community members. Your involvement, your ideas, and your stories are the driving force behind the success of any crypto project, including ours.
Join Our Crypto Family
At BinStarter, we don't just see our community as a group of users – we see it as an extension of our family. We've grown together, shared in the highs and lows, and now it's time to celebrate our collective journey. "Crypto Goals and Aspirations Day" is an opportunity for every member, old and new, to share their dreams and aspirations in the crypto world.
🤔 Discussion Question: What are your TOP CRYPTO GOALS?
This question isn't just a prompt; it's an invitation to reveal your motivations, your passions, and your vision for the future of cryptocurrency. It's a chance to inspire others with your unique goals and stories, and to learn from the diverse experiences within our community.
Why Your Participation Matters
Participating in events like Themed Days isn't just about sharing your insights – it's about actively contributing to the growth and success of our project. Your feedback, ideas, and enthusiasm shape the direction we take. As a united community, we can achieve remarkable things.
A Token of Appreciation
To show our gratitude for your active participation, we have a special surprise in store! On "Crypto Goals and Aspirations Day," we will be rewarding one outstanding community member with a small gift as a token of our appreciation for their engagement and contributions. It's our way of saying thank you for being a crucial part of our journey.
Join Us on September 29th

If you haven't joined our community yet, now is the perfect time! We invite you to become a part of our growing crypto family and share in the excitement of "Crypto Goals and Aspirations Day." Mark your calendar for September 29th at 12:00 PM UTC, and let's make this Themed Day a resounding success together.

In conclusion, community engagement is the lifeblood of any crypto project, and at BinStarter, we're committed to working hand in hand with our community to achieve greatness. Your goals, dreams, and aspirations are at the heart of our mission, and we can't wait to celebrate them on "Crypto Goals and Aspirations Day." Together, we'll build a lasting company with incredible success stories to tell. 🌟
Join us on September 29th and let's make history together! 🚀💭
About BinStarter
BinStarter is a decentralized mining-style approval mechanism insurance protocol that is designed to examine projects according to certain criteria for 30 days and to protect liquidity providers against possible financial damages or any negativities.
Website | Announcement Channel | Telegram Chat | Twitter | Blog
BinStarter Blog & News Newsletter
Join the newsletter to receive the latest updates in your inbox.
---