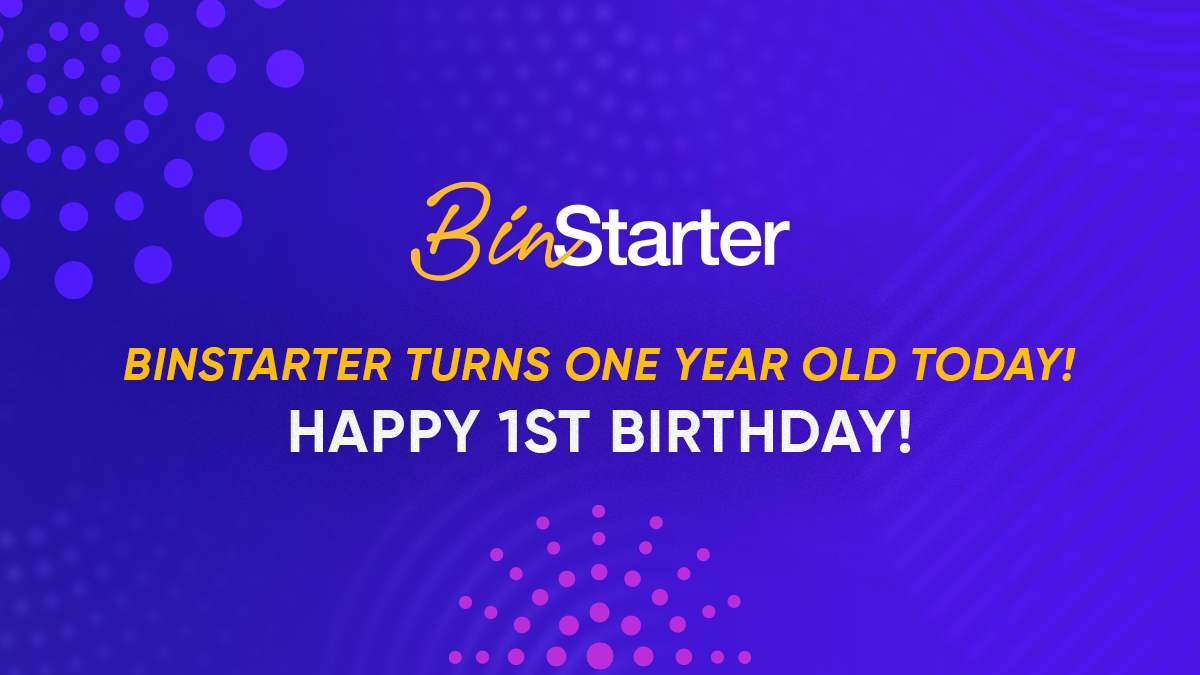 Celebrating a Successful First Year of Our Launchpad
Happy Birthday! BinStarter Community,

One would find it hard to believe that 1 year passed since we launched our platform and started to support our community. As a team nothing is impossible, and we are so proud of what we have achieved and accomplished together this year. This productive year keeps us motivated and jolted for what lies ahead.
As we initiated our journey, we set our vision on creating a value-added platform that was meant to lead the way for projects and help our community to reach oneness. We can confidently claim that we have fulfilled our objectives so far.

Throughout achieving the objective; we strived through 1000 project meetings and were contracted 45 of them in which 37 project launches were finalized.

The result of our expertise in databases and connections helped these projects to raise more than $7 mil.

To this point, the results are nothing short of "Fantastic" even in the bear market. Upon checking the success rates of the projects, we supported an average of 45X for an all-time high multiplier and 12X as the average multiplier is noticed. This is another proof that we are on the right track and should be proud of our accomplishments in the endeavor.
However, we never forget that you are our first and most important focal point and our community is the pivot of every step we take. It is noteworthy to point out that our insurance policy is the blueprint of industry standard and has protected our community from unfair industry practices.
As you all know our insurance protocol had been triggered several times and protected our community.
We are incredibly happy to announce that our insurance protocol saved over 1 million dollars of investment from unfair situations and helped to refund your investments.

This was a small explanation of last year. I must tell you that we are very proud of what our community and team achieved. We set rules for the industry, we helped great projects to be successful, and while doing that we managed to help our community feel safe and profitable.

We know that as the saying goes, "the puck doesn't stop here" and we have to grow as a team. We are ready for it.

We formed an extremely professional team with more than 130 years of experience in different varieties of business. From Marketing to Business development. We believe we have formed one of the best teams in the industry. As a result, we are preparing the next generation industry standards for the coming year.
We as a team are motivated and driven by success and we will surely translate this to every corner of our industry.

Having said all of the above and with such mindset, we are more than happy to announce to you our newest approaches to  our project selection framework

1 - Extended Insurance Protocol
2 - Project Acceptance Guideline

With these protocols, we aim to supply permanent growth opportunities for our projects and a safe-haven for our community.
The acceptance procedures for the projects will have only aim to succeed and strive for long-term growth.

The new acceptance procedure can be seen below. Therefore, we will work with all the projects to create great solutions for those topics in order to remain successful and create the optimal opportunity for The Binstarter Community.

The virtue of our powerful partners and launchpads, finalizing seed and private rounds and application status, (finished or at least time for finalizing) has helped us develop an incredible structural change.

Working with top-tier Youtubers and dedicated KOLS, doing airdrops in different communities, working with agencies (for 360 marketing), holding AMAs in different communities, a proper ambassador program, a remarkable social media plan for both before and after TGE and listing, all together fundamentally formed a huge improvement in our marketing operations.

Last but not least, an excellent amount of liquidity, Tier 1 MM, an Anti-snipe agreement, a buyback budget to stay on the safe side and incentives to make people hold the token were all included in our ongoing financial planning to tackle problems when they rise.

Needless to say; Extended Insurance Protocols will always be there to check the process and be triggered in case of a need.
With the Extended insurance protocol, we will be sure that the prices of the tokens will not go below a certain level which will be decided according to their vesting schedule. By this, we will be sure that projects will be ready for a long-term partnership with our community and will not cause undemented loss to the investor in our community.
Dear Binstarter Family, our target is to become the best Launchpad in the industry and lead it. For this aim we are working so hard and seeing you beside us is the most important motivation for us. Thank you for joining this beautiful journey, we will be collecting much better memories together.
Happy Birthday once more.

My Sincere wishes
Shelby.


About BinStarter
BinStarter is a decentralized mining-style approval mechanism insurance protocol that is designed to examine projects according to certain criteria for 30 days and to protect liquidity providers against possible financial damages or any negativities.
Website | Announcement Channel | Telegram Chat | Twitter | Medium


BinStarter Blog & News Newsletter
Join the newsletter to receive the latest updates in your inbox.
---