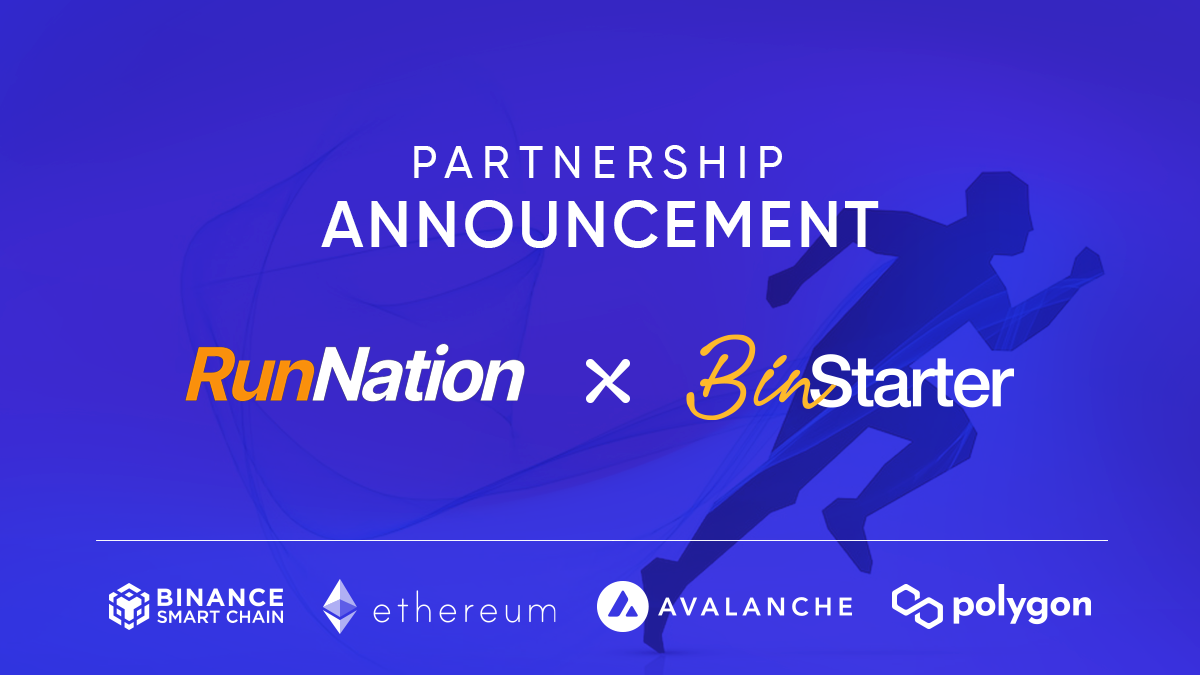 BinStarter x Run Nation Partnership
We are proud to welcome Run Nation on board, a Move-2-Earn App for iOS and Android, combining Fitness, Crypto and Web3 technology. Through this partnership, we are looking to support Run Nation in:

✔️ IDO on Binstarter
✔️ Cross-marketing activities
✔️ Community expansion

Let's cheer and look forward to our continued success!

RunNation is the ultimate real-world Move2Earn Dapp built on Binance Smart Chain. Earn RUNx by staying active each day, get rewards when using their Affiliate partnerships and stake tokens in a completely deflationary ecosystem. They burn by their tokenomics design.
The aim is to create the most immersive sporting and fitness experience for users and communities, pairing NFTs, crypto, the metaverse, and the importance of health, all within one ecosystem. With their unique goal to create a simplified user experience, they aim to lower the barrier to entry for everyday athletes & communities within this new space.
TOP 3 areas that make Run Nation the ULTIMATE Move2Earn?
1️⃣ Real-world sponsorships and affiliates: Run Nation connects with local gyms and exercise clubs worldwide across their ambassador network in USA, UK, Australia and South America. They will onboard 100s of local gyms, sporting clubs (eg football teams, basketball, crossfit, MMA) with in-built geolocation mapping where you earn MORE $RUNx rewards when working out with your #CREW at their Affiliated clubs
2️⃣ CREW battles: Solo running is great, but they are focussed on integrating social communities and international teams so you can now gather your own #CREW or fill your party to battle others to the top of the leader board to claim more rewards. Their app has individual profiles and team chat functionality to coordinate your best attack!
3️⃣ Having a complete wearable-app is their massive goal, so say goodbye to working out with your phone if you have a smart watch (Android in Q4, then IOS in Q1 2023). Earn while you swim, box, crossfit or playing sport!
Backers confirmed:
Kommunitas
KPC Group
Regular Presale
Emerald Pad
(12+ more being finalised as we speak)
Advisors / Partners:
Robby Jeo from Kommunitas
Simo Vuk from KPC Group
Max Hernandez from KPC Group
Cody Callender from Realms of Ethernity
Global Affiliate Ambassadors:
USA, UK, South America, Australia
Vacancy (South East Asia, China, Spain, Broader Europe)
Run Nation Socials:

Official Website: https://runnation.app/
Gitbook: https://runnation.gitbook.io/runnation/
Twitter: https://twitter.com/RunNationX
Telegram: https://t.me/RunNation
About BinStarter
BinStarter is a decentralized mining-style approval mechanism insurance protocol that is designed to examine projects according to certain criteria for 30 days and to protect liquidity providers against possible financial damages or any negativities.
Website | Announcement Channel | Telegram Chat | Twitter | Medium
BinStarter Blog & News Newsletter
Join the newsletter to receive the latest updates in your inbox.
---