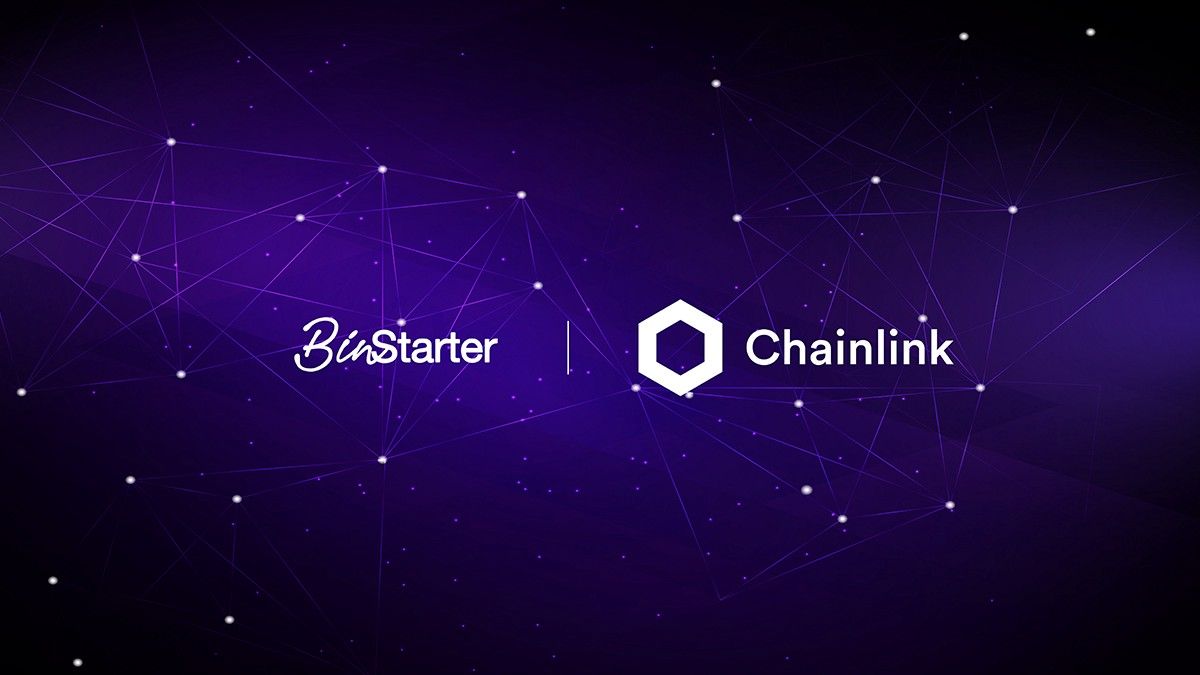 BinStarter Will Integrate Chainlink VRF to Secure Evaluation Pool and Allocation Lottery
We're excited to announce that BinStarter an IDO launchpad protocol that uses a portion of funds raised on new IDOs to fund an Insurance policy, protecting investors against fraud and smart contract errors that result in financial losses has integrated Chainlink Verifiable Random Function (VRF) on the Binance Smart Chain mainnet. By integrating Chainlink's industry-leading decentralized oracle network, we now have access to a tamper-proof and auditable source of randomness needed to provided randomness, equality, and fairness in the IDO Allocation Lottery and Evaluation Pool selection process. Ultimately this creates a more exciting, transparent, and fraud-proof user experience, as users can have a fair and transparent selection process to obtain IDO Allocations and protocol governing rights.
BinStarter is the pioneer of Insured IDO Launchpad Protocol. Our company objective is to create a fair, transparent, and safe environment for all investors that are interested on investing in initial dex offerings. All IDO launched on our platform will go through vigorous due diligence and risk assessment when determining amounts to be raised and if we should be working with them. As a result 50% of the proceeds raised with act as an insurance policy in case of fraud or financial losses due to smart contract errors.
In order for BinStarter investors to get fair and equal opportunity in the IDO Allocations and Evaluation pool voting rights, we need access to a secure random number generator (RNG) that any user could independently audit. However, RNG solutions for smart contracts require several security considerations to prevent manipulation and ensure system integrity. For instance, RNG solutions using on-chain data like block hashes can be exploited by blockchain miners, while off-chain RNG solutions like traditional data providers are opaque and don't provide users with definitive proof about the integrity of the process.
After reviewing various solutions, we selected Chainlink VRF because it's based on cutting-edge academic research, supported by Chainlink's time-tested oracle infrastructure, and secured through the generation and on-chain verification of cryptographic proofs that guarantee the integrity of each random number supplied to smart contracts.
Chainlink VRF works by combining block data that is still unknown when the request is made with the oracle node's pre-committed private key to generate both a random number and a cryptographic proof. The BinStarter IDO Launchpad smart contract will only accept the random number input if it has a valid cryptographic proof, and the cryptographic proof can only be generated if the VRF process is tamper-proof. This provides our users with automated and verifiable assurances directly on-chain that IDO Allocation and Evaluation Pool Selection is provably fair and cannot be tampered with by the oracle, outside entities, or the BinStarter team.
As a results on behalf of the BinStarter team we are very happy to be collaborating with the Chainlink team for the integration of the VRF into BinStarter ecosystem. Initially the VRF will be integrated to the Allocation Selection process and Evaluation pool selection process. In the future we are planning on using VRF to select IDO's eligibility to participate in fund raising on our platform. Additionally we will implement the price oracle into our liquidity pools in order to secure the most updated and untampered price and liquidity stability.
"BinStarter decided to select Chainlink in this integration because of their immense infrastructure and prominent reputation in the Crypto Oracle"
About Chainlink
Chainlink is the industry standard oracle network for powering hybrid smart contracts. Chainlink Decentralized Oracle Networks provide developers with the largest collection of high-quality data sources and secure off-chain computations to expand the capabilities of smart contracts on any blockchain. Managed by a global, decentralized community, Chainlink currently secures billions of dollars in value for smart contracts across decentralized finance (DeFi), insurance, gaming, and other major industries.
Chainlink is trusted by hundreds of organizations, from global enterprises to projects at the forefront of the blockchain economy, to deliver definitive truth via secure, reliable oracle networks. To learn more about Chainlink, visit chain.link, subscribe to the Chainlink newsletter, and follow @chainlink on Twitter. To understand the full vision of the Chainlink Network, read the Chainlink 2.0 whitepaper.
Solutions | Docs | Discord | Reddit | YouTube | Telegram | GitHub
About BinStarter
BinStarter is a decentralized mining-style approval mechanism insurance protocol that is designed to examine projects according to certain criteria for 30 days and to protect liquidity providers against possible financial damages or any negativities.
Join Us!
Website | Announcement Channel | Telegram Chat | Twitter | Medium
BinStarter Blog & News Newsletter
Join the newsletter to receive the latest updates in your inbox.
---