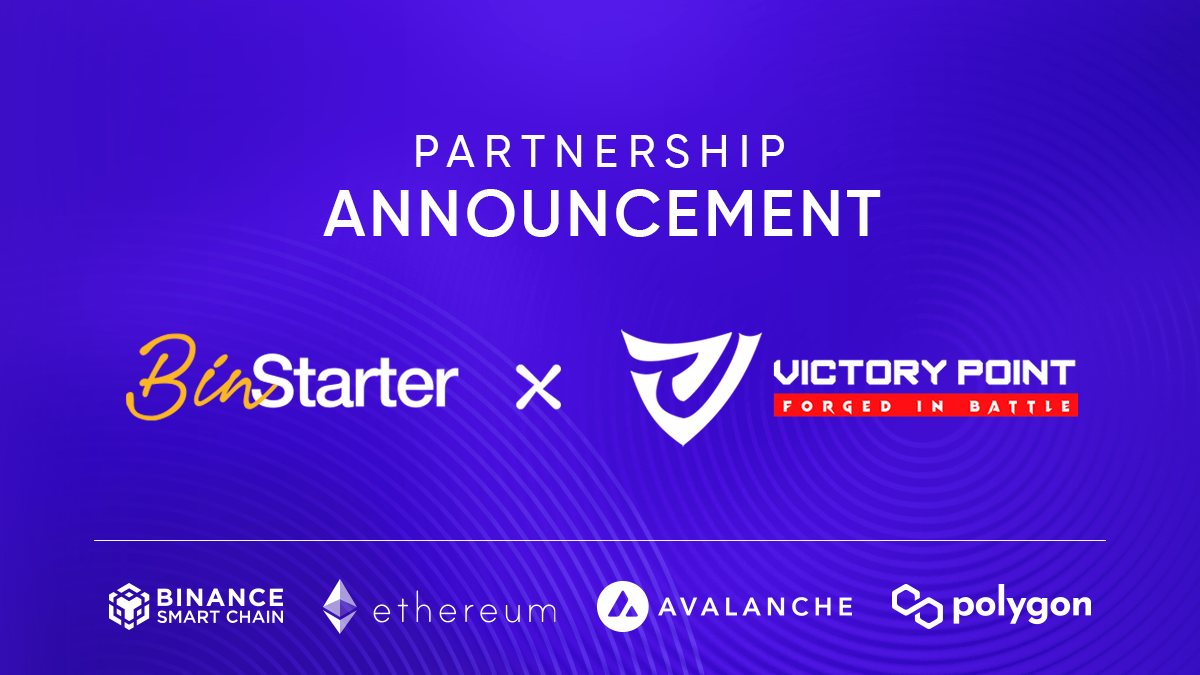 BinStarter Partners with Victory Point
We are super excited to announce that we have officially teamed up with Victory Point, the Most Competitive First Person Shooter on The Blockchain and the First Web3 Game with a Truly Sustainable Economy. Our IDO deal with this EIP-protected project will take place in the first quarter of 2023. Let's examine this special project in greater detail!
Project Description
Victory Point is a AAA-rated, Free-to-Play-and-Earn (F2PnE), Multiplayer, First Person Shooter (FPS) game built on Unreal Engine 5 and powered by blockchain and player ownership!
Victory Point is the first game to adopt a zero-sum-game reward system which pays gamers Real Yield ( yield based on revenue generated by our 6 unique Revenue Streams vs revenue derived from token emissions) with the focus on retaining a long-term, healthy and sustainable economy within its ecosystem. Victory Point will launch mid 2023 on mobile and PC.
In a space saturated by rushed, low-quality video games, Victory Point is designed by a top-notch gaming studio filled with experienced game design experts. Victory Point players will be immersed in intense gameplay, stunning environments filled with high-quality graphics and sound effects. Players will have the opportunity to battle other players through various game modes while earning massive rewards!

Victory Point IDO Link: https://bsr.binstarter.io/ido/project/63d92029356b2389fe1e10b0

The Backbone of Victory Point
Victory Games is a UK-based video game company with offices in London and team members around the world. The company is made up of experienced game designers who have worked on successful games like Borderlands 2, Mass Effect, Zero-Hour, and Destiny. The goal of Victory Games is to provide top-notch gaming experiences within a premium blockchain gaming ecosystem. They aim to create memorable games with engaging mechanics, excellent graphics, and cutting-edge technology to keep players coming back. All VG games will be free-to-play, and players will own the assets they earn in-game, giving them full control over their accounts and digital assets. The company hopes to contribute to the democratization of the internet by advancing digital property rights and creating equitable value for all users.
Game Concept
Different from other web3 games, purchasing a Victory Point Soldier NFT will show its value in the player's in-game $VIT Balance. This balance can be used to participate in various game modes and earn additional $VIT rewards.
Before a game begins, players need to place their $VIT balance into a prize pool. At the end of the game, the prize pool will be divided among players based on their performance. To encourage lower-performing players to continue playing Victory Point, they will receive Real Yield, which is based on game revenue instead of token emissions, in the form of $VIT Balance.
Game Objective
Reach 1 million monthly active users within a year on both mobile and PC!
Their mission is to become the leading ecosystem within web3 gaming and our primary efforts are to advance digital property rights for gamers.
What is Unique about this Project?
Losers pay the Winners. The economy is designed to be sustainable over time with an organic need for $VIT & NFTs.
Players are paid Real Yield (yield based on revenue generated by the game) vs revenue derived from token emissions.
$VIT has a variety of use cases within the Victory Games Ecosystem.
Stunning visuals, 3D Models & Environments built on Unreal Engine.
Fast paced, adrenalin filled gameplay with a variety of modes & features.
How does the Victory Point Economy Work?
Before entering a match, each player must commit $VIT into a reward pool. The amount of $VIT required to enter a match varies based on the Game Rank and the Game Mode. Each Game Mode follows a unique reward distribution mechanism. Once the match is over, the reward pool is distributed to the players based on their ranking  on the match leaderboard.
A Zero Sum Game Reward System
The tokenomics of Victory Point are designed by using a "zero -sum game" reward system. A zero -sum game is a mathematical representation in game theory and economic theory of a scenario involving two sides. Under this model, an advantage for one side results in a loss for the other. If the total gains of the participants are added up, and the total losses are subtracted, they will equal zero. In simple words, the Losers pay the Winners!
The First Real Yield Economy
Victory Point is the first web3 game to introduce the concept of Real Yield as its fundamental Economics
Model with the objective of achieving a long -term sustainable economy. Real Yield pays out yield to gamers based on revenue generated by the game vs revenue derived from token emissions. This Real Yield will be generated from our 6 innovative revenue streams. These revenue streams are the following:

1 . In -game microtransactions in the web2 versions o f Victory Point
2 . In -game microtransactions /NFT sales in the web3 versions o f Victory Point
3 . Revenue generated from our Subscription Model (in both the web2 & web3 version of the game )
4 . Revenue generated from the player trading tax on token and NFT transactions (web3)
5 . Ad revenue generated from our in -game ads (web3 )
6 . Ad revenue generated from the TOP100 - a games only video sharing and social media platform .

Tokenmetrics

Token Distribution
Roadmap
Let's cheer and look forward to our continued success!
Victory Point Socials:
Linktree: https://linktr.ee/victorypoint.io
About BinStarter
BinStarter is a decentralized mining-style approval mechanism insurance protocol that is designed to examine projects according to certain criteria for 30 days and to protect liquidity providers against possible financial damages or any negativities.
Website | Announcement Channel | Telegram Chat | Twitter | Blog

BinStarter Blog & News Newsletter
Join the newsletter to receive the latest updates in your inbox.
---