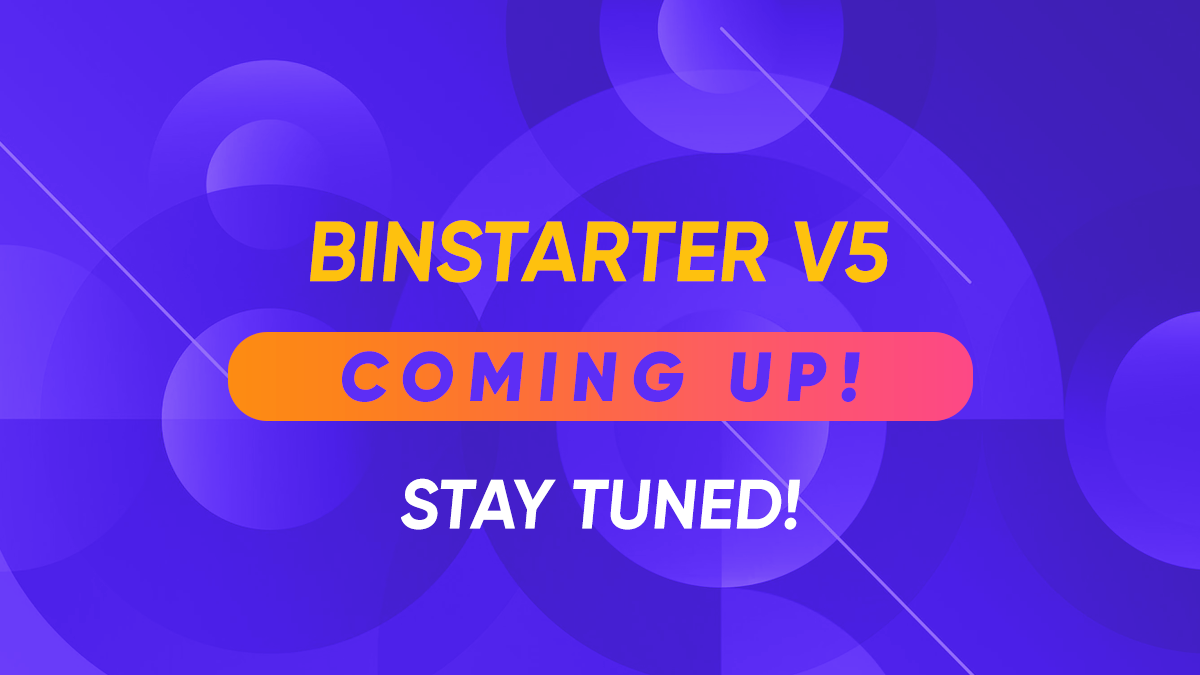 BinStarter V5 is on the Way!
BinStarter V5 is Coming Soon!
We are taking BinStarter to a whole new level with an epic update as a result of monitoring and evaluating all our community members' requests over the course of a year. We would like to thank all our community members, software and business development experts who expressed their opinions and contributed to the development of the system during this process.
We are happy to share our latest updates on BinStarter V5 with you.
New Staking Pool
Farming Pool Updates
Advanced Stake Dashboard
Referral System
Loyalty Bonus
Automated Refund Option for EIP Protected Projects
Updated Claim Process
New Staking Pool
Users will now be able to control the whole system from a single pool and automatically switch between Tiers.
Tier 1 - 1000 BSR - 11% - Unstake Time: 7 Days
Tier 2 - 2000 BSR - 20% - Unstake Time: 14 Days
Tier 3 - 4000 BSR - 40% - Unstake Time: 21 Days
Tier 4 - 8000 BSR - 65%- Unstake Time: 30 Days
Tier 5 - 16000 BSR - 90% - Unstake Time: 60 Days
Tier 6 - 32000 BSR - 110% - Unstake Time: 90 Days
Tier 7 - 64000 BSR - 130% - Unstake Time: 120 Days
Tier 8 - 128000 BSR - 160% - Unstake Time: 150 Days
Updates for staking pool:
It's much easier to make tier upgrades with the new pool system. By increasing staking BSR amount, users can easily switch to a higher tier without waiting for the unstake time.
Unstake time starts after pressing the unstake button.
Example: If a Tier 5 user decides to start the unstake process and clicks on the unstake button, the 60-day countdown timer will then start. When the 60 days are up, BSR becomes withdrawable. Users will continue to receive APR rewards during the unstaking process until the 60 days countdown is over. However, those tokens in Pool 5 will no longer be added to the Tier calculation for IDO allocations once the unstaking process starts.
When the Unstake counter is reset, the stake income will automatically stop.
If a user changes his mind and wants to join an IDO after initiating an unstake, he can cancel the unstake process and reset the duration.
We have also implemented an Early Reward Withdrawal Tax which is 30%
Note: The early reward withdrawal tax fee decreases by 1% per day if the reward is not claimed. When rewards are claimed, the early reward withdrawal tax will be reset.
New pool will continue to pay out high APY rewards, where 8 different tiers are integrated with different APY rates and a standard emission calculation. We are a community project so our priority will always be our community. According to our token plan, a sizable supply of tokens is dedicated to staking rewards. Therefore, APY rates will continue at the highest emission-based level. APY rates may automatically increase/decrease when the number of participants increases or decreases.
Transition to New Staking Pool and Important Dates
Now it is time to start the unstake process for all our BSR holders in existing pools. Latest new pool transfer dates are given below for the holders in different pools.
Users who unstake will be able to click on the "Join Whitelist" button and will be able to join IDO without losing any rights and will continue to earn stake rewards during the transition process.
Pool 1: Funds should be transferred to the new pool until October 14, 2022.
Pool 2: Funds should be transferred to the new pool until October 18, 2022.
Pool 3: Funds should be transferred to the new pool until October 23, 2022.
Pool 4: Funds should be transferred to the new pool until October 28, 2022.
Pool 5: Funds should be transferred to the new pool until November 12, 2022.
Pool 6: Funds should be transferred to the new pool until December 12, 2022.
Pool 7: Funds should be transferred to the new pool until January 12, 2023.
Pool 8: Funds should be transferred to the new pool until February 12, 2023.

When the deadlines for the pools are over, the old pools will stop awarding and the users who do not carry out the transfer will lose their right to allocation. In order to avoid loss of rights, the unstake process should be started on October 12, 2022 at the latest and funds should be moved to the new pool within the given time.
2. Farming Pool Updates
We have fixed the issue with the APY rate in the new farming pool. Farming unstake period has been updated to 14 days. All users in the farming pool should start the unstake process till October 12, 2022. Transitions to the new farming pool should be completed latest till October 22, 2022. Farming rewards in the old farming pool will be stopped on October 22, 2022.
3. Advanced  Stake Dashboard
To create a much clear and more transparent information flow, we advance our Stake dashboard. With the new advancements, users will be able to see and understand much more easily the tier systems, APY ratio, unstake durations, allocation multipliers, and daily stake earnings (both in BSR and USD). In addition to those, they will be informed about the benefits by writing the BSR amount they want to stake to the query area with no difficulty.
4. Referral System
We are delighted to announce that we have built a referral system to encourage our loyal users to help us grow our community. This new system will give us a chance to compensate hard working community members that take extra steps towards our success.
Our community members who invite new users to become active community members at Binstarter will have 2 link options to share with prospect BSR investors. If their prospect investors become real investors at Binstarter and stake their BSR then our users may earn either 1% or 0.5% BSR according to the link that they have chosen to share with their prospect BSR investors.
Referral Link Options
Option one; If a user chose the first link to share with his/her prospect investor and the prospect investor becomes a real investor and starts the staking process then our user gets 0.5% BSR and the new investor also gets 0.5% BSR as a reward.
Option two; If a user chose the second link to share with his/her prospect investor and the prospect investor becomes a real investor and starts the staking process then only our user gets 1% BSR as a reward.
Referral links will be placed under the "My Profile" tab.
Important Notes about the "Referral System"
If a prospect investor had already staked BSR in the past, the referral link will be invalid and this user will receive a "Defined User" status.
If a prospect investor has never staked BSR before, he/she will receive a "Registered User" status for a year, after he/she stakes BSR via the last referral link that has been clicked. The reference owner will be receiving a bonus from all the stakes that the "Registered User" does for the first year.
Bonus ratio will be the same with the first reward ratio from the same investors for all new stakes for the whole year as the ratio depends on the referral link that was shared during the invitation process.
5. Loyalty Bonus
We will start to distribute additional BSR for our long term stakers. Reward ratio will be 1/1000 of the minimum BSR staking amount of users existing Tier at the time of distribution. First distribution will be done after 150 days in staking for a new user and he/she will continue to receive a loyalty bonus every 150 days till he/she starts the unstake process no matter which Tier he/she is in.
6. Automated Refund Option for EIP Protected Projects
Refund process for EIP protected projects is now fully automated. If EIP triggers for any EIP-protected project, users will be able to request a refund directly from their panel by visiting the page where they joined IDO.
Your Investment: In case EIP kicks in, the users can claim the refunds of the remaining vestings from this panel by clicking the "Refund" button.
Details about EIP: https://blog.binstarter.io/eip/
Exception:
For projects with 100% TGE: If an EIP protect projects token price perform over IDO price for the first 24 hours, EIP will be considered fulfilled and there will be no further obligation regarding this protocol
If the Token Price stays below the IDO Price, the average price of the token will be taken into consideration and the difference between the IDO price and the average price will be returned to our investors.
The average calculation will start 1 hour after TGE to avoid the price rises within the first hour that may affect the calculations.

For example, if the average price is calculated as 0.80 (the first hour will not be counted in the calculations) for a project that has 1$ IDO price, the difference of 0.20$ (20% in this case) will be returned to our users. By this, we are aiming to reduce the risk to minimum.
The payback for the projects that release 100% at TGE , will be transferred to the wallets that were used to purchase the IDO tokens.
7. New FCFS Round
The new FCFS includes 4 rounds which makes the opportunity fairer and more advantageous for BSR Stakers. BSR Stakers will receive additional rights like increasing guaranteed allocation with the priority purchasing right in the first 3 rounds. In the 4th round, the sales will be open to the public.
1st Round: Up to 50% of the existing allocation (Duration: 10 minutes)
2nd Round: Up to 100% of the existing allocation (Duration: 10 minutes)
3rd Round: Up to 200% of the existing allocation (Duration: 10 minutes)
4th Round: FCFS round open to public (Duration: 21 hours)
Example:
Let's consider a user whose level is Tier 6 with a $600 allocation right; This user can purchase additional amounts which is listed below from different FCFS rounds
1st Round: Extra $300
2nd Round: Extra $600
3rd Round: Extra $1200
4th Round: The Amount that is determined for FCFS round
Users can check both public and extra allocation amounts for BSR Stakers for FCFS rounds directly from their panel.
FCFS rounds will be closed when leftover allocation amounts for the FCFS round are sold out.
8. Updated Claim Process
All our users can claim the total purchased amount from different rounds for a single project with only one transaction by this new update that will also give them faster and fair sales opportunities while saving extra transaction fees.
BinStarter Blog & News Newsletter
Join the newsletter to receive the latest updates in your inbox.
---