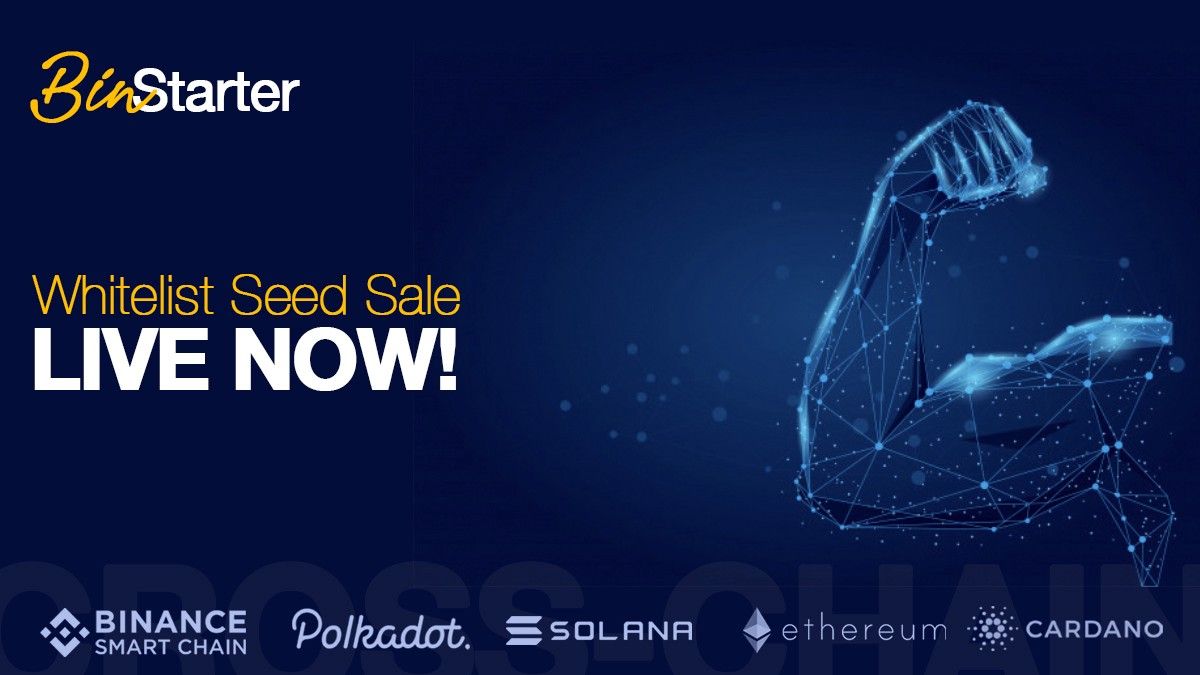 BinStarter Seed Sale Whitelist is LIVE
Token Metrics Token Symbol: $BSR
Total Max Supply: 93,239,797
Initial Circulating Supply: 4.9M $BSR
Initial Market Cap: ~$490K USD
$BSR — BinStarter token The $BSR token is key to get priority-access to token sales pools hosted on the BinStarter platform.
It also has three interesting token mechanisms:
Deflationary 1–23% ( 23M ) of the supply is used for insurance coverage. Insurance revenues from projects published on BinStarter are realized by purchasing BSR from the token supply allocated for coverage at the current price. This ends when the purchased amount is burned for 30 days, which corresponds to 3.3% per day after 30 days.
Deflationary 2 — There is a transaction fee of 1% of the BSR purchased. The BSR received against the transaction fee is sent directly to the burning process which reduces the supply after each transaction. The fee is adjustable (0–2%)
Earn interests just by staking — You can stake your $BSR on BinStarter and get an equal and fair share of the project revenues. This rate may vary depending on the amount of tokens (25%, 25M BSR) allocated for the project revenues and pools.
For more details, you can visit our website binstarer.io and review the whitepaper.
Seed Sale Whitelist Event is now LIVE
The whitelist form is now LIVE and you find it here: binstarter.io/whitelist.html
How can I join?
Fill out the whitelist form, it is mandatory to complete the tasks in the form to have a chance to participate in the seed sale.
Every action in the form will earn you points, we recommend completing as many tasks as possible to increase your chances of winning.
First Round: 100 people with the highest score on the board will have a guaranteed place in the seed sale. 900 people will be randomly selected from the applicants.
Second Round: If there is any remaining balance after the first round, it will be transferred to the second round and the pool will be open to everyone
Summary:
Whitelist starts: 30th of May 12:00 UTC
Whitelist ends: 30th of June 14:00 UTC
Whitelist winners announcement: 30th of June 15:00 UTC
Seed Sale starts: 30th of June 18:00 UTC
Whitelist participants: 1000
Max Cap per wallet: $1000 USD
Anti-Fraud:
Some details of whitelist users such as twitter accounts, BSC addresses, telegram names will be checked. If unfair competition behaviors are detected in the applications, they will be directly disqualified.
Comment:
BinStarter's main goal is to have a strong community, in this direction; Before the Seed Sale and Public Sale, there will be a public demand gathering, and a limited number of sales will be made to a limited number of people without price difference.
Collaborations, price differences, and high volume token sales transactions that may create sales pressure in the future will not be accepted
Only 15,7% of the supply will be in pre-sale.
13,7% of the supply will be sold at the same price.
Only 2% is reserved for private sale.
A 3-year long planning has been made for Foundational and Team token release.
25% of the supply will be distributed to BSR holders by staking.
23% (23M) of the total supply is reserved for insurance coverage and burning process.
Website: https://binstarter.io/
Twitter: https://twitter.com/BinStarterio
Telegram Chat: https://t.me/BinStarterOfficial
Telegram Announcements: https://t.me/BinStarterAnnouncement
Docs: https://docs.binstarter.io/
BinStarter Blog & News Newsletter
Join the newsletter to receive the latest updates in your inbox.
---