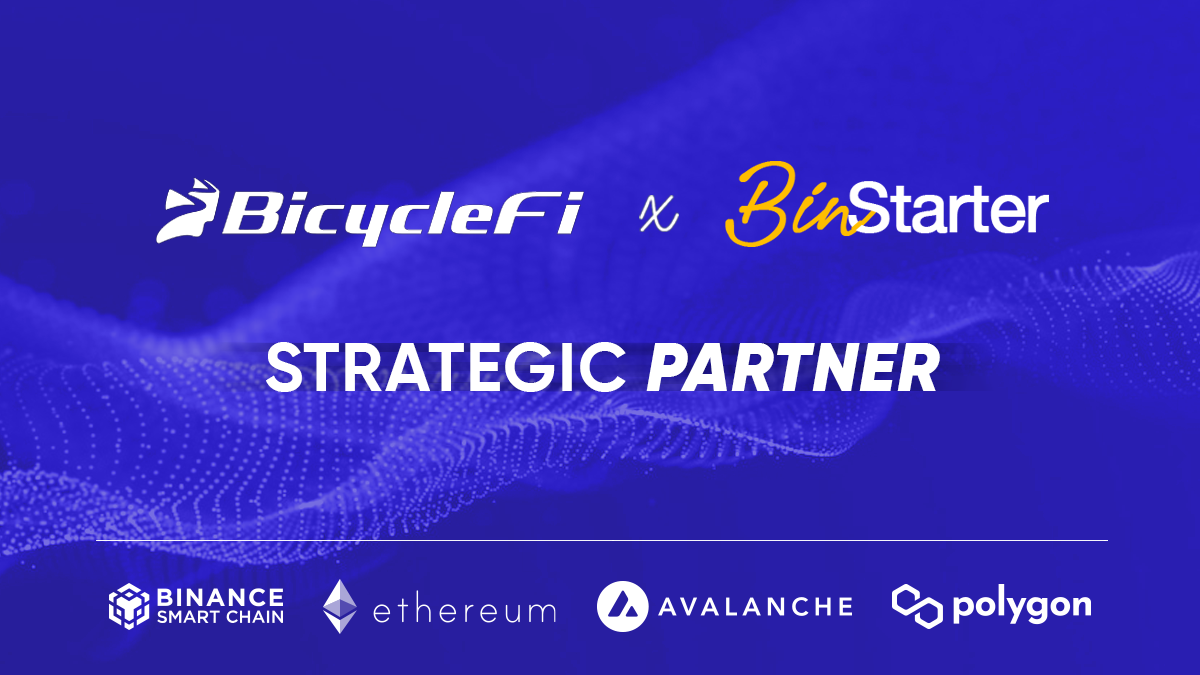 BinStarter Partners with BicycleFi
Binstarter x BicycleFi �
We have officially teamed up with BicycleFi, a Web3 lifestyle app with Social-Fi and Game-Fi elements. Through this partnership, we are looking to help BicycleFi conduct:
🚴‍♀️IDO on Binstarter
🚴‍♀️Cross-marketing activities
🚴‍♀️Expand community
About BicycleFi
BICYCLEFI is a Web 3.0 lifestyle Dapp & app with inbuilt Game-Fi, Metaverser, Social-Fi elements. With the aim of building strong fitness communities to improve their health and earn profits!
BICYCLEFFI is built by the daily movement of people. Bicycles are used in delivery activities, sports to improve health, racing, and touring. The team is following to effectively bring to life a functioning move&earn concept, the first project to apply blockchain technology in the Bicycle app.
#MovetoEarn  #METAVERSE  #GAMEFI  #BICYCLENFT
BICYCLEFI Features:
🚴♀️Metaverse
Space ventures Metaverse
Cyclists, Sport lovers can explore the Space ventures Metaverse, and perform activities and tasks to earn rewards.
🚴♀️GameFI
It is the FIRST in the world to release Cycling Move to Earn game.
🚴♀️BicycleNFT
It is the FIRST in the world to provide 6 characters of BICYCLE NFT to play in our GameFi app.
Users can buy, sell, rent, and trade iconic NFT characters in the Space ventures Metaverse.
Users will assemble their own NFT character to create unique bicycles.
BCF Social Media Links:
Website 🚲 Twitter 🚲 Telegram 🚲 Channel 🚲  Discord 🚲 Medium
About BinStarter
BinStarter is a decentralized mining-style approval mechanism insurance protocol that is designed to examine projects according to certain criteria for 30 days and to protect liquidity providers against possible financial damages or any negativities.
Website | Announcement Channel | Telegram Chat | Twitter | Medium
BinStarter Blog & News Newsletter
Join the newsletter to receive the latest updates in your inbox.
---