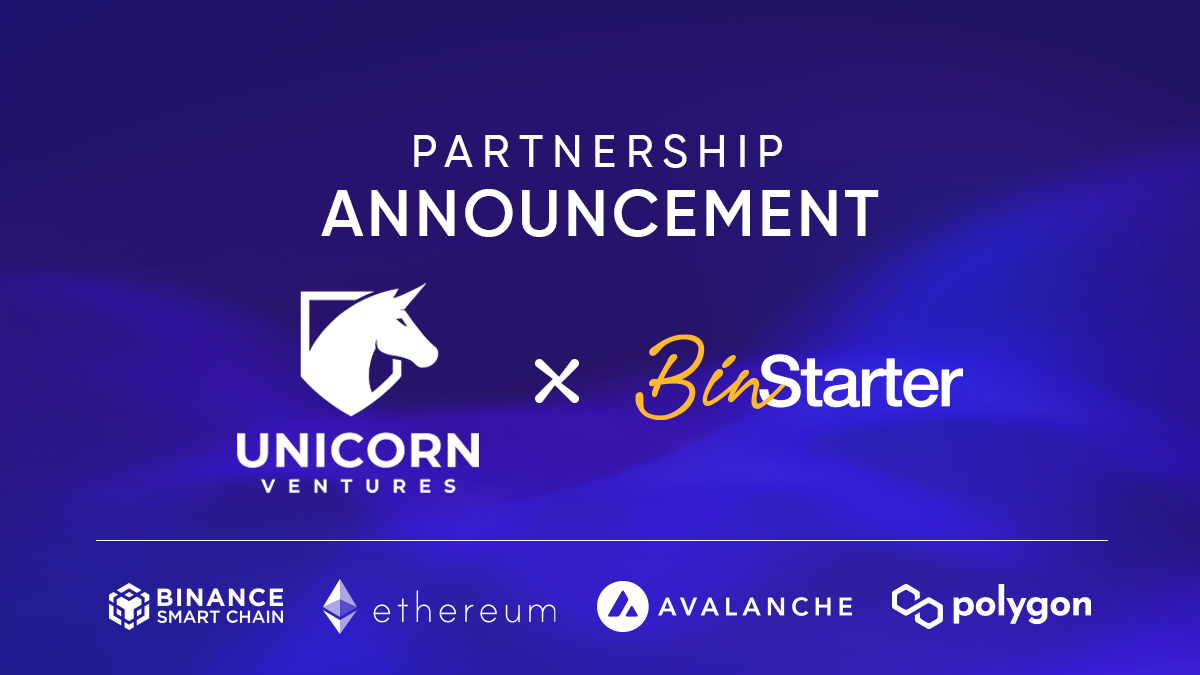 BinStarter onboarding Unicorn Ventures
Binstarter x Unicorn Ventures

BinStarter has officially teamed up with Unicorn Ventures, a community backed/private VC with the most passionate investors to support and empower the most promising projects.
Let's cheer and look forward to our continued success!
Unicorn Ventures has an exclusive focus on blockchain, decentralized finance, metaverse, gaming and the intricate infrastructure of all of these combined.
They exist to help the potential projects in raising capital, helping to connect them with KOL for marketing and growing their supporters. They also enable the userbase and believers of blockchain to invest in their favorite projects at early stage. Their mission is to bridge the gap between the investors and potential projects and empower the overall ecosystem.
In the space of blockchain where there are immense opportunities , the private investors fail to sometimes reach a potential project at a early stage for investment. Youngsters and newly entered enthusiast in crypto space who are small investors can't afford to fill the min cap of the promising projects, Unicorn Ventures is working to help those people, they are working towards bridging the gap between the community, private investors, and promising projects.
They started in March 2022 and since then they have grown to 1000+ members on telegram and 550+ followers on twitter, invested in over 12+ blockchain projects. They have strategic partnership with 20+ launchpads across multiple chain, 10+ VC's, 20+ Paid KOLs network, few market making and incubation firms as well.

Unicorn Ventures Socials:
https://linktr.ee/unicornventures

About BinStarter
BinStarter is a decentralized mining-style approval mechanism insurance protocol that is designed to examine projects according to certain criteria for 30 days and to protect liquidity providers against possible financial damages or any negativities.
Website | Announcement Channel | Telegram Chat | Twitter | Medium
BinStarter Blog & News Newsletter
Join the newsletter to receive the latest updates in your inbox.
---