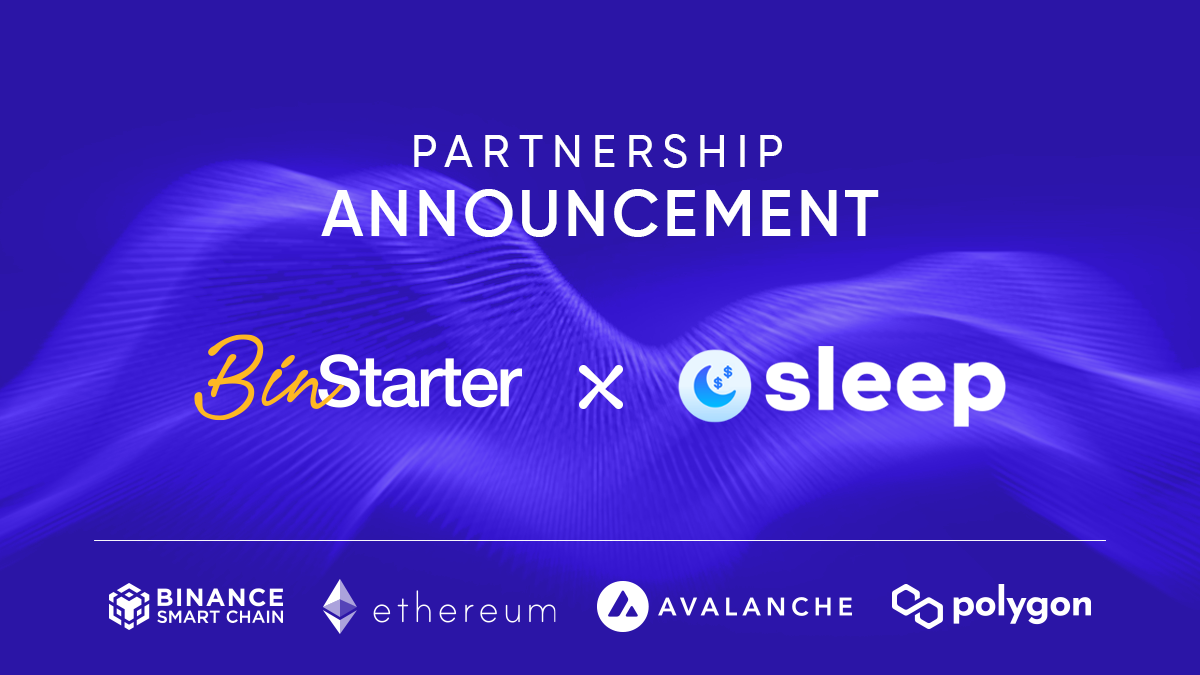 BinStarter Onboarding SLEEP
We are thrilled to announce Binstarter partnership with SLEEP.
SLEEP is the first Web3 lifestyle app with Social-Fi and Game-Fi elements where users can earn $ZZZ for sleeping, relaxing and putting their phone away.
At launch, users equipped with NFT beds - sleep to earn $SLEEP, which can be used to level up and mint new beds and other equipment.

Players can choose to rent or sell their NFT beds on the in-app Marketplace; users' SLEEP earnings are stored in the in-app Wallet, which has a built-in Swap function.
Later, SLEEP will get additional game modes where everyone can make extra $ZZZ.
Game-Fi modes
Sleeping: Lock your phone in Sleep mode and earn $ZZZ
Drive: Lock your phone while driving the car and earn $ZZZ
Mental health and rest: Lock your phone during the day and earn $ZZZ
Goal
The aim is to make people more aware of the risks of their phone use. That's why it is decided to reward everyone who puts down their phone or sleeps. It's as easy as it sounds, sleep to earn.
For people who are not invested into the crypto and blockchain space, SLEEP is an amazing way to get started and learn about the amazing world of blockchain. These people can even earn before they learn how to use a Decentralized Wallet. This will also be their first step in the Web3 world.

Token Utility
The $SLEEP token is used as the main project token within the ecosystem, it will be used for: governance and minting the first NFT to get started in-game.
$SLEEP will be accompanied by a secondary token $ZZZ, which is used to perform major actions in the game: earn $ZZZ by locking their phone in one of the game modes, level up, buy accessories for NFTs, repair NFTs.
$SLEEP: Governance, Staking, Minting first NFT
$ZZZ: Earning in-game, level-up & repair NFTs, mint new NFTs
Partners & Investors
- Apollo Ventures
- Crypton Studio

SLEEP Socials:
Website: https://sleep.game/
Twitter: https://twitter.com/SleepGame_
Deck: https://sleep.game/deck
Telegram: https://t.me/sleepgame
About BinStarter
BinStarter is a decentralized mining-style approval mechanism insurance protocol that is designed to examine projects according to certain criteria for 30 days and to protect liquidity providers against possible financial damages or any negativities.
Website | Announcement Channel | Telegram Chat | Twitter | Medium
BinStarter Blog & News Newsletter
Join the newsletter to receive the latest updates in your inbox.
---