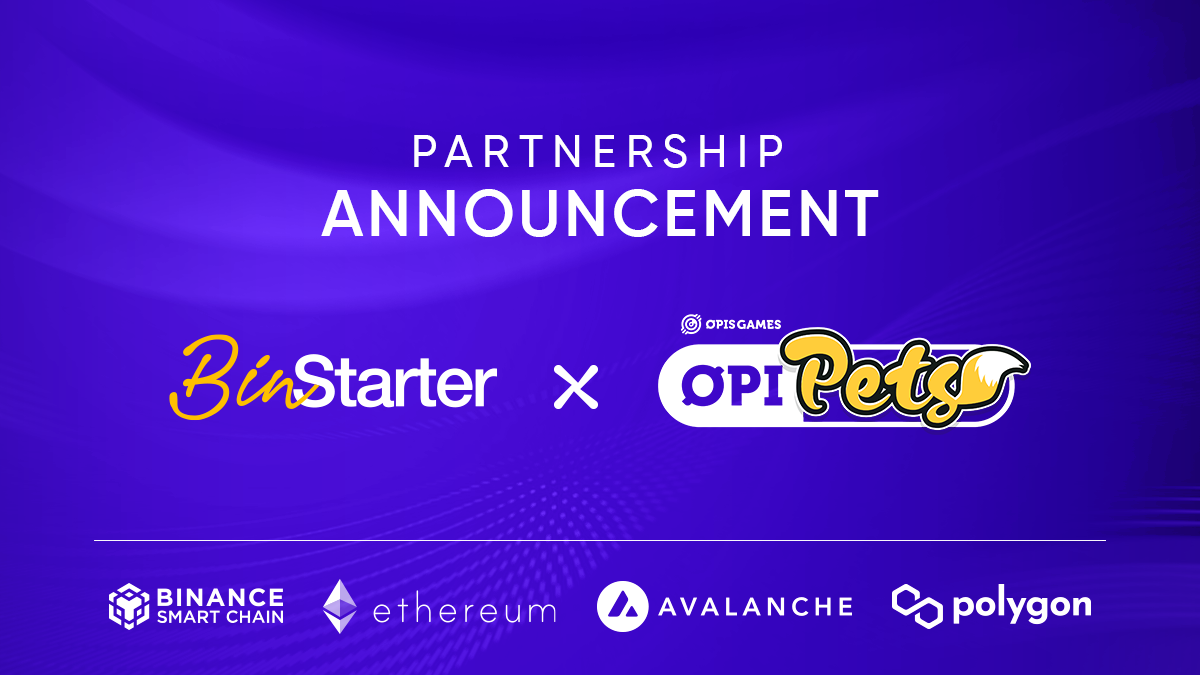 BinStarter onboarding Opipets
We have officially teamed up with OpiPets, a free-to-play, Play-&-Earn economy-based, pet battling game that rewards players with cryptocurrency and the ability to create, battle, collect or sell their unique OpiPet NFTs.

Through this partnership, we are looking to help OpiPets conduct:

#IDO on Binstarter
Cross-marketing activities
Expand community
About OpiPets
Powered by Opis Group, OpiPets is a free, play-and-earn game built on BSC with an aim to reshape player-owned economies by prioritising gameplay through storytelling and redefining ownership via customisation.
Through OpiPets' unique in-game economy, players will be able to build their own wealth by exploring the various avenues e.g. player-owned shops to earn the in-game token (OPI).
In order to safeguard the community as best as possible, OpiPets have segregated their utility and governance tokens. This reiterates the project's commitment to gameplay & players of the game, protecting the community from the exposure to risk that conventional P2E models hold.
The game centers on providing true ownership of assets, virtual economies, and income-making opportunities.
Let's cheer and look forward to our continued success!
OpiPets Socials
WebSite | Whitepaper | Link Tree | Twitter | Telegram | Discord | Medium
About BinStarter
BinStarter is a decentralized mining-style approval mechanism insurance protocol that is designed to examine projects according to certain criteria for 30 days and to protect liquidity providers against possible financial damages or any negativities.
Website | Announcement Channel | Telegram Chat | Twitter | Blog
BinStarter Blog & News Newsletter
Join the newsletter to receive the latest updates in your inbox.
---