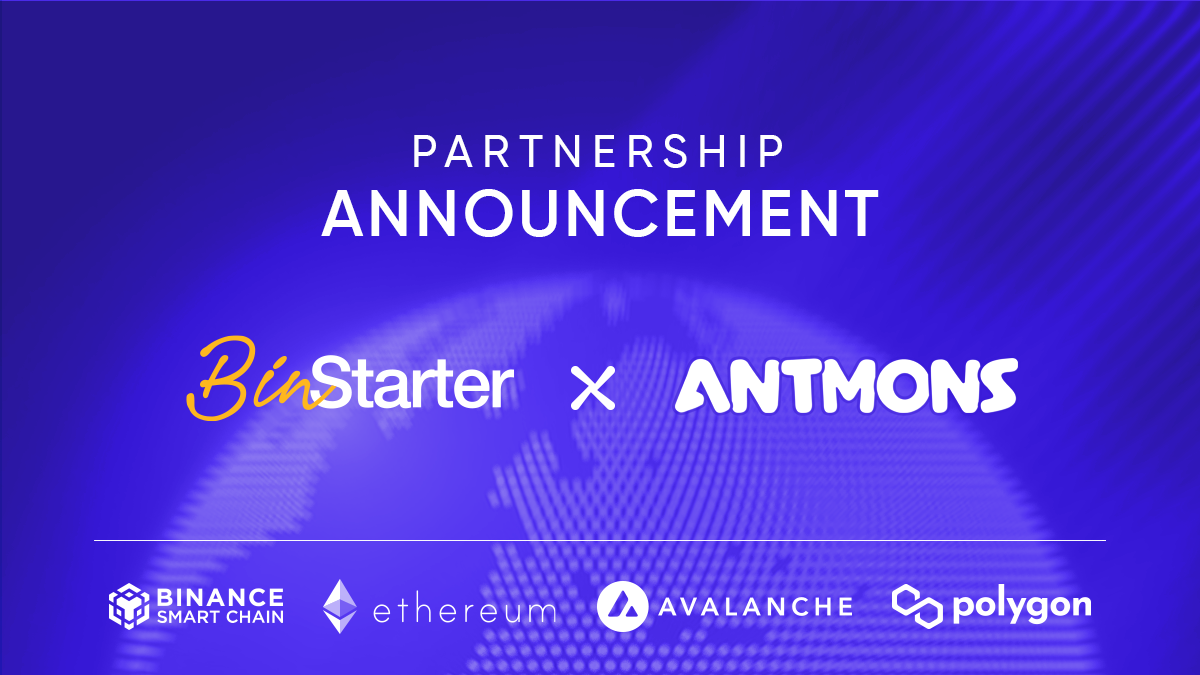 BinStarter Onboarding Antmons
BinStarter is proud to welcome Antmons on board!
Antmons is a MetaNFT, Battle-to-Earn GameFi platform with endless real-time competitions. It is a metaverse that can be considered an adventurer's paradise, owned and defined by the community!
It is not a single game. It is more like a set of standards, dedicated to providing users with a continuously enriched content system, and providing developers with a simple, reliable and sustainable ecological platform.
The "traditional" GameFi has a single ecological relationship, the content provider to the user. In Antmons, what they create is a more stable triangular relationship between the platform, the content provider, and the user. The platform provides a simple and reliable technical interface. The content provider can continue to gain revenue as long as they contribute high-quality gameplay contents, even with little technical expertise. Players and users can always experience continuously enriched gameplay content just by relying on a Meta NFT.This is a paradise of adventure! Both for players and developers.
The game is set in a world of tiny insects. Players summon Antmons heroes to fight for themselves or set up guilds for more loots. Antmons heroes are divided into different combat attributes: Spayer, Tank, Archer, AOE, and Thrower. You need to upgrade heroes and improve skills so that you can win the battle and generate rewards!
KEY FEATURES
* One Meta NFT access to all Antmons games
* High quality games compatible with more Web 2.0 users
* Token pool battles to control token inflation
* Livestreaming & interaction for ultimate SocialFi
* Gamepedia system share rewards with potential content providers
MONLI is the governance token and the only currency used to exchange NFTs on the Antmons Marketplace.
Cheers to our collaboration! 🥂
Antmons Socials:
🔸Website: https://antmons.com
🔸Official group: https://t.me/Antmons
🔸News Channel: https://t.me/AntfromMars
🔸Twitter: https://twitter.com/AntmonsOfficial
🔸Discord: https://discord.com/invite/np94zTNdpT
🔸Facebook: https://facebook.com/AntmonsEntertainment
🔸Whitepaper: https://docs.antmons.com/
🔸YouTube: https://youtube.com/channel/UCc6xywiJKbAoDt8VM2y2Orw
About BinStarter
BinStarter is a decentralized mining-style approval mechanism insurance protocol that is designed to examine projects according to certain criteria for 30 days and to protect liquidity providers against possible financial damages or any negativities.
Website | Announcement Channel | Telegram Chat | Twitter | Medium
BinStarter Blog & News Newsletter
Join the newsletter to receive the latest updates in your inbox.
---