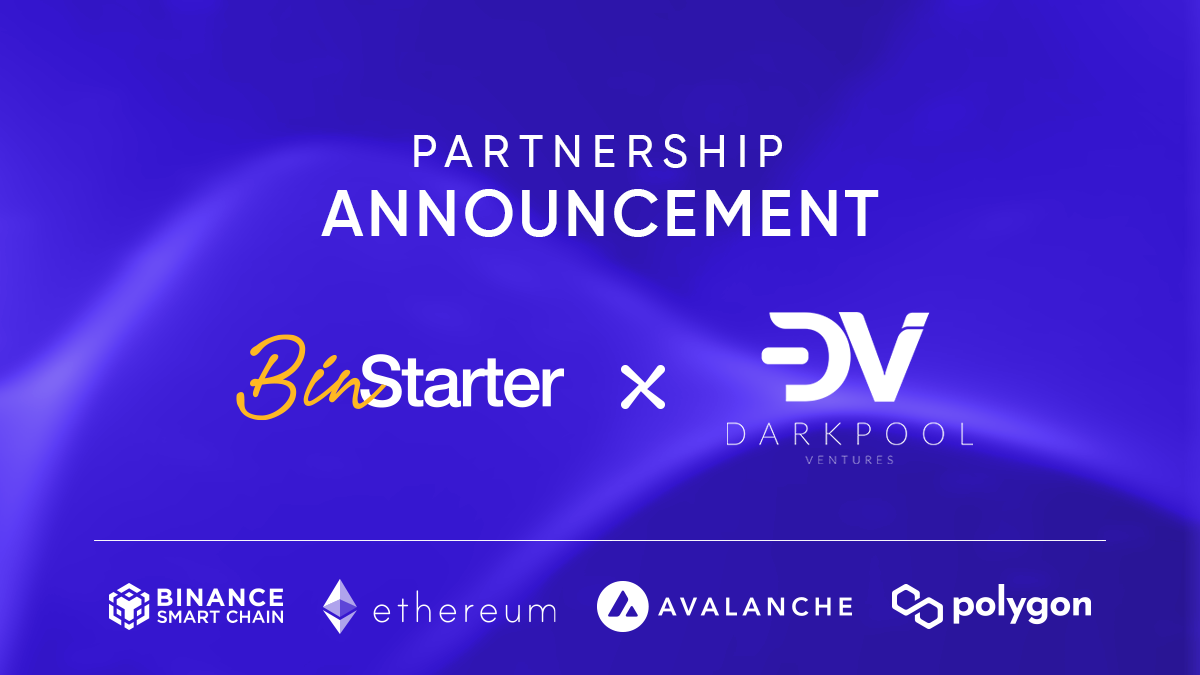 BinStarter Partners with Darkpool Ventures
We are proud to welcome Darkpool Ventures on board!
Darkpool Ventures is the venture capital and incubation arm of Darkpool Liquidity, focused exclusively on early-stage venture capital investment and advisory deals. Darkpool Liquidity is a digital asset market-making firm that is mostly known for creating the Binance API, one of the most advanced and widely used APIs in the blockchain ecosystem today.

Market makers are needed in order to facilitate liquidity in the market. Without proper liquidity, the true value of an asset gets skewed, investors lose confidence in the project, and millions of dollars worth of intrinsic value evaporate. Having liquidity can prevent this, while simultaneously growing your operational fund, extending your project's runway far into the future and making it easier to reach all of your goals.
What does Darkpool do?
Incubation, Advisory & Listing Strategy.
Primarily focus on making sure the project is well positioned to capitalize on current or future market conditions, and to help make any token listings go as smoothly as possible.

Their goal is to help their partners get listed on tier one exchanges as soon as possible after their initial IDO, because once a project is listed on a quality exchange it becomes much easier to reach any remaining goals that they have.
They have engaged with more than 300+ projects offering market making and liquidity services to some of the largest crypto startups around the globe.
Darkpool Ventures Socials:
Website: https://darkpool.ventures
Twitter: https://twitter.com/DarkpoolMM
About BinStarter
BinStarter is a decentralized mining-style approval mechanism insurance protocol that is designed to examine projects according to certain criteria for 30 days and to protect liquidity providers against possible financial damages or any negativities.
Website | Announcement Channel | Telegram Chat | Twitter | Medium
BinStarter Blog & News Newsletter
Join the newsletter to receive the latest updates in your inbox.
---