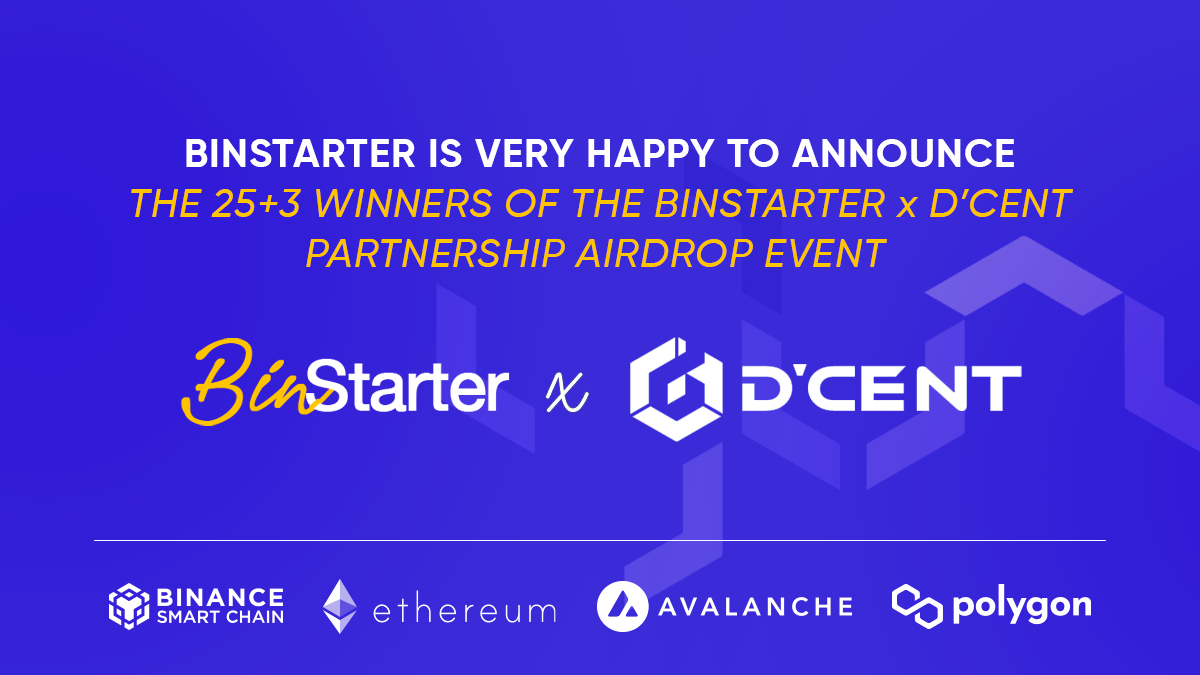 BinStarter is very happy to announce the 25 + 3 winners of the BinStarter X D'CENT Partnership Airdrop Event
We would like to take this opportunity to thank each and everyone that participated in this Binstarter X D'CENT Partnership Airdrop event. This event have enhanced the initiative and brought Binstarter and D'CENT community closer together.
As promised we have awarded 25 + 3 lucky winners that congratulated us on our tweet. Below is the list
@KoursarisK
0x243f25d50Cb656a0be2325Bb1D04962b71b7Cba9
PEACE_39
0xac3a7F90fb8737b2A6540f71DED316bBBb88AAab
mimbd07
0x7852f9a2218F83e46143b06D5639354D268ad4B1
@AbdoehAhoy
0x6a447b2F14B73753dbBF10D105C5074938427ee3
@umarfarooq12457
0x19Fbd70e5d5daC28EE3526C67f92a8b02542E038
@kartalcim
0x841D6fbF12963483C5eCC99675812e8B2181Ac2b
@aa_alpian
0x39064F98CfECfbD0825E7822D59F095BB484002F
@Musa86134941
0xd6E0FAE6f6147289a4A58412a36beeec397CCa9D
@HossamAlwageeh
0x0a8A48D8689e1Ea6fC7e60817e7F11788EE21150
@Ninenin44255612
0x44853Dc218d987acd1C84C22269199155b115f11
@BravePhoenix2
0xb54B0b15933BBEc6c64d51279b7a6ad1643A16Bb
@mustafaayhan0
0x58863A7100D7c0758Ebf734bf7FCcd8863872485
@metinhuzmeli.
0xd66e69E0b511052317beD52b8bD8eA22dFAf39e4
@dhartmkol
0x70270D590B476F2bd0f25Bfb8412897d2266A004
@lofhika.
0x2c26F839193EA20B33dCF8d900Cc11118126F37f
@kl_maxima
0xEB2B3d4DfBa2c92c71005788ee357C89Fd1F519b
@hey_itsBE
0xd48c55B6A50a06dc495975b53b05e0b384A33CC8
@niyazi_kabakci
0x7BeDd9169a843c0b67C479b450B68E856Fbb35bC
@Milkyway_tanya
0x204532b3Bcc3ec8A9290A56DcA651adef568f212
@coinmetri.
0x1C6138434C5FB638F9812d8f2789E65598c864a1
@isaLpOkidQ
0xD33f19dC67E98e18b78FabeED202cf02c24fDd85
@tncaydin
0xD02395cA9c15646f4fb067b648C754c6AC21520F
@maliztrk.
0xc9cf952f1f39aae18210A2Cce73Cf5917ADa51f8
@crypto720.
0x6a1A79eCA621287F6EE7001cbd867C8493B39Fb6
@NyiNyiZinWin12
0xA364Afc22BA2912F4D0dC48483d25C8c88123905
D'CENT Biometric Wallet
@sambuyya
About D'Cent Wallet
D'CENT Biometric was introduced in 2018, and it is the world's 1st hardware wallet with biometric authentication and Bluetooth connectivity. The hardware wallet is built on multi-chip architecture, including a Secure Element (SE) for secured processing and isolation of private keys.
Website | Medium | Twitter | Facebook | Youtube
About BinStarter
BinStarter is a decentralized mining-style approval mechanism insurance protocol that is designed to examine projects according to certain criteria for 30 days and to protect liquidity providers against possible financial damages or any negativities.
Website | Announcement Channel | Telegram Chat | Twitter | Medium
BinStarter Blog & News Newsletter
Join the newsletter to receive the latest updates in your inbox.
---