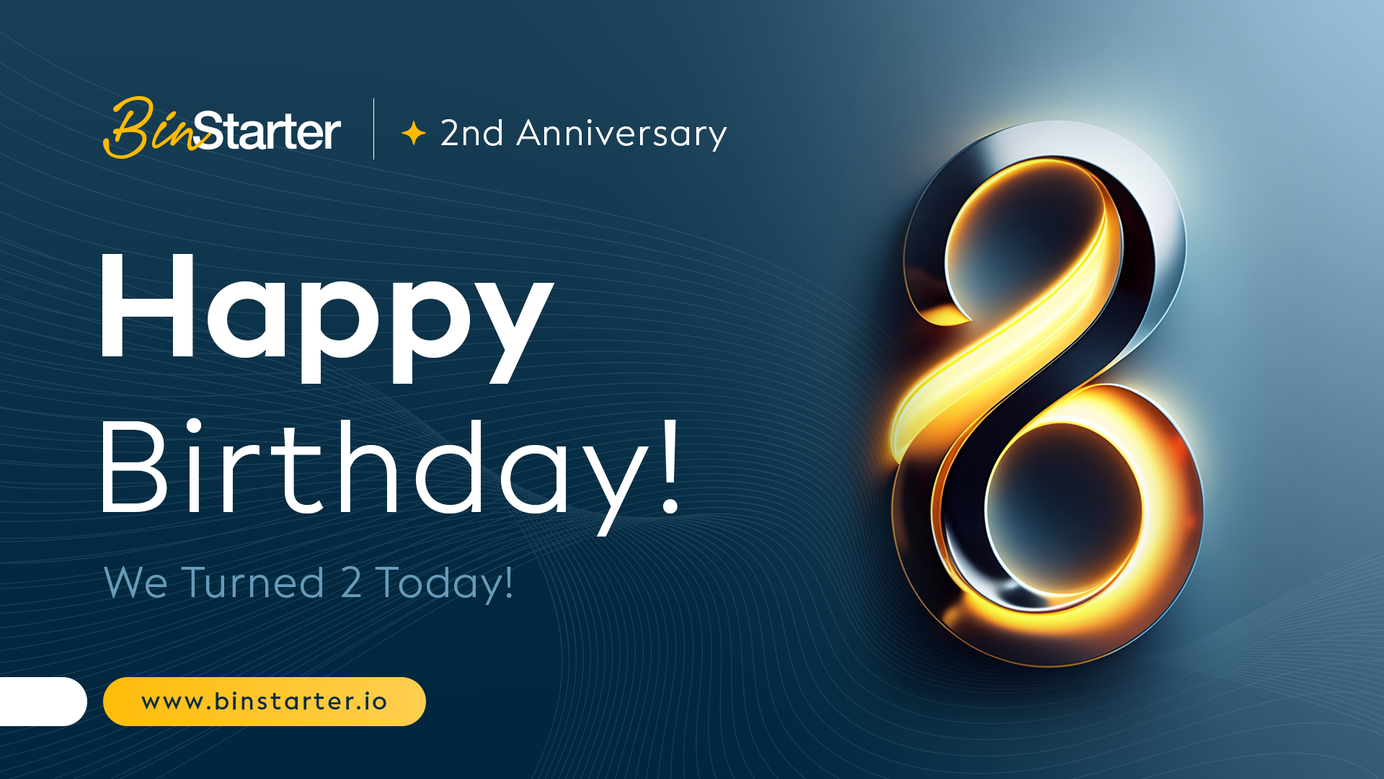 BinStarter 2nd Birthday Video Script
In a world where resilience meets opportunity, where digital aspirations find their path, we gather to celebrate a special moment - the 2nd Anniversary of Binstarter. A testament to perseverance, a tribute to collective effort, and a glimpse of a promising future for our valued investors.
Two years ago, a dream took shape - a dream to redefine project funding and empower dreams. Guided by unwavering dedication, the Binstarter team embarked on a journey to support promising crypto projects and passionate global investors.
Throughout this journey, Binstarter has been the driving force behind the launch of transformative crypto projects.
Among Binstarter's achievements is the introduction of the Extended Insurance Protocol - a testament to our commitment to trust and security for both projects and investors. Binstarter ensures that trust remains at the core of every endeavor.
But that's not all. Experience the profound impact of the Momentum Accelerator Program, propelling ingenious projects forward. Fueled by passion and nurtured by creativity, Binstarter aspires to be a catalyst for dreams to find their wings.
As we reflect on these two meaningful years, the global Binstarter community stands united and resilient. Our heartfelt appreciation goes to every member who embraced our vision and joined us on this meaningful journey.
To the remarkable minds and dedicated spirits behind Binstarter - your commitment, passion, and expertise have laid the foundation for our progress. Each one of you has played a vital role in driving innovation, and together, we'll continue towards a brighter future.
Today, on our second anniversary, we renew our promise to push the boundaries of decentralized finance. With every step forward, we reaffirm our dedication to explore new horizons, create meaningful pathways, and unlock the endless possibilities ahead.
About BinStarter
BinStarter is a decentralized mining-style approval mechanism insurance protocol that is designed to examine projects according to certain criteria for 30 days and to protect liquidity providers against possible financial damages or any negativities.
Website | Announcement Channel | Telegram Chat | Twitter | Blog
BinStarter Blog & News Newsletter
Join the newsletter to receive the latest updates in your inbox.
---